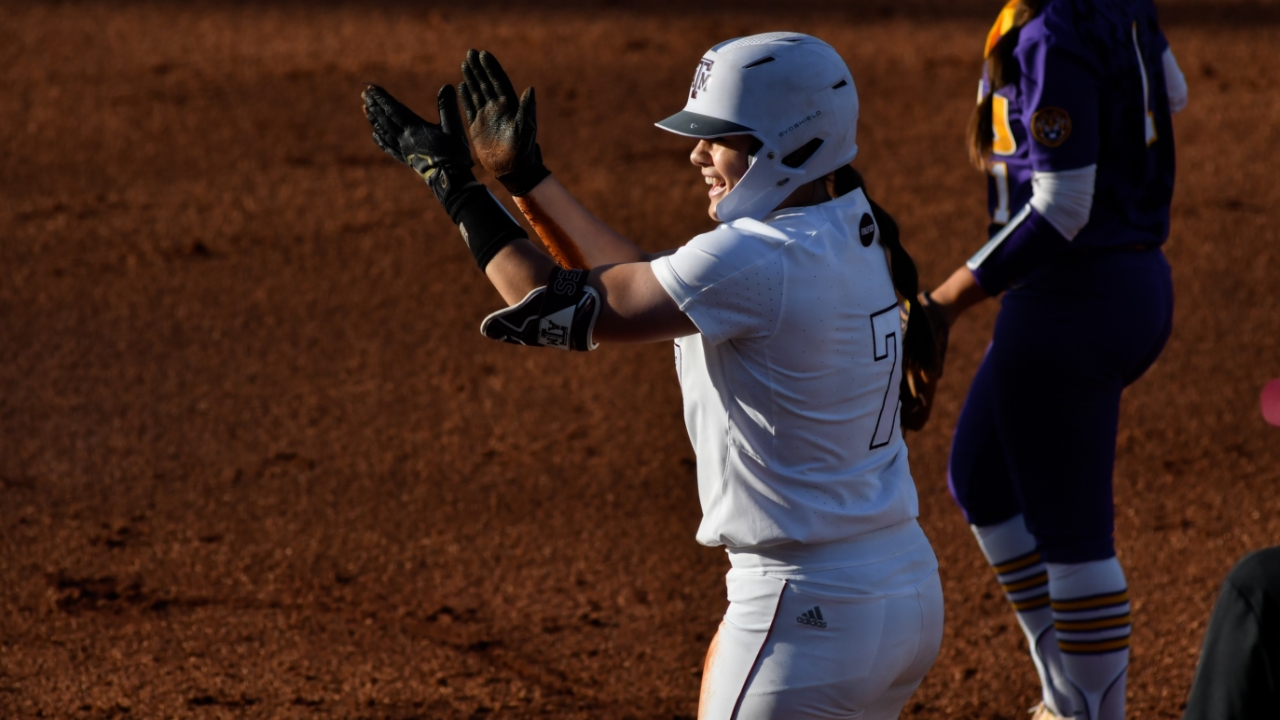 Texas A&M Softball
Katie Dack's ninth-inning single walks off No. 5 Arkansas in opener, 6-5
---
Texas A&M softball has done it again and knocked off another top-five opponent.
On Friday, May 6, the Aggies upset No. 5 Arkansas in a glamorous fashion.
Katie Dack was the freshman behind the bat, sending Alexis Tippit home on a walk-off single, ending the ninth inning in favor of the Maroon & White, 6-5.
"They deserved that," Texas A&M head coach Jo Evans said. "Nobody gave them that. Every game we've won against these top-five teams, none of them have given it to us, and we've gone out and earned it."
After getting swept by Missouri on the road and losing both ends of a frustrating midweek doubleheader to Houston, the Aggies decided they had spent enough time in the loss column.
"They deserved that. Nobody gave them that. Every game we've won against these top-five teams, none of them have given it to us, and we've gone out and earned it."
"We were due to feel like that," Evans said. "We felt like that against Alabama. Houston was rough. We did not play well, so to come out here, I said, 'I want you to remember the last time you hosted a series, and you beat the No. 2 team in the country and won that series. That's who we are.'"
The Razorbacks jumped out to a 2-0 lead early, but it didn't last long.
Trinity Cannon blasted a two-run homer to tie things up in the first. In response, Arkansas' Danielle Gibson hit an RBI double to steal back the lead in the second.
All was quiet until Arkansas extended its lead in the top of the fifth. A Hannah McEwen moonshot and a bases-loaded walk gave the Hogs a 5-2 lead.
The Aggies' comeback pursuit started in the bottom of the fourth.
Cayden Baker hit her second home run of the season, contributing to the outstanding performances by A&M's freshmen.
"We've been put in a lot of situations that have made us grow as people and players," Dack said. "I feel like we've grown up and understand how the game is played and needs to be played."
Morgan Smith hit an RBI groundout scored Rylen Wiggins to make it a 5-4 ballgame.
Grace Uribe, Makinzy Herzog and Emiley Kennedy combined performances in the circle, with Kennedy shutting down the Razorbacks in the late innings.
In the bottom of the sixth, Haley Lee tied the game with a solo bomb off the scoreboard, her 14th of the year.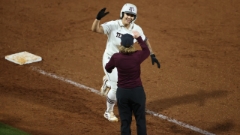 Craig Bisacre, Texas A&M Athletics
After the seventh, the game went into extra innings. Kennedy's strong pitching continued in the eighth and ninth, holding the Razorbacks scoreless.
"Emiley Kennedy gave us so many solid innings right there," Evans said. "Bend and not break. She did her job, and she didn't give up on her teammates. The way she attacked the strike zone tonight [was] so impressive. I thought Emiley really came of age tonight."
In the bottom of the ninth, Lee worked a leadoff walk. Tippet stepped in to pinch run and moved to second on a Smith fly out.
Dack stepped up to the plate. After going 0-for-4, she singled to left center to seal the game.
"I think [nine innings] is exhausting because there are so many pitches thrown," Evans said. "Three hours and eight minutes. Those are games that can be really taxing and take your concentration away. I was really pleased to see how our kids stayed really focused in that game."
After being walked off six times this season, A&M claimed its first extra-inning walk-off of the 2022 campaign.
Now, the Aggies have an opportunity to claim the series on Saturday, May 7, in the second of three against Arkansas. First pitch is set for 2:30 p.m.
Never miss the latest news from TexAgs!
Join our free email list