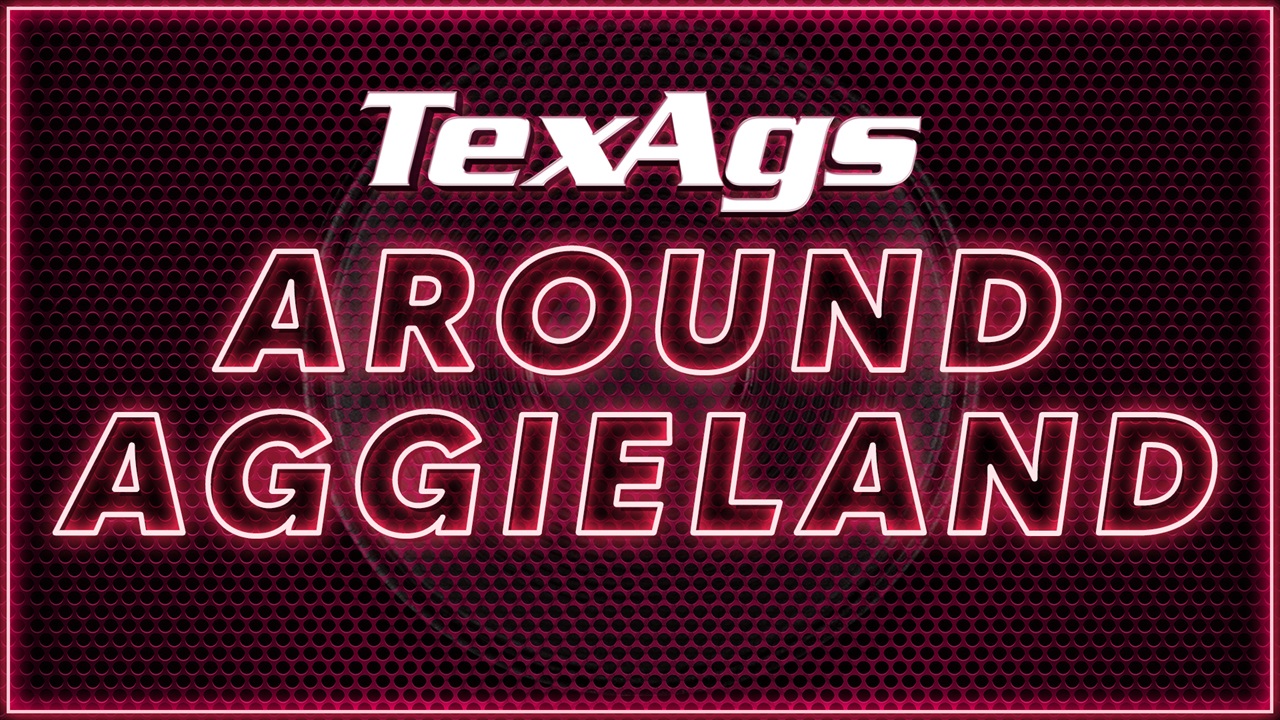 Texas A&M Basketball
Around Aggieland (3/28)
---
During Friday's edition of TexAgs Radio, the fishbowl's own Richard Zane joined to share updates from the latest in Aggie Athletics as a busy weekend is on tap in College Station with basketball headed to NYC, action on the diamonds and much, much more.
---
Men's Basketball (26-12, 9-9 in SEC)
Buzz Williams & Co. travel to New York City this week for a showdown with Washington State in the semifinals of the National Invitation Tournament at Madison Square Garden.
Tuesday night's tipoff is set for 8:30 p.m. CT on ESPN2.
The winner of the A&M-WSU matchup will face either Xavier or St. Bonaventure on Thursday, March 31.
The Aggies head to MSG as winners of 10 of their last 11 contests, including three consecutive double-digit victories in the NIT.
Baseball (14-9, 3-3 in SEC)
In their first home conference series of the year, the Aggies dropped a hard-fought three-game set to the Auburn Tigers at Olsen Field over the weekend.
Friday: Auburn 6, Texas A&M 5 (10 innings)

Dylan Rock hit a two-run home run in the sixth inning that gave A&M a 5-3 lead.
Austin Bost finished 3-for-4 with a double and an RBI.
Jacob Palisch: 3.0 IP, 0 H, 0 R, 0 BB, 5 K

Saturday: Texas A&M 5, Auburn 4 (11 innings)

Kole Kaler: Game-winning sacrifice fly that scored Logan Britt
Rock, Brett Minnich, Troy Claunch and Britt registered multi-hit games.
Micah Dallas: 7.0 IP, 8 H, 4 R, 3 ER, 1 BB, 10 K (Career-high)
Sunday: Auburn 13, Texas A&M 9

Rock hit a three-run home run in the second that gave A&M a 6-3 lead.
Kaler was the only Aggie to register multiple hits, finishing 2-for-3 with three runs scored.
Chanden Scamardo registered his first career hit with a single.
The schedule doesn't get any easier as the Maroon & White travel to Austin on Tuesday night to renew the rivalry with No. 2 Texas.
First pitch is set for 6:30 p.m. CT, and the game will be televised on the Longhorn Network.
Texas A&M won the last matchup, 2-0, on March 30, 2021.
Softball (19-12, 2-7 in SEC)
On the road this weekend in Athens, Jo Evans & Co. dropped two of three ballgames to No. 17 Georgia in their third SEC series of the season.
The Aggies travel to H-Town this Wednesday for a doubleheader against the Houston Cougars.
Game 1: 5 p.m. CT
Game 2: 7:30 p.m. CT
Both games will be available for streaming on ESPN+.
Equestrian (12-4, 5-1 in SEC)
At the Southeastern Conference tournament this weekend in Auburn, top-seeded Texas A&M advanced to the SEC final before falling to No. 2 Auburn.
The Aggies will now prepare for the NCEA Championships, which will be held in Ocala, Florida, on April 13-16.
Track & Field
Texas A&M had a number of standout performers at the 94th Clyde Littlefield Texas Relays in Austin this weekend.
Texas A&M's women's sprint medley relay team of Tierra Robinson-Jones, Laila Owens, Charokee Young and Avi'Tal Wilson-Perteete won the event with a school-record time of 3:38.93.
Texas A&M's distance medley relay team of Cooper Cawthra, Cutler Zamzow, Allon Clay and Gavin Hoffpauir broke the school record with a time of 9:43.43.
Bryce Foster won the "B" shot put competition with a mark of 59-7.75/18.18m.
Carter Bajoit won the "B" high jump with a clearance of 7-1.75/2.18m.
Lamara Distin won the "A" high jump competition with a personal-best clearance of 6-5/1.96m. The jump is currently a world-leading high and broke the Texas A&M school record as well as the Jamaican national record.
Women's Tennis (22-1, 8-0 in SEC)
No. 12 Texas A&M won a pair of road matches this weekend, including a sweep of the defending SEC champion on Sunday afternoon.
Friday: No. 12 Texas A&M 4, Tennessee 3

Texas A&M won the doubles point, 2-1.
Tatiana Makarova won her match over Tenika McGiffin in straight sets (6-0, 6-4).
Mary Stoiana won her match over Elza Tomase in straight sets (7-6, 7-6).
Jayci Goldsmith won her match over Esther Adeshina in straight sets (7-5, 6-2).

Sunday: No. 12 Texas A&M 7, No. 7 Georgia 0

Texas A&M won the doubles points, 2-1.
Carson Branstine won her match over Lea Ma in three sets (2-6, 6-1, 6-4).
Makarova won her match over Mell Reasco in three sets (2-6, 6-3, 6-3).
Stoiana won her match over Dasha Vidmanova in three sets (7-6, 2-6, 6-1).
Goldsmith won her match over Meg Kowalski in straight sets (6-4, 6-4).
Gianna Pielet won her match over Morgan Coppoc in three sets (7-6, 2-6, 6-2).
Katya Townsend won her match over Ania Hertel in straight sets (6-2, 6-3).
Men's Tennis (16-9, 4-2 in SEC)
No. 25 Texas A&M finished 3-1 on the weekend and picked up a win over a ranked opponent on Sunday afternoon.
Women's Golf
No. 16 Texas A&M finished as the runner-up at the Liz Murphey Collegiate Classic in Athens, Georgia.
The Aggies finished 18-over on the weekend. No. 4 South Carolina won the event at 10-over.
Hailee Cooper tied for fifth at 3-over for the weekend with a team-high 10 birdies.
Men's Golf
No. 21 Texas A&M is in Palm City, Florida, this week to play in the Valspar Collegiate at the par-71, 6,912-yard Floridian Golf Club.
The event begins on Monday, March 28, and concludes on Tuesday, March 29.
Texas A&M's lineup includes Sam Bennett, Walker Lee, William Paysse, Evan Myers and Michael Heidelbaugh.
Never miss the latest news from TexAgs!
Join our free email list