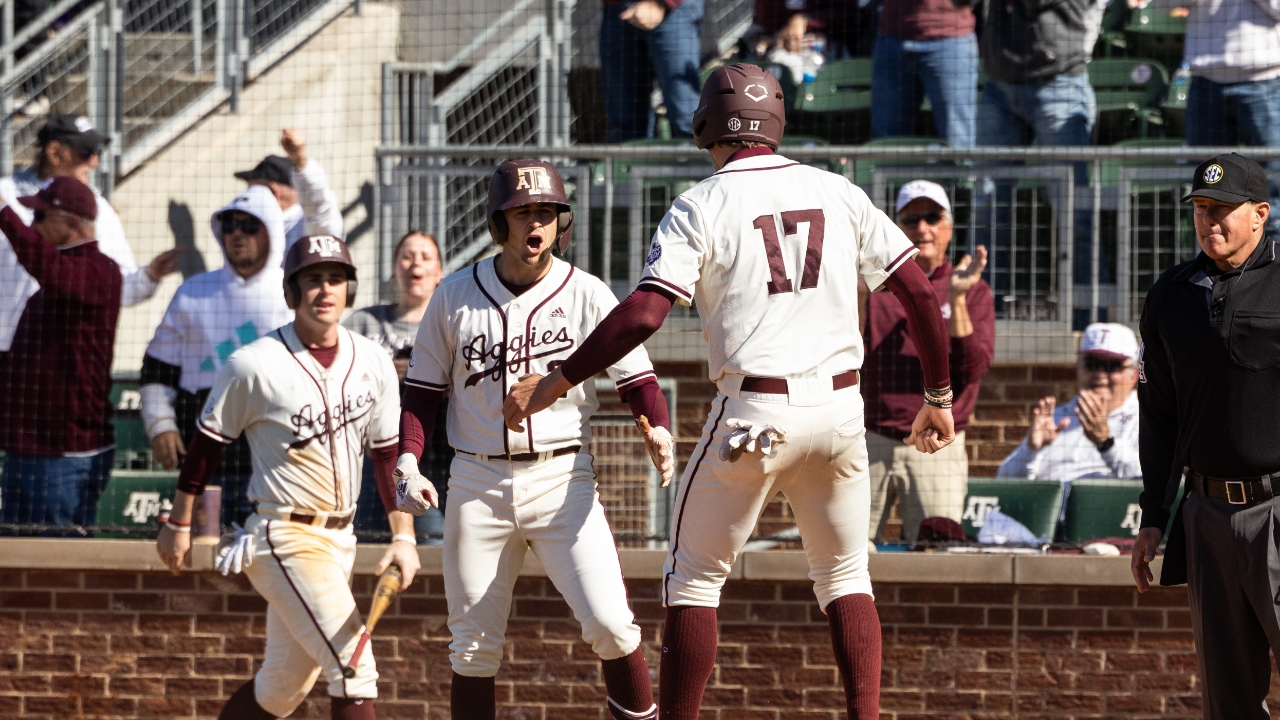 Photo by Chris Swann, TexAgs
Texas A&M Baseball
Series Preview: Texas A&M needs to rebound this weekend vs. Rebels
---
Also included above is a radio segment with Ryan Brauninger, Richard Zane and Scott Clendenin from Friday morning, previewing this weekend's series between Texas A&M and Ole Miss.
Who: Ole Miss (15-9, 0-6 SEC)
Where: Olsen Field at Blue Bell Park – Bryan-College Station, Texas
When:
Friday: 6:00 p.m. CT (SEC Network+)
Saturday: 7:00 p.m. CT (SEC Network)
Sunday: 1:00 p.m. CT (SEC Network+)
Pitching matchups
Friday: Nathan Dettmer (RHP, 1-3, 5.40) vs. Jack Dougherty (RHP, 2-2, 6.08)
Saturday: Justin Lamkin (LHP, 2-1, 2.75) vs. Xavier Rivas (LHP, 4-2, 4.97)
Sunday: TBA vs. JT Quinn (RHP, 3-0, 5.48)
Scouting Ole Miss
Six weeks ago, this weekend series between the Aggies and Rebels was billed as a battle of top-five SEC titans. Not that long ago, Ole Miss was the No. 3 ranked team in the country, and Texas A&M was the No. 5 team in college baseball. The Rebels were still basking in the glow of their improbable national championship run in 2022.
Now, this weekend is essentially an elimination series. The two teams are currently in the basement of the SEC standings with a combined 1-11 conference record. Wow. How in the world did we get here? It's pretty amazing when you take a step back and objectively look at the dismal start from both teams going from SEC darlings in the Men's College World Series last year to being on the verge of elimination from NCAA regional contention in March.
Focusing on Ole Miss, the reason for its dramatic decline is pretty clear. If you can't pitch, you won't win ... period. The Rebel pitching staff has been completely ineffective in SEC play, surrendering a whopping 55 runs in their six losses. Part of that is due to injury, as one of their top pitchers, Hunter Elliott, is not available. Ole Miss has given up no fewer than seven runs in every conference outing and averages 9.2 runs allowed per contest.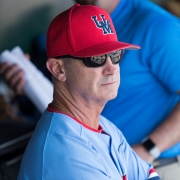 Brett Rojo-USA TODAY Sports
There's no mystery in those statistics. If you give up more than nine runs a game in this league, you should expect to be 0-6 in the SEC, which is exactly where Ole Miss sits.
Thus, despite being just two weeks into the SEC schedule, a strong case can be made that their NCAA postseason is on the line in College Station this weekend. It's hard to imagine anybody in this league coming back from an 0-9/1-8 start.
The SEC is too tough and too deep to realistically expect to make up 8-9 games in the loss column.
As of this writing, Jack Dougherty is still the Friday night starter with an ERA of 6.08 (ouch). Grayson Saunier has been the usual Saturday starter, and he coughed up five runs in just two innings of action with a fat season ERA of 7.77. Xavier Rivas is a lefty who's had some solid outings with a 4-2 record and a 4.97 ERA. However, head coach Mike Bianco has already made some changes to this rotation ahead of this weekend as Rivas will start Saturday and freshman right-hander JT Quinn (3-0, 5.48 ERA in 23.0 IP) is slated to start the finale.
Offensively, Ole Miss has been pretty good over the course of the season with a team batting average of .307. Six starters hit over .300, led by Kemp Alderman (.365) and his team-leading 10 homers and 34 RBI. Calvin Harris leads the team in hitting with a scorching .379 batting average. But the headline here is the power difference between the two opponents this weekend. The Rebels have hit 41 home runs with a slugging percentage of .529 compared to Texas A&M's 21 homers and a paltry slugging average of .410. This team can hit and hit for power. Their downfall has definitely been on the mound.
| | | | | | |
| --- | --- | --- | --- | --- | --- |
| Hitting | Avg. | Runs | Slugging % | On-Base % | Strikeouts |
| Texas A&M | .265 | 182 | .410 | .390 | 202 |
| Ole Miss | .307 | 194 | .529 | .403 | 168 |
| | | | | | | |
| --- | --- | --- | --- | --- | --- | --- |
| Pitching | ERA | WHIP | Walks | Opp. Avg. | Strikeouts | Fielding % |
| Texas A&M | 4.81 | 1.54 | 123 | .255 | 260 | .978 |
| Ole Miss | 5.68 | 1.54 | 115 | .251 | 232 | .981 |
Texas A&M storylines to watch
Where do I start? Storylines are numerous, and most of them aren't positive at the moment. The Aggies are in the midst of a four-game skid and coming off a loss to in-state rival Texas. While it's easy to pinpoint what's going wrong in Oxford, the issues are more widespread with the Aggies.
Texas A&M can point to a core veteran group of run-producing hitters that have significantly underperformed to expectations so far in 2023. Critical heroes of the 2022 season like Ryan Targac, Trevor Werner and Austin Bost are all hitting in the low .200s (Targac is actually below that mark). Bost hit .360 last season and is sitting at .242 today. Targac's batting average has dropped from .295 to .174 in 2023, while Werner's .200 average is 65 points below where he was hitting last season.
Newcomer Hunter Haas from Arizona State has been a pleasant surprise hitting .404, while Jack Moss has snapped out of his early season funk in a big way, raising his average to .342. Even freshman Jace LaViolette has started to live up to his potential, raising his batting average over 50 points in the past two weeks including some critical extra-base hits.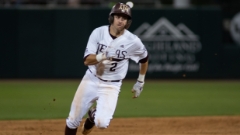 Jamie Maury, TexAgs
It's not all bad news for the offense, but without some significant contributions from Bost, Werner, Targac or somebody else on the team, run production will continue to be a challenge.
But depending on who you ask, offense may not be A&M's biggest problem. It's a legitimate debate, especially after the struggles of weekend starters Nathan Dettmer, Troy Wansing and Chris Cortez in the first month of the season.
It all starts with the Friday starter and getting the weekend off to a good start, and Dettmer's 1-3 record and 5.40 ERA just doesn't cut it any way you slice it. Purdue transfer Troy Wansing has had some good moments, but his 14 walks in 23 innings of work lacks the consistency that is demanded of a Saturday starter in the SEC. Chris Cortez has struggled with control even more, giving out a whopping 19 free passes in 20 innings. That's one reason why he was moved back to the bullpen, and freshman Justin Lamkin was promoted to Sunday starter last week against Tennessee.
Lamkin eventually weakened and gave up several runs, but he did compete and showed flashes in his first career SEC start on the road. He may be a potential answer on the weekend, and he'll get a Saturday start against Ole Miss. That's not a sure thing just yet as he needs more big-game experience.
Even if he comes on strong and answers the bell on Saturdays, there are still question marks on Fridays and Sundays.
Bottom line, Dettmer has to figure out his problems. He has too much big-game success not to stick with him and let him figure it out, especially when there are no clear replacements at this point. It's not like the bullpen has been clean by any stretch. Closer Will Johnston has a bloated 4.30 ERA and has walked 12 batters in 14 innings. You can't have your closer struggle with the strike zone. Evan Aschenbeck has been the most consistent presence in the bullpen, and Jim Schlossnagle has discussed using him in the starting rotation. Freshman Ty Sexton actually had his most impressive outing on Tuesday against Texas. He could eventually play a bigger role with this staff.
As you can see, there aren't any obvious answers today. We have to hope Nate Yeskie and the pitchers figure it out and figure it out quickly.
The Aggies need both the core group of veteran hitters to be what they were projected to be in the preseason, and the weekend starting rotation has to deliver quality starts for the Aggies to turn this thing around, beat Ole Miss and get on a run.
What's at stake this weekend
I'm going to keep this short and simple … just win!
The Aggies can't drop any further behind in the loss column to have a realistic chance to make it back to .500 in SEC and an NCAA regional invite. At a minimum, Texas A&M must win this series at home against a struggling 0-6 Ole Miss. It's never a good idea to depend on a sweep in the SEC, but with a wounded animal limping into town, a sweep would completely change the narrative of this early SEC race.
The loser of this series will be on life support. The winner still has a chance to turn this season around and stay afloat.
Never miss the latest news from TexAgs!
Join our free email list