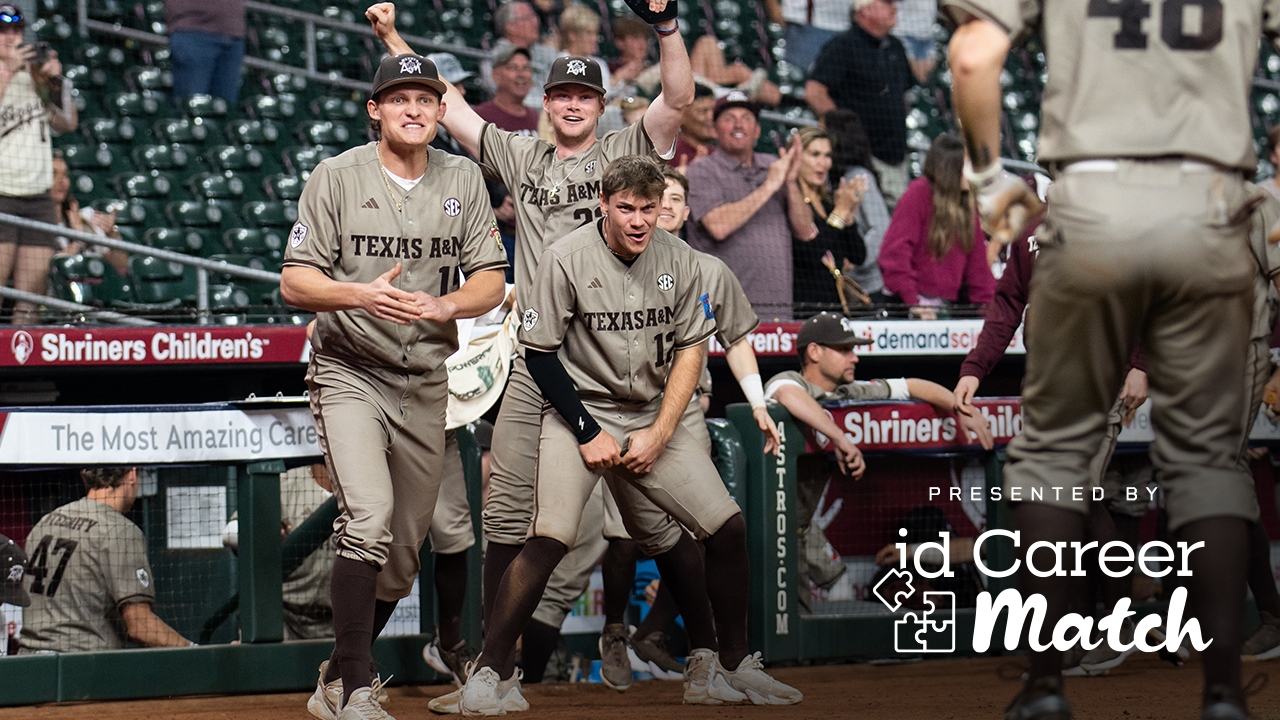 Jim Schlossnagle
Evan Aschenbeck
Texas A&M Baseball
No. 15 Aggies outlast No. 24 Tech in 16-inning Minute Maid marathon
---
Game #11: No. 15 Texas A&M 4, No. 24 Texas Tech 2 (16 innings)
Records: Texas A&M (7-4), Texas Tech (11-2)
WP: Evan Aschenbeck (2-0)
LP: Jacob Rogers (1-1)
Save: Justin Lamkin (1)
Box Score
---
HOUSTON — Finally.
In the early hours of Monday morning, No. 15 Texas A&M finally scored a pair of unearned runs in the 16th inning to finally beat No. 24 Texas Tech at Minute Maid Park, 4-2.
It was the longest ballgame in the 23-year history of the Shriners Children's College Classic, surpassing a 15-inning affair in 2017 that also featured the Aggies and was also won by Jim Schlossnagle, but there is no reason to reopen old wounds.
"I'm just really proud," the A&M head coach beamed.
With the score deadlocked at 2-2 for a seventh consecutive frame, Jack Moss laced a hard-hit grounder to short that went under shortstop Tracer Lopez's glove, allowing Hank Bard to score the go-ahead run.
Moss later added an insurance run when he awkwardly (and literally) touched the plate on a very shallow Trevor Werner sacrifice fly.
Hours after Chris Cortez and Taber Fast dueled, the war of attrition was finally won, but it took mental fortitude to finally overcome extreme offensive ineptitude.
There's that word again... Finally.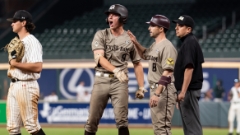 Jamie Maury, TexAgs
"This obviously wasn't a great offensive game for really either team," Schlossnagle said.
Understatement.
The Aggies and Red Raiders combined to strand 34 runners, splitting them evenly at 17.
A&M left at least one man in each of the game's first 11 innings, while Tech left runners in 10 of the first 11.
Pitching dominated the night, which took five hours and 34 minutes to complete. In fact, after Austin Bost's RBI single in the fifth, A&M went hitless for eight consecutive innings until Jace LaViolette's leadoff knock in the 15th.
Had it not been for Werner's bases-loaded walk with two outs in the ninth, the ballpark would have emptied out three hours sooner, but do not blame Damian Bravo for an otherwise brilliant bullpen battle.
"It's so hard to win these games as the visiting team, you know?" Schlossnagle explained. "Because you're always one pitch away from losing, especially with that short porch in left field."
As the game wore on, the Crawford Boxes never called Lubbock.
But reliever Evan Aschenbeck answered.
"I talked to coach (Nate) Yeskie before the game, and he just said be ready for anything," Aschenbeck recalled. "I just sat in the pen just waiting for my name to be called and got it called, came out here and threw strikes, competed and gave my team a chance."
Entering with one out and one on in the 11th, the left-handed reliever retired all 14 batters he faced, extending the ballgame until his offense finally got him a run — and then another.
"He was a strike-throwing lefty from Blinn that, honestly, we beat around a little bit," Schlossnagle said of Aschenbeck. "We felt like whoever cuts a strike-throwing lefty, so let's keep him around and see what happens.
"He has never thrown 92 miles per hour in an intrasquad game, and he's done that three or four times now. Now, he's throwing three and four different pitches. He's going to get in the discussion to pitch in our rotation in some form."
The unlikeliest of heroes, Aschenbeck utilized a low-90s fastball-slider combo to baffle Red Raider bats, racking up eight strikeouts in the process and outlasting Kyle Robinson, who tossed six scoreless of his own.
In total, A&M arms struck out 21 batters, while the Aggie attack punched out 16 times.
"I'm a little gassed, but that was a great team win. Bullpen came out and threw strikes and filled up the zone. Offense stayed in it. Great team win."
Aschenbeck needed 51 pitches to get the game to the 16th, which would be highly efficient if he hadn't thrown 46 in Friday's loss to Louisville.
However, he did whatever it took, and Aggies everywhere thank him for it.
"I'm a little gassed, but that was a great team win," Aschenbeck said. "Bullpen came out and threw strikes and filled up the zone. Offense stayed in it. Great team win."
By the time Aschenbeck turned it over to Justin Lamkin for the save, it was beyond time for A&M to turn a corner.
Honestly, it had been beyond time for over a week.
Last weekend, the Aggies dropped a series to Portland. This weekend, they were in danger of going 1-2 yet again, but a late-night, dog fight might be just what Schlossnagle & Co. needed.
"It was just guys staying positive," Schlossnagle said. "Maybe this is the tipping point that gives us some confidence to keep moving forward."
Only time will tell if a Minute Maid marathon truly altered A&M's 2023 season, and if we learned anything on a Sunday/Monday, it's that the Aggies have no problem taking their time.
Finally.
Never miss the latest news from TexAgs!
Join our free email list
PRESENTED BY