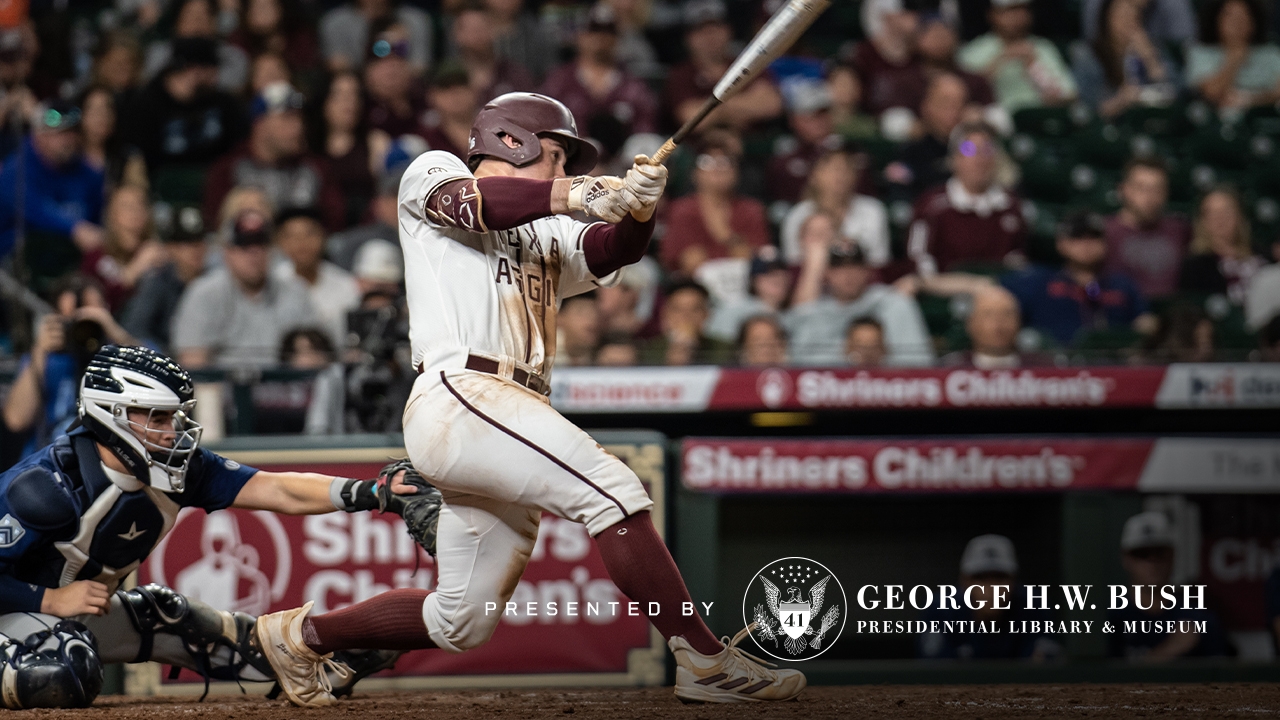 Jim Schlossnagle
Ryan Targac
Troy Wansing
Texas A&M Baseball
Aggies Attack: No. 15 A&M responds with beatdown of Rice in Houston
---
Game #10: No. 15 Texas A&M 13, Rice 1 (7 innings)
Records: Texas A&M (6-4), Rice (4-6)
WP: Troy Wansing (1-1)
LP: Mauricio Rodriguez (0-2)
Box Score
---
HOUSTON — It's a good time to start stacking good days.
Needing a response after being on the wrong end of a shellacking, No. 15 Texas A&M run-ruled Rice, 13-1, on day two of the Shriners Children's College Classic at Minute Maid Park.
The Aggie offense was scorching, scoring multiple runs in each of the first four frames en route to the seven-inning beatdown.
"Obviously a positive response," A&M head coach Jim Schlossnagle said. "Kind of like Louisville did to us yesterday, scoring some runs in the first inning gave the guys some confidence, and (Troy) Wansing did a nice job pitching with a lead.
"We'll take it. We need to stack good days on top of good days and play well against a great Texas Tech team tomorrow."
Of course, a new string of good ones has to come after a poor one, a ballgame in which Louisville attacked early, providing Schlossnagle & Co. a blueprint with which to work.
"There's a fine line between trying too hard but also playing with an edge and with some intention, and we weren't anywhere close to that yesterday," Schlossnagle said. "Today was a little bit better."
"We needed that confidence, but we got to do it more than just every other day. The end of the game yesterday, there's no moral victories, but I thought we had some good at-bats against a good arm."
Debuting a new lineup, Tab Tracy led off and earned the start in center. Catcher Hank Bard and left fielder Kasen Wells also found their name on Schlossnagle's lineup card, while Kaeden Kent moved to third for Trevor Werner, who is day-to-day with an illness.
"There's depth to this team," Schlossnagle explained. "It doesn't mean anybody has lost a job. The depth of our club allows us to play different lineups when we face a certain pitcher or a certain team."
Much like their opponent last night, the Aggies attacked.
A&M plated three in the first as Hunter Haas' RBI double began a hugely successful night. The Aggies then added five in the second, three in the third and two more in the fourth.
"It's always good, as far as an offense, to get out on the board, so it makes it easy on the guys on the mound, trusting their defense, trusting their stuff," A&M first baseman Ryan Targac said. "It gives them a little leeway.
"As far as for our offense, we're always trying to attack. We're always on the attack."
Wansing needed none of that cushion, although the aggressive start allowed the A&M starter to gain confidence and cruise through five scoreless innings.
"My slider was working the best today," Wansing said. "When I was in the bullpen, I was like, 'No one is going to hit this tonight,' and it showed that. There was a lot of swing-and-miss on that.
"It's just a big confidence boost for me. To put together quality starts is big, and the goal is to go deeper. That's the plan next weekend and in the future."
Pitching for the first time on a Major League mound, the Purdue transfer allowed just four hits and struck out seven Owls.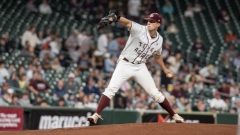 Jamie Maury, TexAgs
"It was awesome," Wansing said. "I didn't realize how many fans were here on our side until I was done. The mound's great. It's awesome to be in a big-league stadium. It's everyone's dream as a little kid, and it's surreal."
In relief, Justin Lamkin tossed a scoreless sixth, and Rice did not score until they got back-to-back two-out hits off Josh Stewart in the final stanza.
At the plate, seven different Aggies combined to register 14 hits as Haas and Jack Moss each recorded a trio of knocks. Targac, Kent and Bost also enjoyed multi-hit nights.
Six Aggies drove in a run, and it was Targac's three RBIs that led a group of four that drove in two or more.
As for crossing the plate, Tracy, Haas and Bost did it thrice, and Moss twice.
"It's always important after a game like last night," Targac said. "We understood that we were kind of passive. We talked about this morning how we just need to be more aggressive at the plate, staying on heaters.
"From the first pitch, it was all us. Great job for everybody."
A second mercy-rule victory in three outings continues what has been an inconsistent start to A&M's 2023 season, but Saturday's bludgeoning could be an important step in the right direction.
"We needed that confidence, but we got to do it more than just every other day," Schlossnagle said. "The end of the game yesterday, there's no moral victories, but I thought we had some good at-bats against a good arm."
Tomorrow also represents another chance for the Aggies to find some consistency as they face another ranked foe.
"We need to be able to do it against a top-10-15 team that Texas Tech is, and we got a chance to win a weekend," Schlossnagle said. "Last weekend we didn't.
"We're going to learn a lot about our team tomorrow."
The Aggies and 24th-ranked Red Raiders wrap up the tournament on Sunday at 7:05 p.m. CT.
Never miss the latest news from TexAgs!
Join our free email list
PRESENTED BY