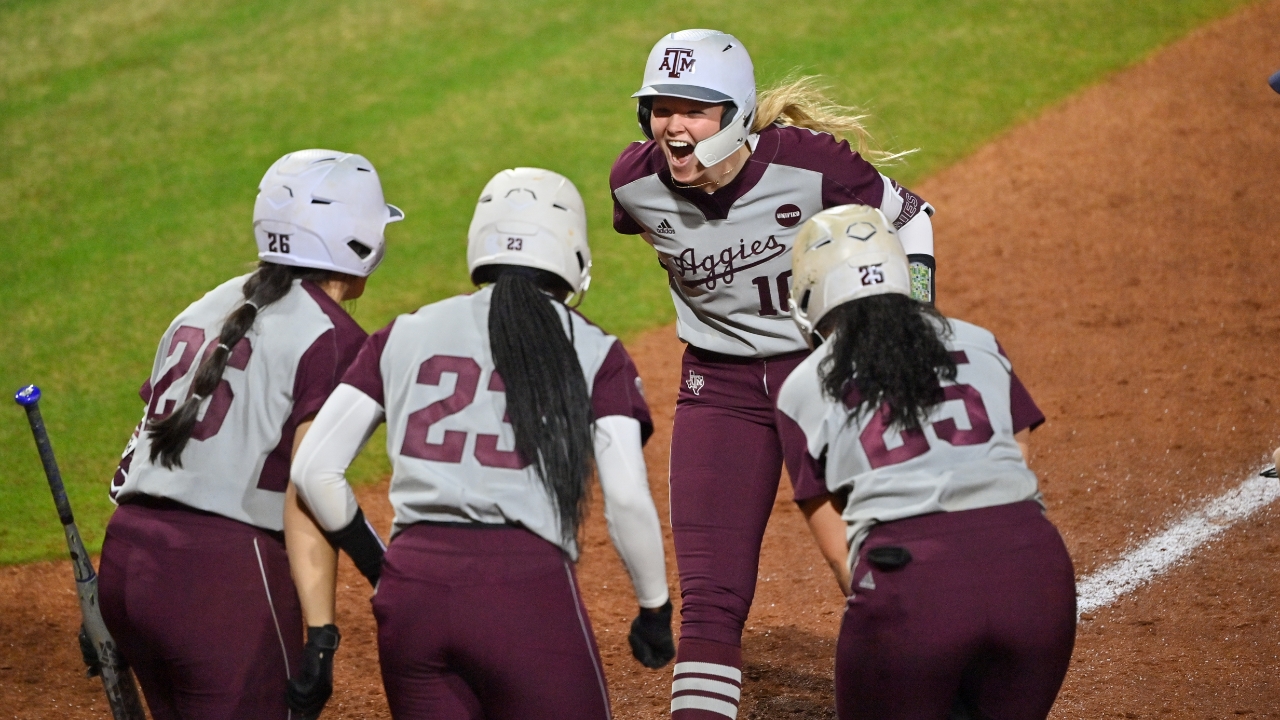 Jo Evans
Trinity Cannon
Shaylee Ackerman
Texas A&M Softball
Texas A&M softball sweeps Opening Day doubleheader with two run-rules
---
Texas A&M softball had a dominant season-opening performance at Davis Diamond on Friday night, run-ruling both teams in an unstoppable display to begin their play in the Aggie Classic.
Game 1 – Texas A&M 9, Texas A&M-Corpus Christi 1
The Aggies made quick work of their first game in the series, bringing the game to an early close as they held the Islanders back.
"We expect the progress because we see it every day at practice and in batting practice. We've made such good progress already this offseason," A&M head coach Jo Evans said. "I'm happy to see the production from everyone and we need that."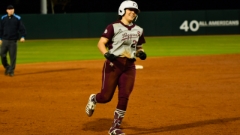 Madelyn Giles, TexAgs
Haley Lee registered the first hit of the season in the first inning, and Makinzy Herzog scored in the third to put A&M ahead, 1-0.
Katie Dack hit her career-first homer, a two-run shot, to give A&M a 3-0 lead in the fourth inning. The Islanders managed a run in the fifth, but the Aggies quickly shut them down with three of their own to bring the total to 7-1.
Freshman Emiley Kennedy relieved starting pitcher Kayla Poynter at the top of the sixth inning and immediately threw two strikeouts in a scoreless frame. The game ended with a two-run homer from Trinity Cannon, giving the Aggies a 9-1 win after the sixth.
Game 2 – Texas A&M 9, UT Arlington 0
Cannon's performance did not slow down in the second game. Despite a slow start against UT Arlington, Cannon slammed two bombs, helping the Aggies secure their second run-rule victory.
The first three innings saw numerous strikeouts, with only a combined total of three hits through the first three-and-a-half frames. Herzog contributed to this strong all-around pitching with 56 total strikes and seven punchouts throughout the second game.
Wiggins hammered a two-run homer into the side of the scoreboard in the fourth inning, bringing Allen home to put the Aggies up 6-0, cementing the advantage over the Mavericks.
Cannon hit the final homer to bring the game to an early close in the fifth inning, ending the night with a 9-0 Texas A&M win.
"I just feel like we've simplified everything, and I've slowed down everything that's going into my swing. With that comes patience and looking for what I want," Cannon said. "With this team, I just felt like it's been so much more fun, and when it's so much more fun, I just get a lot more confident."
Texas A&M will face UT Arlington once more on Saturday at 12:30 p.m. in continuation of the Aggie Classic.
Never miss the latest news from TexAgs!
Join our free email list