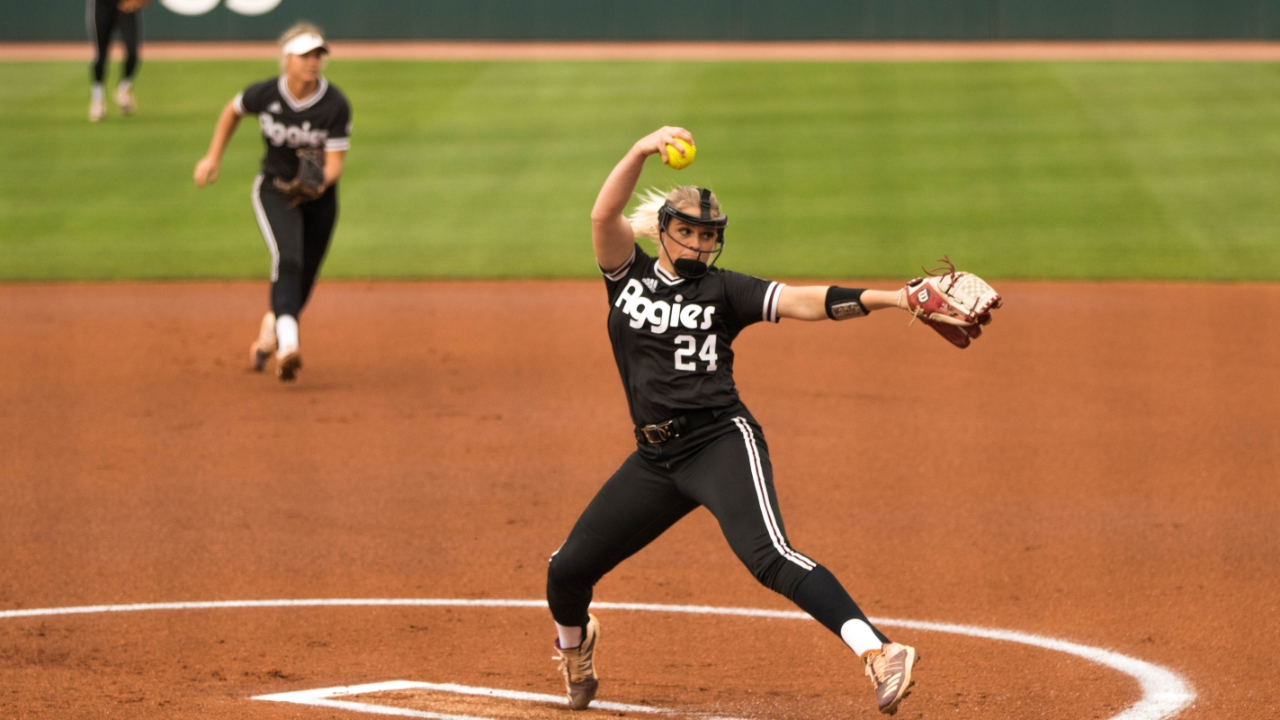 Texas A&M Softball
Herzog fans 13 as Texas A&M run-rules Sam Houston State, 8-0
---
Winners of just one of their last seven, head coach Jo Evans and Co. decided to switch up the lineup for Tuesday's matchup against Sam Houston State in hopes of finding some newfound success.
The Bearkats came into Davis Diamond hot, winning four of their last five, but left Aggieland after the Maroon & White posted an 8-0 run-rule victory. A&M desperately needed the ballgame and overcame their recent offensive struggles to get the win.
"All in all, it was a well-played game. It was nice to come out and get a decisive win."
The Ags started hot. After a 1-2-3 inning in the first frame, Haley Lee hammered one over the left field wall for her 16th home run of the season, giving the Aggies an early 1-0 lead. After a Makinzy Herzog single in the next at-bat, Shaylee Ackerman also hit a bomb, extending the Aggie lead to three with just one out in the ballgame.
A&M dominated on both sides of the ball. Herzog threw a total of 13 strikeouts, allowing just two hits and stranding five Bearkats on base. A main focus in the circle has been throwing more first-pitch strikes, and Herzog did that 20 times, with nine of her first ten at-bats beginning with a strike.
"The main point we've been looking at these past few weeks is just attacking the batter," Herzog said. "Looking at the numbers for when we throw a first-pitch strike versus when we don't, the at-bat just goes so much better for us. It finally came into play today and helped a lot."
Up five in the fourth, Lee blasted her second homer for the night, pushing her total at 17 for the year, which now ranks third in the country for home runs.
The Ags scored more runs on Wednesday than they did in the entire series against Auburn last weekend, and coach Evans is content with how the team was able to rebound offensively.
"I was really happy with how we continued to score in five out of the six innings, just continuing to put pressure on them," Evans said. "All in all, it was a well-played game. It was nice to come out and get a decisive win."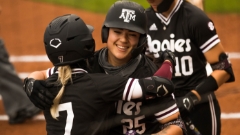 Angelina Alcantar, TexAgs
The game ended in the sixth, after a walk, a steal and a couple of wild pitches that allowed Taudrea Sinnie to reach home, ensuring the midweek run-rule win for the Aggies, 8-0.
The Aggies hope to keep the momentum from a dominating win going into the series against Ole Miss this weekend. The end of the season is drawing closer, and the Aggies need every quality win for their NCAA tournament hopes.
"I think Ole Miss' RPI right now is 20. They've had some really quality wins and have surprised some people in our conference," Evans said. "We believe we are a team who should play in the postseason, so we're just trying to chalk up as many wins against quality opponents that we can. Fortunately, every series in the SEC is a chance to get a quality win."
First pitch for the opener of the series between Texas A&M and Ole Miss is scheduled for 6 p.m. CT on Friday, April 16.
Never miss the latest news from TexAgs!
Join our free email list