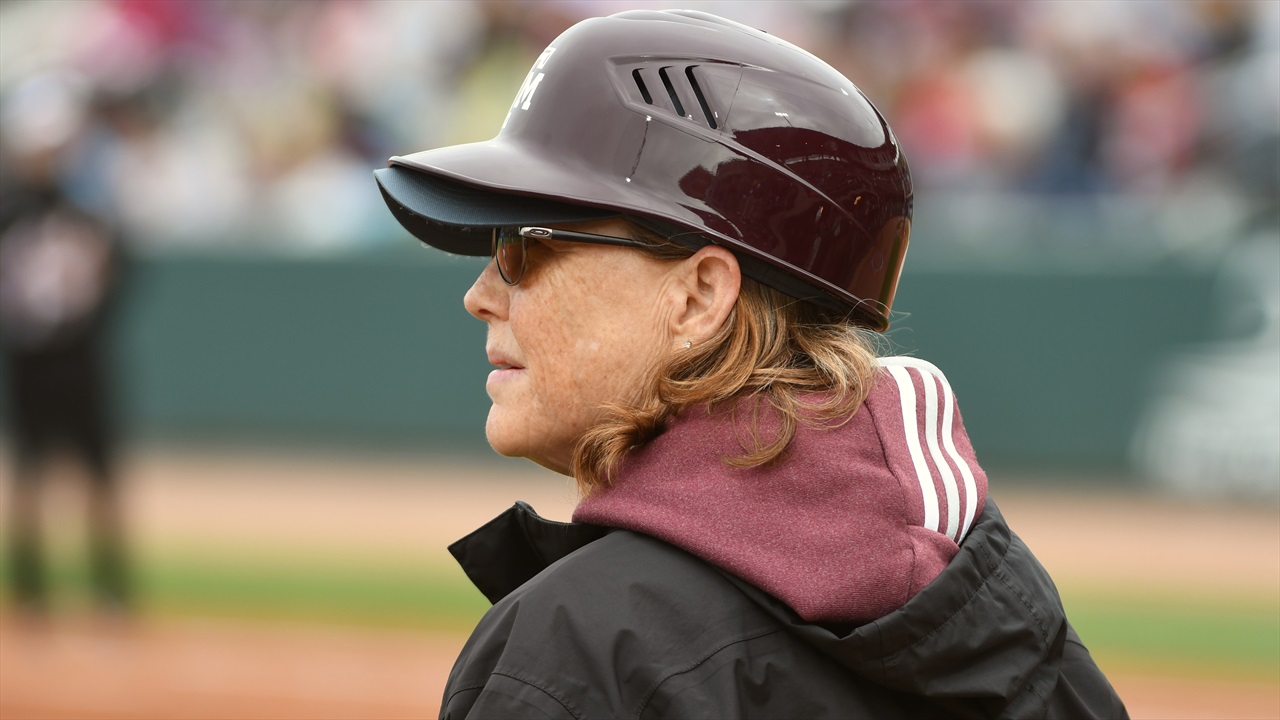 Photo by Bradley Countie, TexAgs
Texas A&M Softball
Combination of veterans and talented freshmen gives Jo Evans exciting depth
---
Key notes from Jo Evans interview
I'm really excited about this weekend and getting the season started. We've waited a long time for this, and our staff and players are very excited.

I love the camaraderie we have in our locker room. This is an enjoyable group. COVID-19 has been tough on the kids, but they have bonded and forged some special relationships through these unique circumstances. They work really hard, and we've talked about how we can overcome the pandemic and turn it into wins. I think I see that resiliency in them.

I think our potential is strong. We have a deeper pitching staff than we've had in a while. Offensively and defensively, I loved what I saw last year and also love what I've seen coming into this year. Overall, if you look at our stats, we were among the best in the country in some of those areas.

It's hard to say there's room for progress when you've had the numbers Makinzy Herzog has had throughout her career. She is a leader on the field for us, and she is such an athletic player. Herzog can do it all. I think she's one of the best athletes in the country. There is no question about it; this kid is a difference-maker.

When you're talking about adding depth, our newcomers will help a lot with that. Kelsey Broadus carried her team at Boise State, so I am excited about what she can do for us. I also love Grace Uribe's presence on the mound. She is not afraid to be out there and plays with a lot of confidence. She gives us a different look in regards to our pitching staff.

We'll have the option to have a different starter for each day in a three-game series. We'll be able to keep our pitchers fresh. It's a lot harder when you have a kid eating up a lot of innings. We are fortunate to have these options in the circle this season.

To have Kelbi Fortenberry back for another year is a great opportunity for her and especially for us. She is swinging the bat really well right now and also has a lot of great experience. I expect her to be a steady force. She's gotten to be a vocal leader before, so I want her to help walk these other seniors through the process and let them lead the team with Kelbi as an advisor.

I'm really excited about Rylen Wiggins defensively because we will have a true shortstop out there. Trinity Cannon is a powerful, explosive kid, and I'm ready to see her swing the bat against other pitching. Of course, everybody knows about Bre Warren, and everyone says she's very similar to her dad, Ty Warren, in that she's a quiet but powerful force. Overall, I'm really excited about our freshman class. They are very talented and very athletic.

Due to the number of season tickets we sell, there are only 68 tickets available online for every game this year. We encourage people to buy tickets in advance. You will most likely not get one if you walk up to the window. I fear that we will have empty seats because season ticket holders will not make it to every game this season. I also encourage people to pick up the phone and call so that some of our season ticket holders can sell their tickets when need be.
Never miss the latest news from TexAgs!
Join our free email list