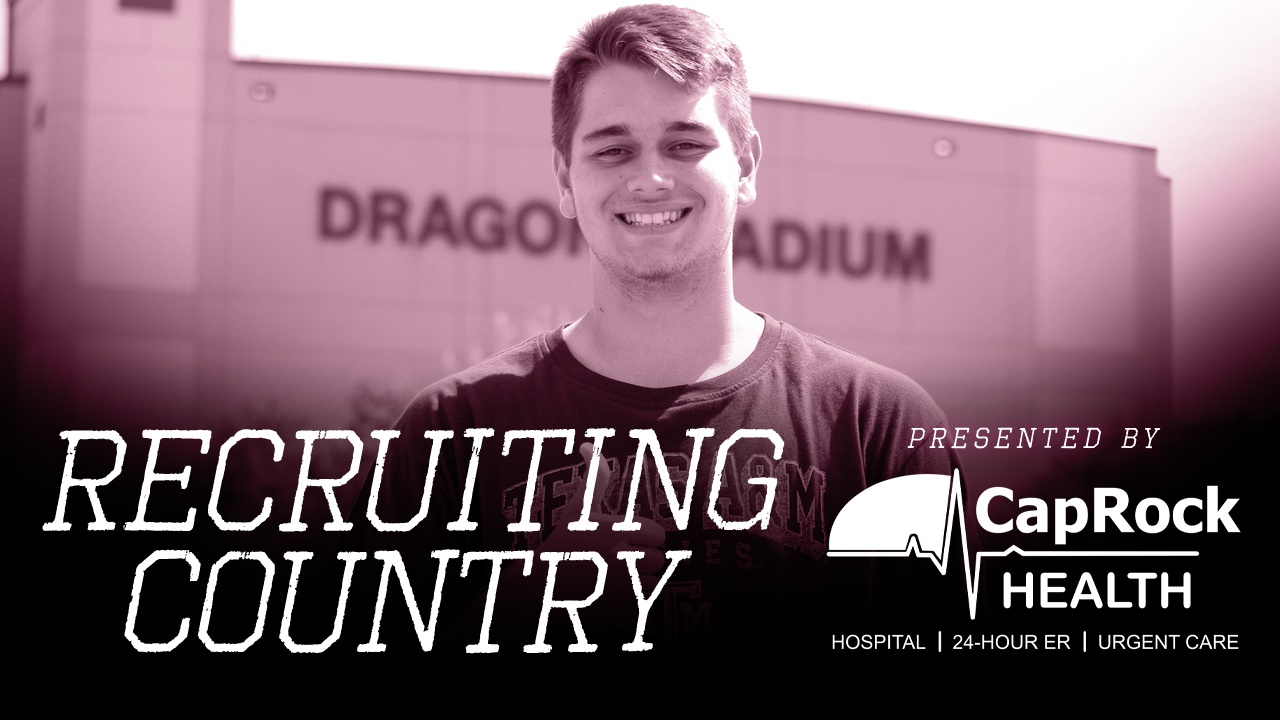 Texas A&M Football Recruiting
Recruiting Country: The latest recruiting news surrounding the Maroon & White
---
Key notes from Recruiting Country
Jason Howell: Blake Smith‍ is a 6-5 245 pound all-around strong athlete. Former quarterback, also plays point-guard on the basketball team. He's really good at it too. New to playing tight end. Made the transition and has made some big adjustments. He has seen his recruitment take off. A&M offered him and he's come to campus. A&M has had a stronghold on him for a while.
Ryan Brauninger: Blake Smith's recruitment got hot over a month and a half. He went a little unnoticed. But as a former point guard, I think he's just scratching the surface of who he's going to be as a tight end.
RB: I think he's a good piece the puzzle. He isn't blowing the charts off as an athletic freak, but he's a good piece to have.
JH: He's very smart. He finds where to go. He knows what the quarterback is looking for in a route. He does have great ball skills and has really improved in getting more physical. He's made some strides in the spring. Coach Dodge has talked to him about not having an off-season because of basketball. He has put on 15 good pounds in this off-season
RB: I think he has good hands too. He's not a phenomenal runner, like a 4.8 or 4.9 runner, but good ball skills. Texas A&M doesn't need Blake to come in to contribute immediately because of their tight ends. They could take him and use him for a year in the weight room and let him get even better.
JH: He brings something different to the table. Baylor Cupp is a freak athletically in size and terms of numbers. Blake will go the other way in intangibles and will complement Baylor in that way. We really like him. We debuted him at 70.
RB: I think Muhsin Muhammad III‍ was a kid that Jimbo had prioritized early and you certainly see why when you turn the tape on.
JH: Muhsin Muhammad III is high up there on any of the national lists. They trust him to do everything out there at Myers Park. The first highlight on his tape is as a punter taking a fake punt for a touchdown. A few minutes later, he's throwing a 60-yard strike on a receiver pass. He's extremely versatile. He's a guy that can hype everyone up before a game. He comes in ready to go.
RB: He is a well-rounded, play making wide receiver and one of the best players on the East Coast. It was a great job by Fisher and the coaching staff to land the top player in North Carolina. They're not finished at receiver either. They knocked it out of the park with Troy Omeire and there is some really strong A&M momentum there. All indications is that he is high on A&M.
RB: The next question is Devin Price‍. Is he going to beat Troy to the punch, or will Troy beat him? Given he should be age-wise, will Devin Price be okay taking a redshirt no matter what?
JH: One thing I can guarantee, is there is a lot of communication going on about how things are playing out. Coach Fisher, Terry Price and Devin Price. There's not going to be any switch up going on as far as talk is concerned.
RB: When you look at him, it's hard to envision Devin Price not being an outstanding football player at the college level. He keeps getting better.
JH: I would say the message from the coaches is real concise and real focused. The recruits know what Coach Fisher want from them and the specifics. I wouldn't say it's private. It's out there and on Twitter and Instagram. It's less about catchphrases and more about substance now.
RB: A&M is working on filling out the secondary. Isaiah Raikes‍, Fadil Diggs‍, both Alfred Collins‍ and Princely Umanmielen‍ will be here this week. Kitan Crawford‍ will be here on an official visit this weekend. There is also a handful of national guys like Vito Tisdale. We are starting to get a little more focused in the secondary but there is a lot more targets out there.
JH: EJ Smith‍ has been taking his time with the process. He plays it real close to the vest. He took a visit last year. I'd expect him to come down again in the Fall.
JH: I would say running back recruiting is quiet on purpose because of Jay Graham's reputation as the "silent assassin". He's got some targets out there. Keep an eye on Seth McGowan‍. He could be coming in this weekend. Tre Bradford‍, EJ Smith and Sam Adams‍ are also names that could be coming down to visit here.
RB: I don't think Dwight McGlothern‍ is not going to end up in the state of Texas at all. It looks like he may go to Oregon or Georgia.
RB: I think Devon Achane‍ is someone who will have a spot until national signing day. I think he's at the top of A&M's offensive wish list.
JH: On Achane: Speed, speed, speed. He is FAST!
JH: As far as linebackers A&M is looking at, you've got Antonio Doyle out of St. Louis. Kourt Williams II‍ out of southern California. Noah Sewell‍ out of Utah. Just hosted Cameron Riley‍. All of these are out of state names.
JH: Ja'Quinden Jackson has been eyeing that Texas commitment for a while. There is a very real possibility he ends up at a number of positions. A number of people say his best position is safety. But that doesn't have anything to do with Haynes King‍. Jackson is definitely a talented ball player, that's for sure.
JH: Billy said they will finish with a top ten class this summer. If Liucci says it, I'm gonna go with it.
RB: I have a big issue with recruiting rankings. It's so subjective. I think A&M will finish this summer with an extremely good crop of players.
Never miss the latest news from TexAgs!
Join our free email list