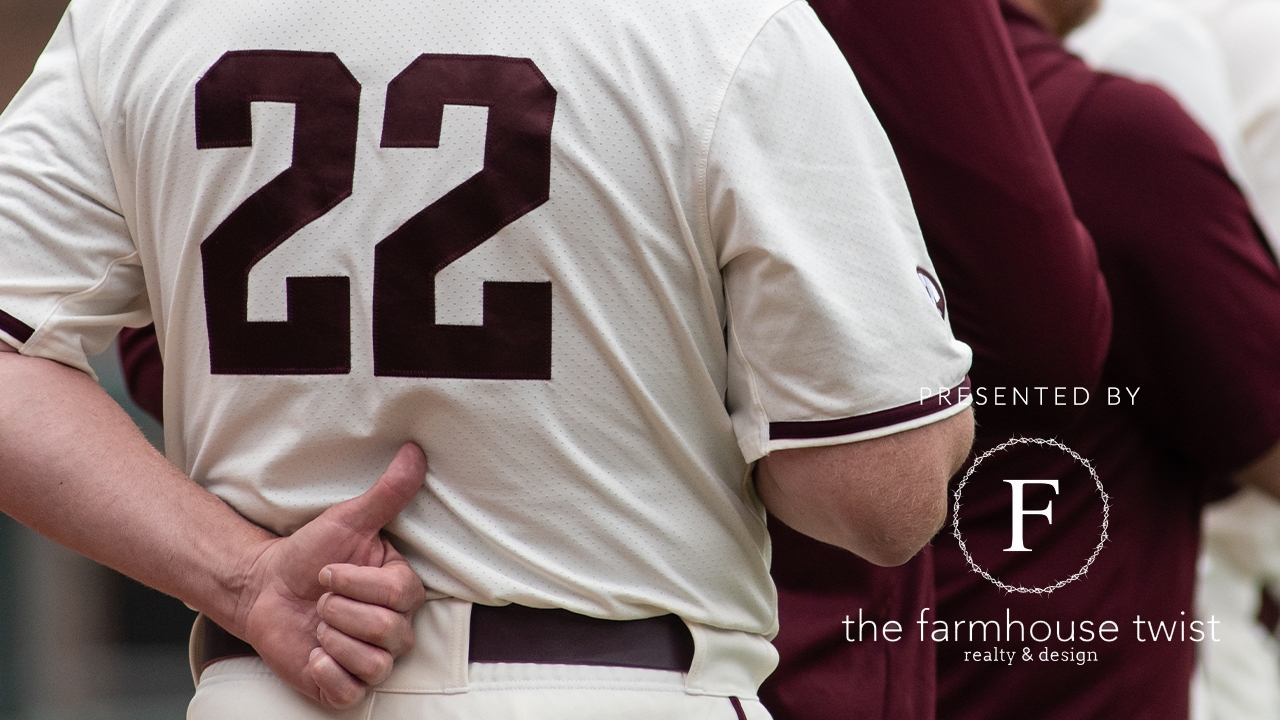 Photo by Jamie Maury, TexAgs
Texas A&M Baseball
Schlossnagle looks back on an impressive & momentum-building week
---
Texas A&M baseball fell just short of its second SEC Tournament title, but the Aggies appear to be heating up at the right time as the NCAA Tournament begins this week. On Monday morning, head coach Jim Schlossnagle spoke about that run in Hoover and more.
---

Key notes from Jim Schlossnagle interview
When we got on the plane to go to Starkville, I thought we were in good shape. I never want to leave things in the committee's hands. That first game in Starkville was one of the more emotional losses I've ever been a part of. We held on and then played six games in six days. I'm proud of our team. We went from on the bubble to a solid NCAA bid. When you get a chance to win a championship, I'm still pretty sour. Once we see our name up there, the goal is to be one of the 64 teams.

My own bed felt pretty good, and so did checking out of that hotel. Florida's plane was six hours late. They wouldn't let us on the tarmac. We were there for an additional hour or two. It feels good to be back in College Station.

There's a big difference between playing nine games in 11 days and select baseball or minor league baseball. There is so much on the line. Every pitch has so much on the line. The games blend together. Awesome for those guys to get that experience. Just to make the SEC Tournament and put yourselves in a good at-large situation is huge. That's good for the future of our program. We took some redshirt guys so they could at least see it. All of that was positive.

Stanley Tucker did a great job. It's hard to sit on the bench and not play, especially for a junior college player. Travis Chestnut runs a touch better. Tucker has good instincts in the outfield. I was glad to see him have a good pinch hit. That's the question if we leave Ryan Targac in the outfield. When do you make the switch? You don't want a hole in the lineup. He had a good at-bat, and those decisions became easier.

The disappointment of the righties and the emergence of the lefties is equal on both ends. Chris Cortez showed some signs. The breaking ball was good yesterday. The other right-handers, they need to look themselves in the mirror and figure out a way to help a team. The lefties were incredible. If you can stay in the winner's bracket, pitching isn't tested as much in a regional. Josh Stewart had some big pitches. Ty Sexton got experience. On the other side of the mound, life has to change. We have to get this program caught up with the right-handers.

With Justin Lamkin and Will Johnston, I saw it coming. I had not thrown Troy Wansing out of the bullpen. I may be kicking myself in the side for not trying that earlier. He got four outs in Starkville and built confidence. I hope that was a turning point in his career. He got out of a situation yesterday too. If Johnston handles his emotions, he has a chance to be a special starting pitcher.

I think Targac and Austin Bost are in the best place they have been all year. Targac is driving the baseball. He homered right-handed and has super competitive at-bats. That helps a lot. Brett Minnich had two great hits yesterday. I feel good about the depth. Max Kaufer had awesome at-bats and had a big hit yesterday. I couldn't be more proud of Kaufer with how he caught behind the plate.

There's a difference between trying to go have a good at-bats and searching for hits. Jace LaViolette is not hiding anymore. He's in the middle of the lineup at Texas A&M. The more at-bats you have, the more tendencies you show. Your preconceived holes can get exposed if the pitcher executes. He needs to get back on the fastball, and he'll be fine.

We are off today. We just have the Selection Show and a quick team meeting. I want them to get away from baseball. We have laundry to do. It depends on where they send us. If we have a long trip, we will leave on Wednesday or Thursday morning. We will try to give them as much recovery as possible. We will have a little workout on Wednesday before our official practice time on Thursday.
Never miss the latest news from TexAgs!
Join our free email list
PRESENTED BY