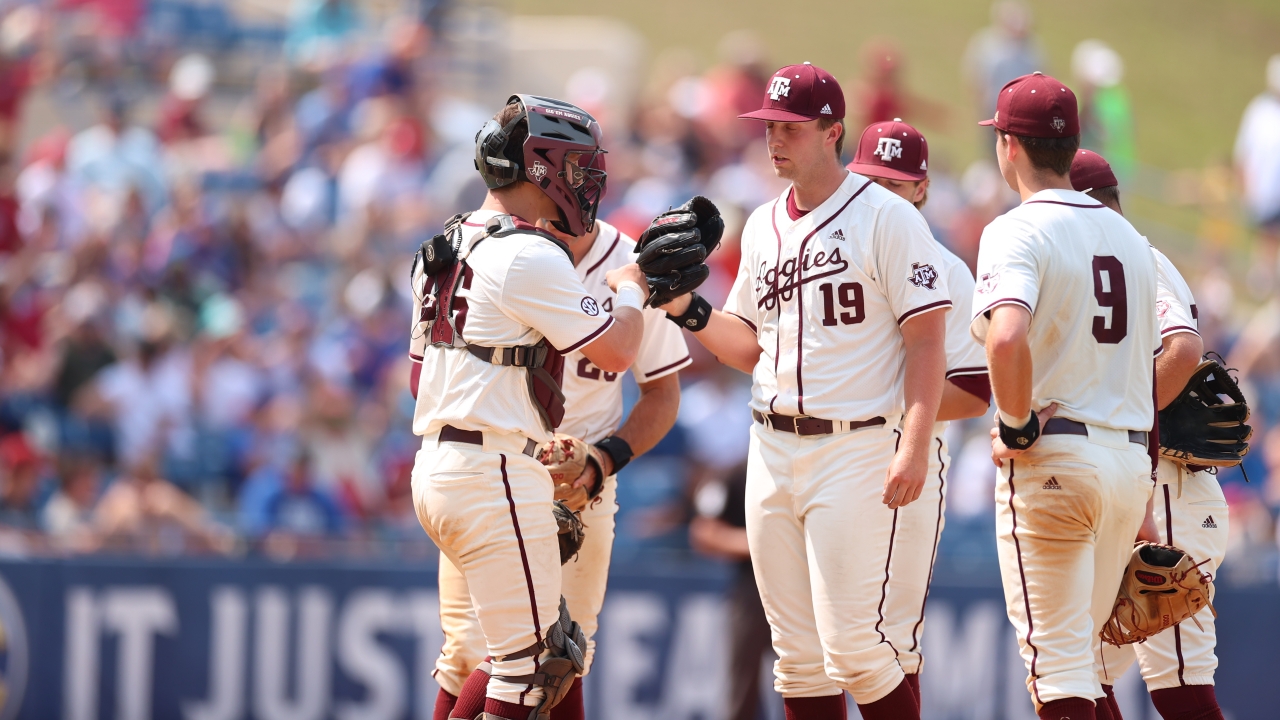 Texas A&M Baseball
Still Standing: Revenge on Arkansas vaults Aggies into SEC title game
---
Press conference video courtesy of the Southeastern Conference
Game #60: #10 Texas A&M 5, #2 Arkansas 4
Records: Texas A&M (36-24, 16-14), Arkansas (41-16, 20-10)
WP: Shane Sdao (3-1)
LP: Brady Tygart (2-1)
Save: Troy Wansing (1)
Box Score
---
It wasn't easy. It never has been this season.
But the run goes on.
Texas A&M was pushed to the limit by No. 4 Arkansas on Saturday.
The Aggies' fifth game in as many days was a sleepy affair that turned anxiety-inducing in the ninth.
Trailing 5-1, the Razorbacks attempted to mount a late comeback. Nine-hitter John Bolton's two-run double off Brandyn Garcia forced Jim Schlossnagle to turn to Troy Wansing with one out.
An error saw A&M's lead shrink to one, but back-to-back strikeouts of Jace Bohrofen and Jared Wegner sealed a 5-4 victory, sending the Aggies to their second Southeastern Conference championship game in program history.
"I'm feeling pretty good. I'm tired," Schlossnagle joked postgame. "I don't have to play, but yeah, it's been a while since we left College Station. But we've been here this long, so we might as well hang out for one more day."
That Wansing pitched after Tuesday's brilliant start was impressive enough. That he earned the save by punching out a pair of Aggie killers was even more so.
Bohrofen and Wegner finished a combined 0-for-9 with four strikeouts.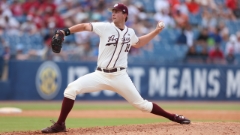 Rachel Mahan/Texas A&M Athletics
"(Wansing) said he felt great, and our bullpen coach said he looked great down there," Schlossnagle said. "He came in and made some really nice pitches, especially to Bohrofen and Wegner, who are two guys that have really gotten us."
Bohrofen tormented A&M in a sweep of the Aggies in April. Wegner hit a grand slam in A&M's frustrating loss on Wednesday.
"We swung at some bad pitches," Arkansas head coach Dave Van Horn said. "Had two of our best hitters up there, and that was probably the most disappointing part to me about that inning."
In adding to his resume for SEC Tournament MVP, Wansing would not be denied.
"He wanted to pitch yesterday. No chance I was going to do that," Schlossnagle said. "I was trying to get through this game without using him, and then for sure, whether it be start or pitch him out of the bullpen a little bit tomorrow, I don't mind doing that."
Once again, and surprisingly so, pitching carried A&M to its first win over the Hogs in five tries.
Before Wansing's ninth-inning dramatics, Matt Dillard and Shane Sdao dominated.
"When (Schlossnagle) gave me the opportunity, I was thrilled to have his respect and his trust to go out there in a situation like this, semifinal game," Dillard said. "It's awesome."
"We're going to face great teams next weekend regardless, but this is the best I've felt about our team and our pitching all season."
With his parents in the stands, Dillard made his second start of the year. Two days removed from a relief appearance vs. South Carolina, the Sam Houston transfer tossed four scoreless innings, fanning six and allowing just two hits.
The unlikeliest of heroes, Dillard nearly quit baseball before this season.
On Saturday, he's glad he didn't.
"This is what you lay in bed at night at 11 and think about, dream about," Dillard said. "This is so much fun. You want to be in moments like this."
Behind Dillard, Sdao turned in his second lengthy relief showing of the week and allowed one run in 2.2 innings. This week, the freshman has established himself as a valuable bullpen piece entering the NCAA Tournament.
Those pitching performances were crucial as A&M's offense mustered just one run through the first five innings.
Trevor Werner's 108 mph missile off the wall in the third was the only marker Arkansas starter Brady Tygart allowed in his 3.1 innings.
Insurance came in the sixth when the Razorbacks walked four batters. Austin Bost laced an RBI double. Hunter Haas and Jack Moss each earned bases-loaded free passes.
On the afternoon, Jordan Thompson had three hits. Moss added two. Jace LaViolette added an important run with an eighth-inning single to snap an 0-for-15 skid.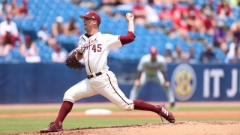 Rachel Mahan/Texas A&M Athletics
"Last time we played them here a couple of days ago, things just didn't turn our way, but today, we kept doing what we do, and it felt amazing to get this one," Thompson said.
The offense did just enough as A&M pitching continues to finally round into form.
Through five SEC Tournament ballgames, A&M has allowed just 12 earned runs in 46 innings. Starting pitching has surrendered just three runs in 27.1.
A&M's Hoover ERA is 2.35 — microscopic compared to its 5.85 mark from the regular season.
"We're going to face great teams next weekend regardless, but this is the best I've felt about our team and our pitching all season," Schlossnagle said.
No doubt about that.
While Saturday certainly wasn't easy, the Aggies will play for a trophy on Sunday afternoon.
As unlikely as it may have been, A&M faces either Florida or Vanderbilt tomorrow at 2 p.m. CT for the SEC Tournament crown.
Never miss the latest news from TexAgs!
Join our free email list