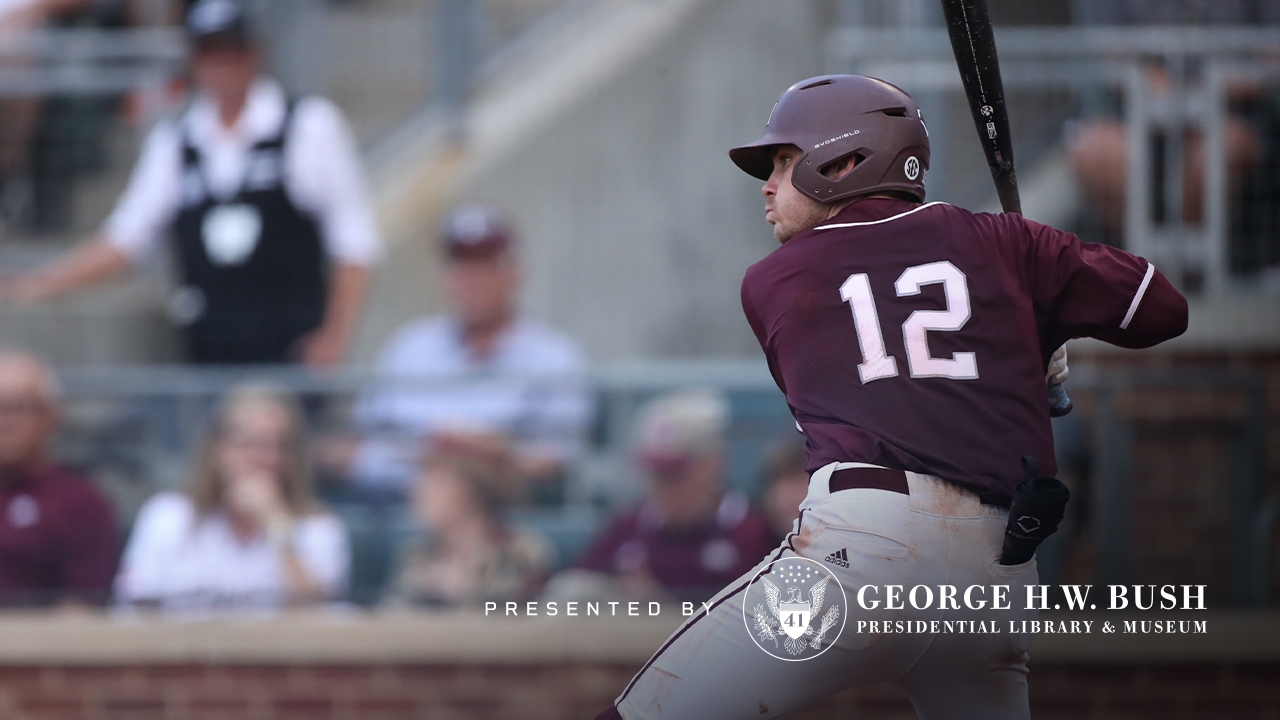 Jim Schlossnagle
Austin Bost
Hunter Haas
Jordan Thompson
Texas A&M Baseball
A&M's offensive explosion forces rubber match with No. 4 Florida, 15-2
---
Game #47: Texas A&M 15, No. 4 Florida 2
Records: Texas A&M (27-20, 10-13), Florida (37-11, 15-8)
WP: Chris Cortez (2-0)
LP: Hurston Waldrep (6-3)
Box Score
---
A weight off.
Literally and figuratively.
"It felt like a thousand pounds came off everybody's shoulders, and (Austin) Bost finally saw one go out of the ballpark," said Texas A&M head coach Jim Schlossnagle. "I called him in my office this morning and said I'm going to make you take batting practice today with a weighted vest on.
"I said it's because you're playing with the entire weight of the season on your back. You can't be carrying the weight of even yesterday, much less February, and it's not selfish. It's that he feels like he lets the team down. He hasn't let anybody down."
Bost's sixth-inning three-run home run could have served as an emphatic exclamation mark on Texas A&M's 15-2 run-rule victory of No. 4 Florida on Saturday at Blue Bell Park.
But the Aggies scored three more runs after that sky-scraping blast.
"It felt like a thousand pounds came off everybody's shoulders, and (Austin) Bost finally saw one go out of the ballpark."
"Amazing. I knew I hit it well, and I knew I got it up in the air, but I didn't know if I hit it too high in the air," Bost said. "It was nice to see."
The homer was Bost's fourth of a hard-luck campaign and his first since March 3 vs. Louisville.
And yes, the weighted vest exists.
"It's there," Bost said. "I hit with it a little bit, so it's there."
Bost finished 1-for-1 with a team-high four RBI, but as one might expect, he was not the only Aggie mashing Gator pitching.
"I don't want to take anything away from him, but the wind was blowing out," outfielder Jordan Thompson joked. "It was awesome to see. I was real happy for him. He needed it. He deserved it."
A&M scored eight in the fourth and six in the sixth, batting around in both frames.
Thompson and Hunter Haas each registered three hits to go along with three RBI apiece. Filling in for the injured Brett Minnich, Kasen Wells went 3-for-3.
In fact, every Aggie except Trevor Werner scored at least one run. Not to worry, Werner did his fair share by driving in two.
"They gave us some free bases, and we got the big hits," Schlossnagle said.
Six Aggies had a hit. Six notched an RBI. They also drew 10 walks.
The complete offensive annihilation began in the third when Haas cracked a scoreless tie with a no-doubter down the left-field line.
The doors were blown off in the following frame.
Haas' two-run double made it 3-0, Werner notched an RBI groundout, and after having a bases-loaded hit-by-pitch stolen from him, Thompson singled home two.
"The offense just exploded today like we do," Bost said. "We're just going to keep making our swings and that same approach. Good things happen."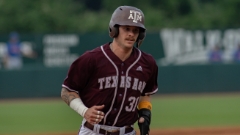 Zoe Kelton, TexAgs
Four of A&M's runs were charged to Florida starter Hurston Waldrep, a potential first-round pick that flashed fastball velocity ranging from 94-98 mph.
Waldrep's heat didn't phase A&M.
"He was a good pitcher, but after facing (LSU's) Paul Skenes, he'll probably be the best we're going to see," Thompson said. "Everything else is just typical SEC pitching."
Not to be lost in the fireworks, A&M used just three pitchers to nail down the win.
Troy Wansing went 3.2 innings scoreless, getting out of a key second-inning jam. Chris Cortez tossed 2.1, and Brad Rudis finished the job in the seventh.
"We kept extra pitchers on this roster just for the weekend," Schlossnagle explained. "Obviously, we're not in a great spot from a starting pitcher standpoint. ... We didn't have to use (Evan) Aschenbeck or (Brandyn) Garcia, so those guys can be available tomorrow. It's going to be a dogfight."
By the time Jac Caglianone launched his Florida-record 27th home run of the year off Cortez, the Gators were already in a 9-0 hole in the fifth.
By the time Cade Kurland scored on Rudis' seventh-inning wild pitch, the Gators were already buried at 15-1.
"When was the last time we won a game and it was in hand? I can't even remember," Schlossnagle said. "My favorite baseball score is 8-2. You've scored, and you get up and coast.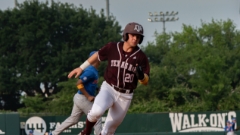 Zoe Kelton, TexAgs
"The 10-run-rule games don't come around often in this league, but that one right there, it felt good."
Using three arms in back-to-back nights should set the home-standing Aggies up nicely in Sunday's 1 p.m. CT rubber match.
But A&M knows SEC victories are always difficult to come by.
"Winning games and trying to get to .500 in this league is really hard to do," Schlossnagle said. "It's going to be a dogfight. Last night was a dogfight. I'm sure they'll come out swinging tomorrow."
Needing to get to the thought-of 14-conference-win plateau to feel comfortable on Selection Monday, the Aggies now have seven opportunities to find four.
That search resumes tomorrow.
"No one has to tell them what's at stake," Schlossnagle said. "No one has to tell them RPIs or conference tournaments or regional stuff like that. They all know. They all know we have to win ballgames. If we win, all that stuff will take care of itself."
When the series finale begins, perhaps the figurative weight will be gone.
That weighted vest will absolutely return pregame.
Never miss the latest news from TexAgs!
Join our free email list
PRESENTED BY