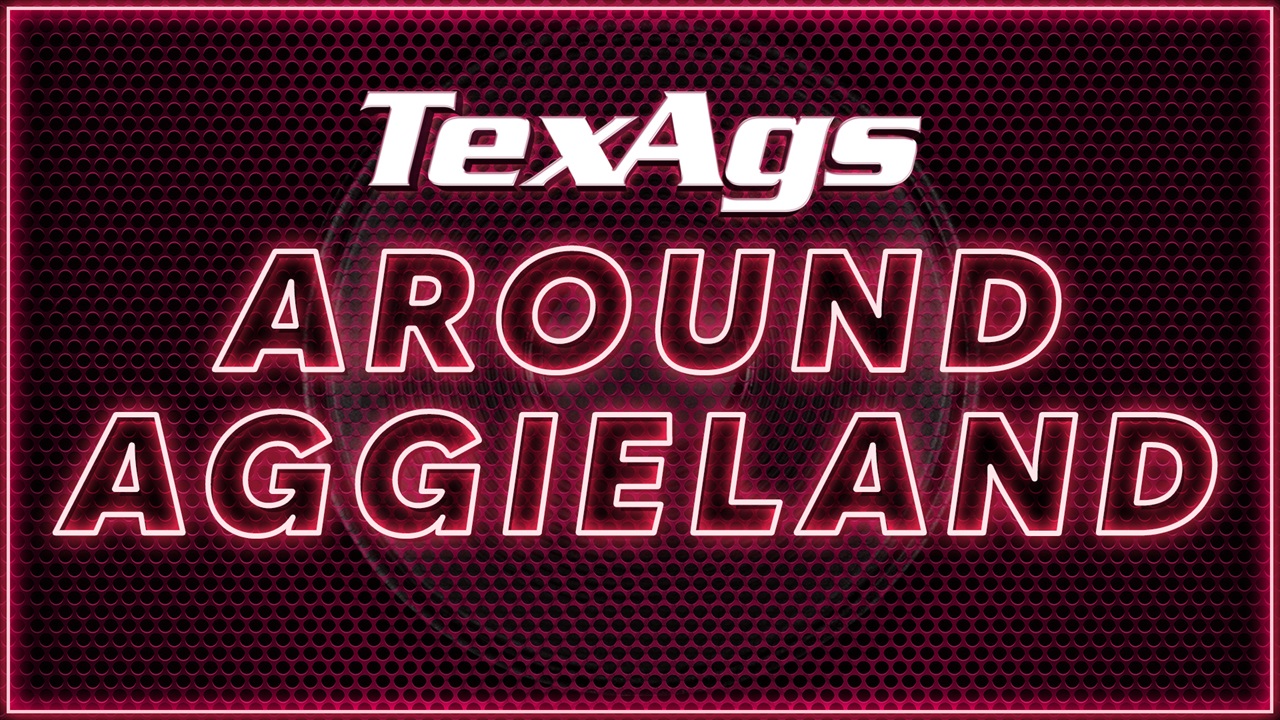 Texas A&M Football
Around Aggieland (4/14)
---
On Friday's edition of TexAgs Radio, Kay Naegeli took us Around Aggieland and provided updates on all things Texas A&M Athletics as the Maroon & White Game is on Saturday, baseball's third inning propelled the Aggies to victory, softball goes on the road to South Carolina and more.
---
Football
Jimbo Fisher and Co. will finish off spring ball this weekend as they play in the Maroon & White game at Kyle Field on Saturday at 3 p.m. CT. Admission to the game is free, and it will also be streamed on SEC Network+.
Baseball (21-13, 6-7 in SEC)
After falling in the midweek, 5-1, to UTSA, the Aggies responded by claiming Game 1 of their weekend series, 13-5, over Missouri.
Trevor Werner tied the game in the second, 1-1, with a solo home run
Jordan Thompson hit a two-run bomb to left center in the third.
Shane Sdao (1-1); W, 3.1 IP, 2 H, 1 ER 3 BB, 3 K
The series with the Tigers will continue on Friday and Saturday at Olsen Field.
Friday: 6 p.m. CT, SEC Network+
Saturday: 12:30 p.m. CT, SEC Network+
Softball (26-13, 8-7 in SEC)
No. 21 Texas A&M won a top-25 matchup in the midweek, taking down No. 25 Louisiana, 4-2, at Davis Diamond on Wednesday.
Trinity Cannon launched a solo home run in the first.
Julia Cottrill hit a two-RBI single in the second to put the Aggies ahead 3-1.
Emiley Kennedy (8-3); W, 4 IP, 5 H, 0 ER, 2 BB, 5 K
A&M will be in Columbia, South Carolina this weekend to take on the Gamecocks in a three-game set.
Friday: 5 p.m. CT, SEC Network+
Saturday: 1 p.m. CT, SEC Network
Sunday: 12 p.m. CT, SEC Network+
Men's Golf
The Maroon & White finished second this week at the Aggie Invitational at Traditions Club. A&M shot 9-under par, three strokes behind Louisville who finished in first. Phichaksn Maichon led the Aggies, shooting 6-under par on the week.
Women's Golf
No. 10 Texas A&M continues play at the SEC Championship in Hoover, Alabama. Through the first two rounds of stroke play the Aggies are tied for fourth at 20-over par. A&M will tee off in the third round of stroke play on Friday at 8:50 a.m. CT.
The quarter-finals and semifinals of match play will take place on Saturday before the Championship match at 7:30 a.m. CT on Sunday. The semis will be streamed on SEC Network+ and the championship will be on the SEC Network.
Men's Tennis (14-10, 6-5 in SEC)
The Aggies fell on Thursday at the Mitchell Tennis Center, 4-1, to No. 9 South Carolina. A&M will look to respond in its final SEC match of the regular season Sunday at 1 p.m. CT at the Mitchell Tennis Center against No. 17 Auburn.
Women's Tennis (23-1, 11-0 in SEC)
Sophomore Mary Stoiana was named SEC Women's Tennis Player of the Week for the third-straight week in a row.
No. 2 Texas A&M will play its final two regular-season conference matches this weekend as they travel to Kentucky and Vanderbilt.
Friday: @ Kentucky - 11 a.m. CT
Sunday: @ Vanderbilt - 11 a.m. CT
Equestrian (9-7, 4-2 in SEC)
The Maroon & White's season came to a close as they fell, 13-7, to No. 4 TCU in the quarterfinals of the NCEA Championship.
Soccer
The Aggies will close out its spring schedule this weekend as they host Texas State and UTSA at Ellis Field on Saturday.
Game 1: vs Texas State - 1 p.m. CT
Game 2: vs UTSA - 5 p.m. CT
A&M also revealed its 2023 fall schedule on Thursday. The schedule can be viewed HERE.
Never miss the latest news from TexAgs!
Join our free email list