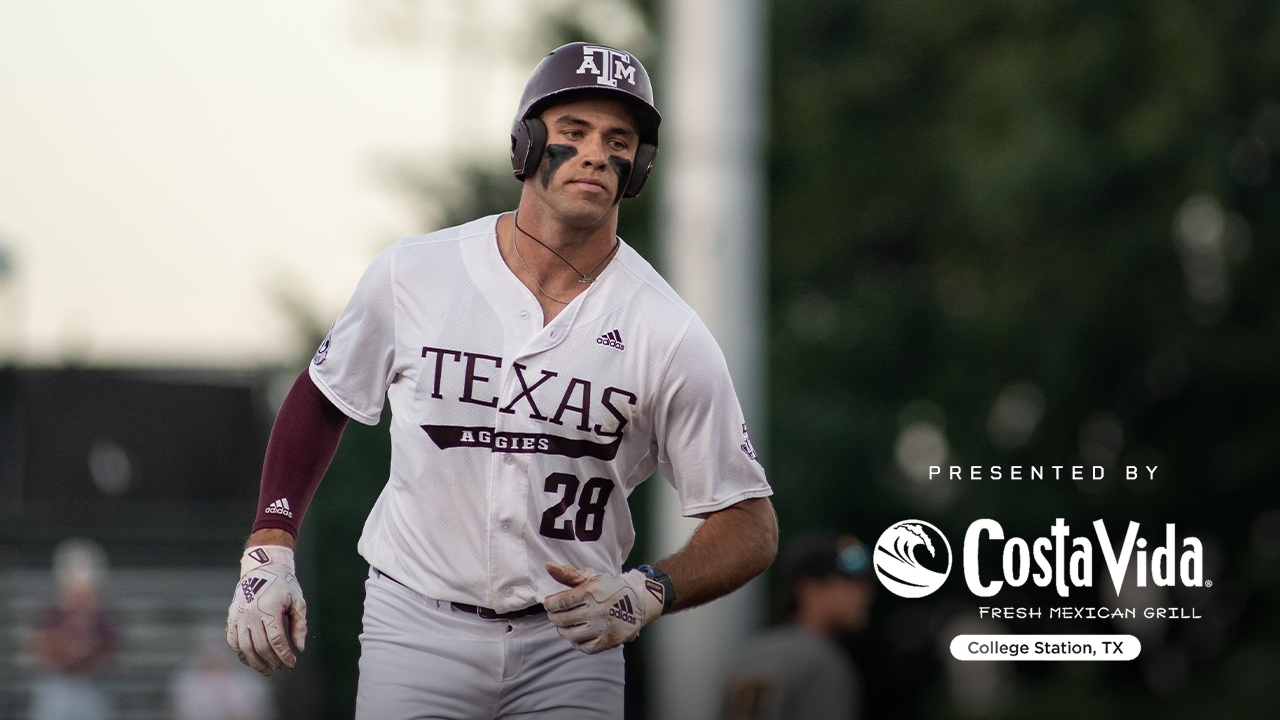 Jim Schlossnagle
Ryan Targac
Texas A&M Baseball
Third-inning onslaught powers A&M past Missouri in series opener, 13-5
---
Game #34: Texas A&M 13, Missouri 5
Records: Texas A&M (21-13, 6-7), Missouri (21-12, 4-9)
WP: Shane Sdao (1-1)
LP: Logan Lunceford (3-2)
Box Score
---
It didn't take a momentous swing to start the engine.
Patience at the plate was the igniter this time around.
And before the Aggies knew it, a two-run deficit transformed into a seven-run lead they never relinquished.
Four consecutive walks crescendoed into an explosive nine-run third inning that keyed Texas A&M's 13-5 Southeastern Conference win over Missouri on Thursday at Blue Bell Park.
It was A&M's most lopsided triumph since early March against Incarnate Word (13-5).
"Not the prettiest game, obviously," Texas A&M head coach Jim Schlossnagle said. "A lot of free bases on both sides. Thankfully, we got the big hits when we had guys on base there in the third inning. We'll take it."
"Not the prettiest game, obviously. A lot of free bases on both sides. Thankfully, we got the big hits when we had guys on base there in the third inning. We'll take it."
Luckily for the Aggies, they benefited far more from free bases than Missouri.
After starting pitcher Lance Lunceford surrendered four straight walks to open the third and another bases-loaded walk to Trevor Werner, those big hits arrived.
Jace LaViolette dropped a single to center field for the go-ahead run. Ryan Targac immediately followed with a two-run single.
Before Jordan Thompson clobbered a 433-foot, two-run homer to left center, LaViolette stole third and crossed home on a throwing error.
Missouri ended the night with four errors in total.
Jack Moss then wrapped up the enduring eruption with an RBI single that put the Aggies ahead, 10-3.
"Our main goal was just to win each pitch," Targac said of the outburst. "That's what we take pride in, especially one through nine in that inning. If there's a ball, we're taking it. If there's a strike, we are getting a swing on it. So it's just a matter of fact if we win each pitch, that's going to happen out there."
Six different Aggies accounted for the team's eight hits. Werner — who clonked a solo homer on a hitter's count in the first — ended 1-for-3 and drew two walks. Targac finished 2-for-5 with two RBIs.
Even with all the pandemonium the offense provided the 6,125 in attendance, Thursday offered a glaring reminder of A&M's inconsistencies surrounding the mound.
Nathan Dettmer was tugged in the fourth after allowing his fourth and fifth walks. He gave up three runs, including a bases-loaded walk in the second and two-run homer in the top of the third.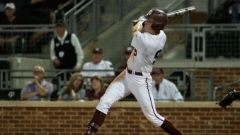 Jamie Maury, TexAgs
With starting pitching listed as TBA over the next two days, Schlossnagle said postgame tomorrow's starter is still unknown.
An A&M starter hasn't won a game since March 11.
"Just no command of his fastball," Schlossnagle said of Dettmer. "I mean, the only pitch he could throw for a strike was a slider. I thought once he pitched out of the second inning, I was like, 'Okay, maybe he can get us a few.'
"This wasn't his night. Nobody feels worse than him. He gets an extra day's rest now before he'll pitch again next week. So maybe that'll help him."
Shane Sdao was credited with his first career win (1-1). He lasted 3.1 inning and was charged with an RBI groundout and another run in the fifth when Dylan Leach scored on a wild pitch. Brad Rudis held the Tigers scoreless through the final two innings.
"I just asked [Sdao] just to get us through the middle innings there so we didn't have to use a lot of pitchers, and Rudis did a nice job," Schlossnagle said.
With time gradually winding down and only five series left after this week, Friday offers the Aggies the coveted opportunity to reach .500 in the conference standings for the first time this season.
A successful outing would also capture their third straight series win.
"It's good to get the opening night win but it already happened," Targac said. "We put it in the past and tomorrow is a new day.
"So we're going to go out there and do what we do."
Never miss the latest news from TexAgs!
Join our free email list
PRESENTED BY