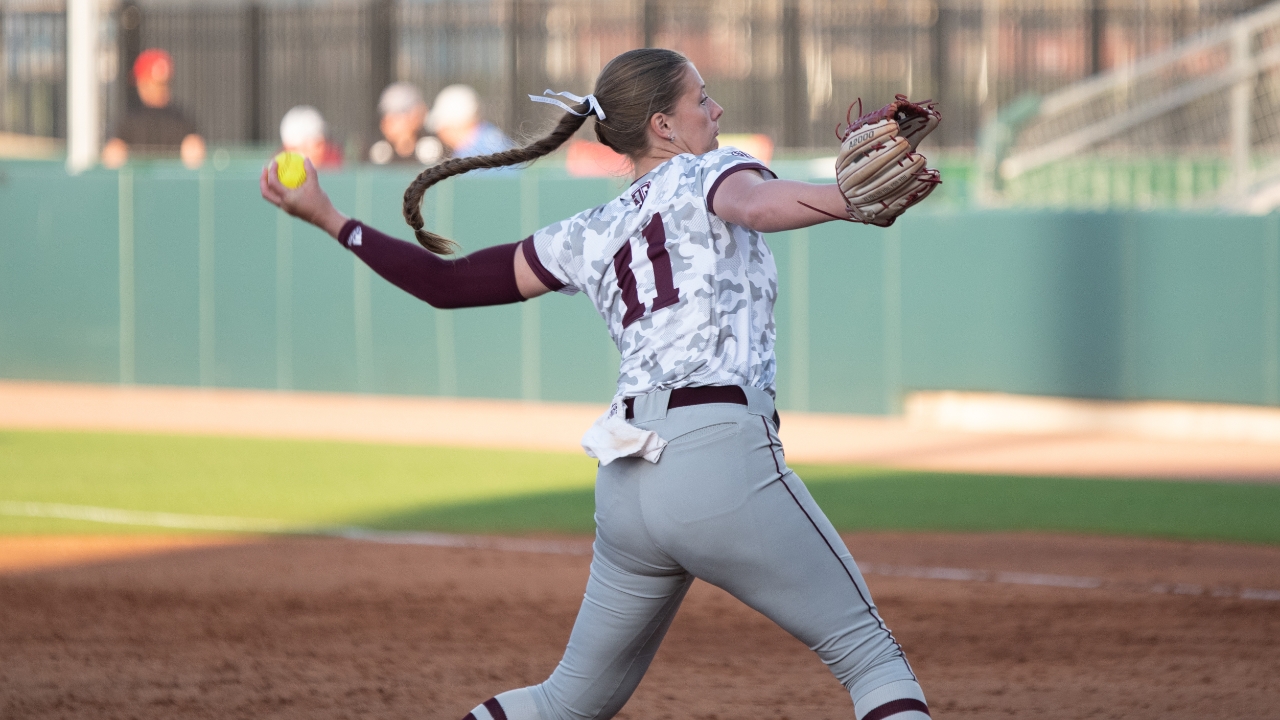 Trisha Ford
Cottrill & Cannon
Texas A&M Softball
Winning streak reaches four as No. 21 A&M dispatches No. 25 Louisiana
---
No. 21 Texas A&M took full advantage of a ranked non-conference matchup with a 4-2 win over No. 25 Louisiana on Wednesday night at Davis Diamond.
In usual fashion, the offense did its job in the batter's box, but the highlight of the night was Emiley Kennedy's impressive relief performance. The sophomore pitcher tallied five strikeouts while only giving up five hits and no runs through the final four innings.
"For me, Emiley Kennedy really matches up with anybody when you're throwing the way she's throwing," A&M head coach Trisha Ford said. "She's only a sophomore, so for me, if she starts to fit into this role a little bit better, than I need to go make sure we get some kids who compliment her to start a game."
Kennedy relieved Emily Leavitt in the fourth inning after a slow start from the Minnesota transfer. Leavitt recorded three strikeouts and allowed two runs on five hits.
"Whenever her changeup gets elevated and gets taken out of play, it becomes a little more difficult with her," Ford said of Leavitt. "That's a good offensive team, I think we were just trying to get her touch on the ball a little more."
Offensively, the ladies in Maroon & White took care of business as they brought in some key runs when it mattered most.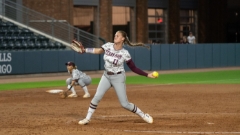 Cade Ingersoll, TexAgs
The fire was lit immediately when Trinity Cannon sent a ball over the fence on her first swing of the game.
The offense kept that instant momentum going in the bottom of the second after Louisiana answered with their own solo homer. Morgan Smith earned a walk and was followed by Paige Lott drilling a ball to left center. Amari Harper then loaded the bases with a hit-by-pitch.
Julia Cottrill brought Smith and Lott home with a double to right field, giving the Aggies a much needed lead in a close game.
"I wanted to let the ball travel," Cottrill said. "I knew she wasn't throwing that many strikes. I don't even know if the one I swung at was a strike. She was keeping it low in the zone, and I wanted to keep the ball on the ground and push at least one run."
The Ragin' Cajuns did not stay quiet for long. Scoring another run, they attempted a rally in the fourth inning and kept the Aggies on their feet by loading the bases. But Kennedy shut down the threat with a strikeout before Rylen Wiggins picked off a runner at third base.
After a hectic fourth, both offenses stayed silent the rest of the way. The game kept moving in a defensive battle with A&M ultimately coming out on top.
The Aggies will travel to South Carolina for a weekend series against the Gamecocks starting Friday. First pitch is set for 5 p.m. CT.
Never miss the latest news from TexAgs!
Join our free email list