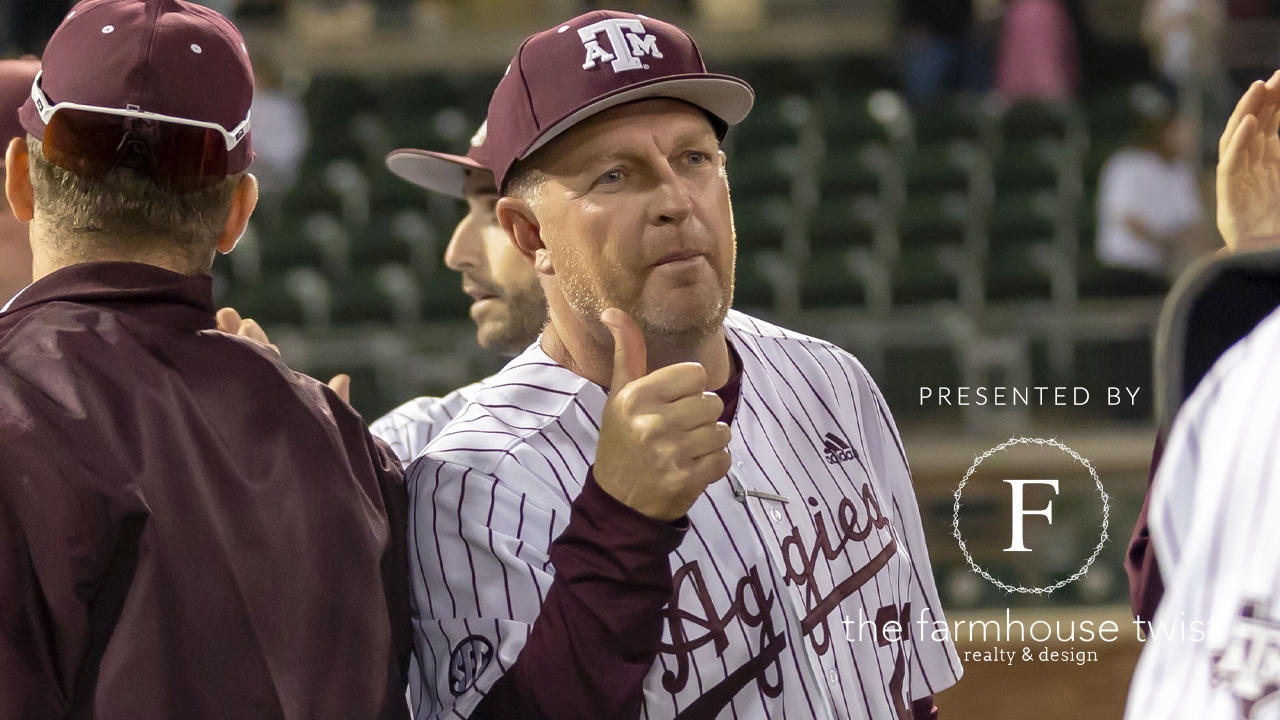 Photo by CJ Smith, TexAgs
Texas A&M Baseball
Jim Schlossnagle & Co. travel to Knoxville for first SEC away weekend
---
The Fightin' Texas Aggies have won back-to-back ballgames, and this weekend, they'll visit the 12th-ranked Tennessee Volunteers for another big-time SEC series. On Thursday morning, head coach Jim Schlossnagle spoke to TexAgs Radio to preview the road trip.
---

Key notes from Jim Schlossnagle interview
Justin Lamkin has shown a lot of growth. He has really been a consistent and mature guy. He threw a lot in high school, and his velocity isn't what we saw when we recruited him. He's on a more consistent team now, but he has always been a strike-thrower. He's a guy that can handle pitching in the biggest moments. This college baseball season is really tough, especially for a freshman pitcher. We will run him out there this weekend, and I'm sure he's going to be great.

The conversation with Chris Cortez about taking him out of the rotation went great. I think Cortez is a self-aware guy, a team guy and a team leader. I told him we have a chance to get better in the rotation and the bullpen, and I let him know this is the move we are going to make for now. I'm not closing the door to him as a starting pitcher this year or in general, but you have to be able to throw multiple pitches for strikes. Cortez as a right-handed reliever is as good or better than what we have had. Nobody has the pure stuff that Cortez has. His breaking pitch isn't as consistent as he or we would like, but we've given him time to develop those pitches. Maybe we will strike gold this weekend.

A free base is valuable in baseball. We keep track of the free-base battle on a big board in the locker room, and last year, I think we were 34-8 when we won the battle. I think we were 8-12 when we lost it, but I think we were 2-0 when it was even over the last four games. Then Tuesday night, we lost the free-base war in the fourth. But that's not going to be how you win long term, but it is definitely something we talk about every day and headed into this weekend as well.

Tennessee is still dangerous, and they are motivated after this weekend. I haven't been to Lindsay Nelson Stadium in a long time. The last time was in 1993, and Todd Helton was a freshman then. Apparently, the ballpark has changed a lot since then. Tennessee does have a very potent offensive team, but we are going to do our best to hang with them.

Austin Bost has been all good since his hit-by-pitch to the hand. He actually called the next moring and said he feels great and wanted to hit. He got about 4-5 at-bats yesterday and did well. Trevor Werner did well too.

All of the right-handed pitchers for Tennessee are super talented, like Chase Dollander. They have big arms and throw low to mid-90s. The difference is they use their breaking ball a lot more than Paul Skenes had to, but these right-handers are all really talented. They aren't anything that we haven't seen. We just have to get them in the strike zone and be on time for a fastball.

Jace LaViolette made a huge adjustment to his swing with Michael Earley this week and changed a lot in his setup and stance. Hopefully, those guys start feeling more confident and can get us more.

I am definitely looking forward to getting to see my son close by this weekend in Tennessee. He lives in Nashville. We are going to catch a couple of ball games, and some of the rest of my family will be there as well. I'm looking forward to this trip.
Never miss the latest news from TexAgs!
Join our free email list
SPONSORED BY