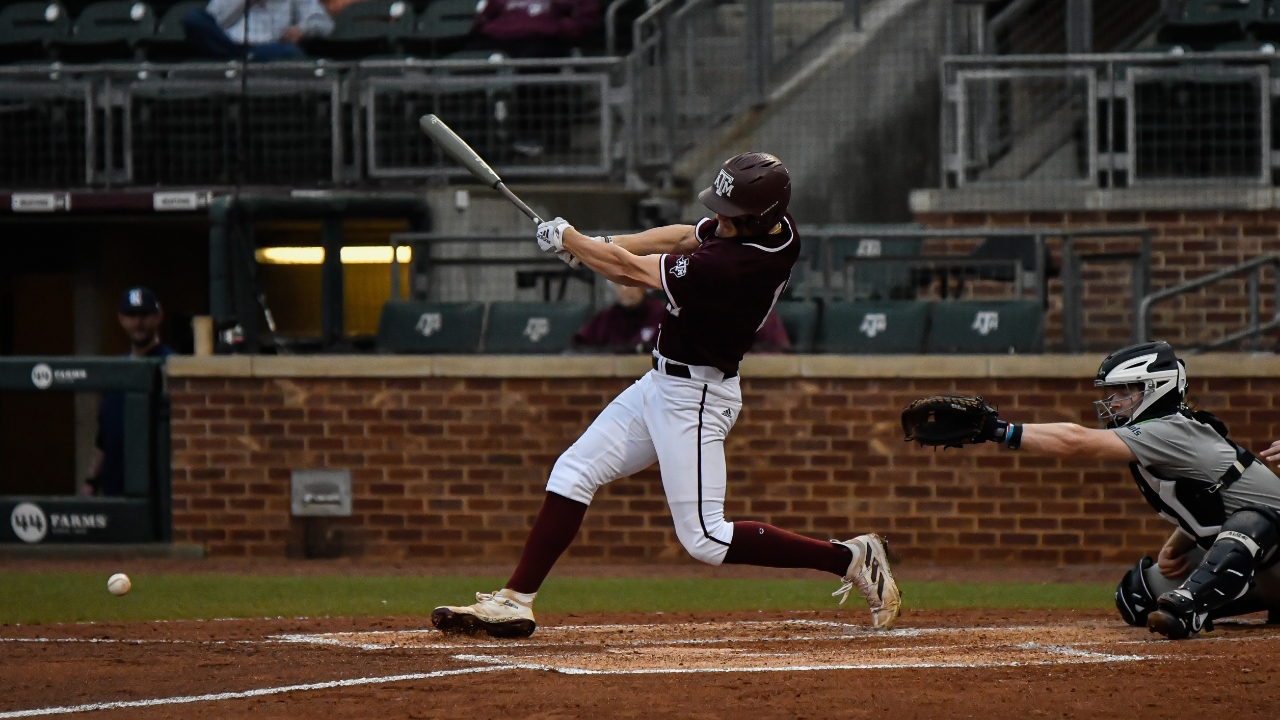 Jim Schlossnagle
Trevor Werner
Shane Sdao
Texas A&M Baseball
No. 21 A&M weathers the storm against Rice with walk-off HBP, 8-7
---
Game #21: No. 21 Texas A&M 8, Rice 7
Records: Texas A&M (15-6, 1-2), Rice (11-10, 3-0)
WP: Robert Hogan 2-0)
LP: Justin Long (2-2)
Box Score
---
A bittersweet dose of Olsen Magic arrived in the most unexpected way possible on a dreary Tuesday night at Blue Bell Park.
With the game tied and bases loaded on a full count, Austin Bost wore a 94 mph fastball on his hand for a painful walk-off hit-by-pitch to carry No. 21 Texas A&M past Rice, 8-7.
"You see him [Bost] get hit and win the game, but you also see that it looks like it hurts," A&M head coach Jim Schlossnagle said. "Hopefully, he's alright. We'll find out … He's hurting pretty good. Hopefully, it's just a bruise, but those are always scary when you get hit on the hands at 94 mph."
The Aggies finish the season series against the Owls 3-0, having outscored them 27-9.
Still, for a lineup that only mustered two runs in their previous two encounters with A&M, the visitors quickly showed they weren't going down easy.
"Every game is just as important as the next. Whether it's Rice, LSU or Tennessee, they're all important, and it's just good to get in the win column."
Benjamin Rosengard delivered an assertive opening blow by belting a leadoff homer to center field.
Starting pitcher Wyatt Tucker was chased after just 2.1 innings when Drew Holderbach launched a two-run bomb to left center.
Scoreless after three frames, the Aggies finally assembled an effective counterpunch. Kasen Wells doubled down the right-field line for an RBI single before he crossed home on Hunter Haas' ensuing stand-up double. Jack Moss forged a 3-3 tie with an RBI triple that crashed into the warning track.
Through the last eight games, Haas has taken ownership of the longest active hitting streak on the roster and owns an admirable .486 batting average (18-for-37) during that stretch. The Arizona State transfer has now reached safely in all but one game this season.
With mild fog setting in and light rain persisting, Hank Bard's RBI groundout in the fourth was just enough to take control of a delicate 4-3 lead.
In the sixth, Jace LaViolette hurled a 452-foot bomb followed by Trevor Werner's two-run homer in the eighth. In his first start in two weeks after dealing with a hamstring injury, Werner finished the night 2-for-4.
"It felt great," Werner said. "That's the biggest thing when you go down like that. You just got to know that the guys behind you have your back, and you just do one day at a time and take care of business on whatever you need to do to stay ready. That's what I did."
The one-two combo seemed to have all but sealed Rice's fate until the Owls responded with a pair of two-run homers of their own in the ninth, molding a 7-7 knot.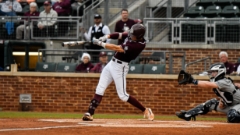 Zoe Kelton, TexAgs
The threat was neutralized in the bottom of the frame as Wells drew a leadoff walk ahead of two consecutive singles to load the bases for Bost's tough heroics and A&M's second straight victory.
"Obviously, we were going with the lead and were just playing offense at that point, and it ended up helping us out at the end," Werner said. "It just felt good to get back out there, get the homer, get the win."
After salvaging a win from top-ranked LSU, the Aggies aim to build on tonight's success entering another vital Southeastern Conference series at No. 12 Tennessee this weekend.
The Aggies' first triumph over the Owls earlier this month sparked an eight-game winning streak. Similar results might be needed to avoid treading on precarious ground in the SEC.
"We took what we did from last weekend and learned from it. We just told ourselves that we are going on one-game win streaks," Werner said. "Every game is just as important as the next. Whether it's Rice, LSU or Tennessee, they're all important, and it's just good to get in the win column."
A&M begins its three-game road set with the Volunteers on Friday. First pitch is scheduled for 6:30 p.m. CT.
Never miss the latest news from TexAgs!
Join our free email list