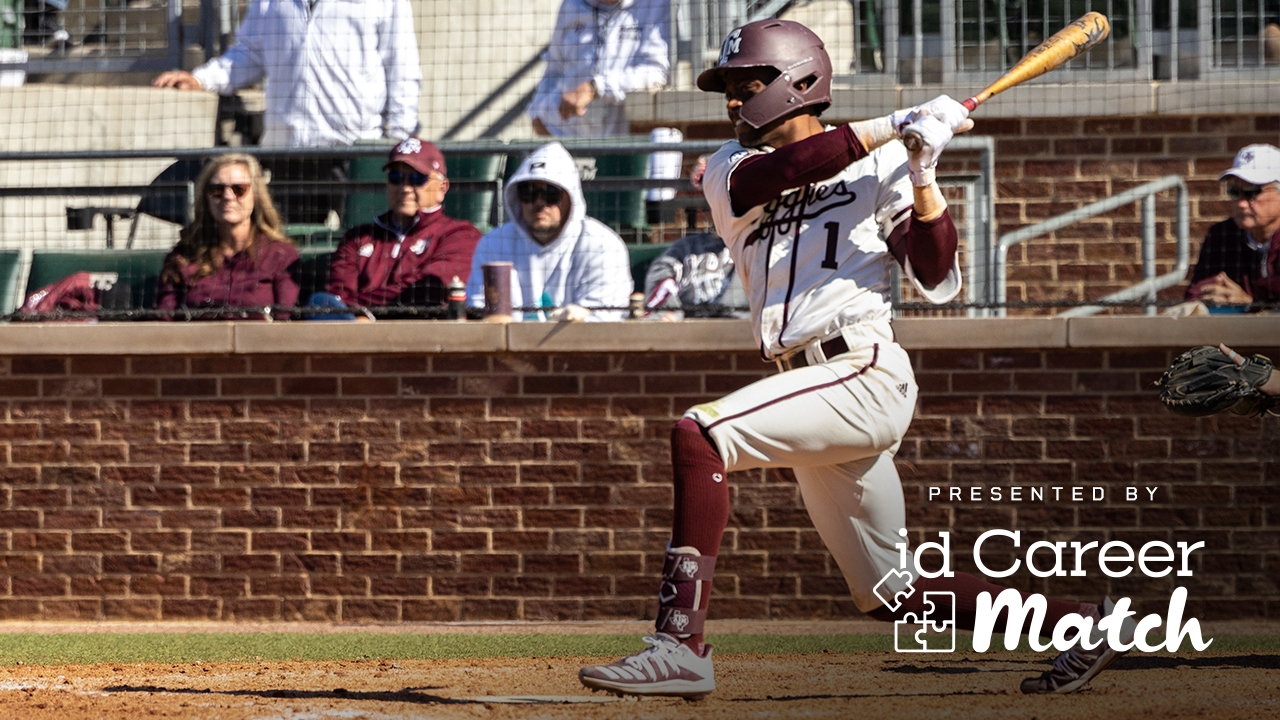 Jim Schlossnagle
Stanley Tucker
Justin Lamkin
Texas A&M Baseball
Stanley Salvages Sunday: Tucker's heroics help complete comeback, 8-6
---
Game #20: No. 15 Texas A&M 8, No. 1 Louisiana State 6
Records: Texas A&M (14-6, 1-2), Louisiana State (18-2, 2-1)
WP: Will Johnston (2-0)
LP: Christian Little (2-1)
Box Score
---
Stan the Man.
Not Musial. Tucker.
With No. 15 Texas A&M desperately needing a spark, Stanley Tucker stepped up and helped the Aggies rally back to salvage the series finale from top-ranked LSU, 8-6, at Blue Bell Park on a sunny Sunday afternoon.
"Stanley is such a beloved guy," A&M head coach Jim Schlossnagle said. "He brings a lot of energy to the team, and we need that right now. They made it simple when they brought the lefty in.
"Tuck was awesome. Great at-bats, and he had a great catch in center field."
Entering as a pinch-hitter in the fifth, Tucker finished 2-for-2 with a walk and two clutch RBIs.
"Our team, we're always behind each other. Our goal is to go out and win the ballgame," Tucker said. "When I got the call to go out and play, Austin Bost came to me and just let me know, 'Hey, you're good. Be the player that you always know you are.'
"That confidence boost that you get from players like Austin Bost and Trevor Werner and Jack Moss is big in big-time situations. I'm very thankful for them."
Trailing 6-5, Tucker stepped in to face LSU closer Christian Little with two down and the bases loaded.
"Kasen (Wells) had a great AB in front of me, so that gave me the confidence to go in and know that I was in a spot to help my team," Tucker said.
On a 2-0 pitch, Tucker singled through the six-hole to score Ryan Targac and Jace LaViolette, putting the Aggies on top.
"When I got the call to go out and play, Austin Bost came to me and just let me know, 'Hey, you're good. Be the player that you always know you are.' That confidence boost that you get from players like Austin Bost and Trevor Werner and Jack Moss is big in big-time situations. I'm very thankful for them."
"I saw the first pitch, and after the first pitch, I was dialed the whole time," Tucker said. "The crowd and everything was just zoned out. I was locked into the pitch, knew what I wanted to get, and he gave it to me."
As if his heroics at the plate weren't enough, Tucker also made a diving catch in center to end an LSU sixth-inning threat and hold the deficit at 5-2.
The go-ahead knock was Tucker's second hit, the first coming on the ninth pitch of an at-bat off the bench during A&M's two-run fifth. He later scored in that frame on Hunter Haas' double that pulled A&M with a run, 5-4.
"So special for my family, and so special for me," Tucker said. "I'm just so blessed to be able to have a performance like that to where my little brother and my family can look up to me. It's very special to me."
A transfer from New Mexico JC, Tucker had just nine at-bats in five games entering Sunday. He figures to see more playing time moving forward.
"He's an awesome kid. He's a great teammate," Schlossnagle said. "It's hard for a junior college player to come in and not play, so he just shows you the character of the human being that he is that he hung in there. He got rewarded today.
"He has earned the right to play more. I would anticipate him getting more at-bats, for sure."
Other shuffles figure to be in order following a third-straight poor performance from A&M starting pitching.
Chris Cortez struggled mightily. He walked three and committed an error in a four-run first before surrendering another run in the second. Cortez recorded just five outs before getting the hook.
"I think it's pretty obvious, but we have a chance to shuffle some things around, maybe get better both in the bullpen and starting pitching-wise," Schlossnagle said. "We have a lot of re-evaluation to do, but that comes at the cost of all of the games having value."
Still, the Aggies fought.
Moss homered in the first, and Kaeden Kent scored on a second-inning wild pitch as the Aggies chipped away until the rallies in the fifth and seventh innings.
On the mound, Justin Lamkin kept the Ags in the ballgame.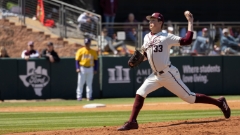 Chris Swann, TexAgs
The freshman left-hander valiantly battled the top-ranked Tigers for 4.1 innings.
"We don't back down," Lamkin said. "Keep fighting, no matter what the past two days were or what happened. We kept fighting."
Lamkin allowed four hits, one walk and struck out five. His lone walk came to Josh Pearson to open the seventh.
"It's electric," Lamkin said of his first SEC appearance. "It's a whole different league, man. It was like Opening Day again. It was great."
Pearson was the last batter Lamkin faced. After a dodgy outing from Robert Hogan, Pearson scored on Brady Neal's sacrifice fly that gave LSU a 6-4 edge.
Still, it was Lamkin's lengthy performance that gave A&M a shot.
"Unbelievable," Schlossnagle said. "For that guy, two times in a week, to just pitch us to two wins is awesome. Certainly knew he was capable of it."
Reliever Will Johnston minimized the damage in the seventh, and A&M seemed poised to finally draw even until controversy struck.
With two on and two out in the bottom of the frame, Tucker advanced to third on a wild pitch.
Initially called safe, Tucker was ruled out after Tommy White's tag appeared to push him off the base.
"I thought he pushed him off, or it was a hard tag," Schlossnagle explained. "I thought he was originally safe, and I thought the play was, for the most part, over. I asked if you can challenge the pushing off, and that part of the play cannot be challenged. You can challenge out or safe."
A subsequent review 'confirmed' the out, ending the threat and taking the bat out of Bost's hands.
"The push-off part would have had to be originally called by the umpire," Schlossnagle said. "I don't know if it was actually a push-off. I just think it was just a really hard tag.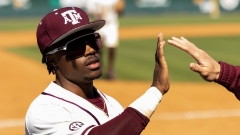 Chris Swann, TexAgs
"I thought their third baseman, who's a big guy, and Stanley, who's a little guy, just dove hard to go try and tag him. I don't think he was intentionally doing it."
Predictably, Bost singled to open the eighth.
"One thousand percent you knew was going to happen after the call in the seventh inning," Schlossnagle said. "I told our coaches just no doubt this was going to be a single after the controversial play."
After Targac got plunked and LaViolette walked, Tucker came through following back-to-back punchouts by Little.
Haas picked up his third RBI with an insurance-providing single to cap off a four-hit day.
When Johnston got Neal to fly out for the final out, the crowd of 6,144 erupted and simultaneously exhaled as the Aggies earned the first — and incredibly important — conference victory of the year.
"Every single win in this league counts," Schlossnagle said. "You need to avoid sweeps at all costs, especially at home. This says a lot about the character of our team."
Sunday's hero echoed that sentiment.
"It's never a flinch with our team. We never flinch," Tucker said. "We're always playing together. We're always focused. We're never out of the fight."
Never miss the latest news from TexAgs!
Join our free email list
SPONSORED BY