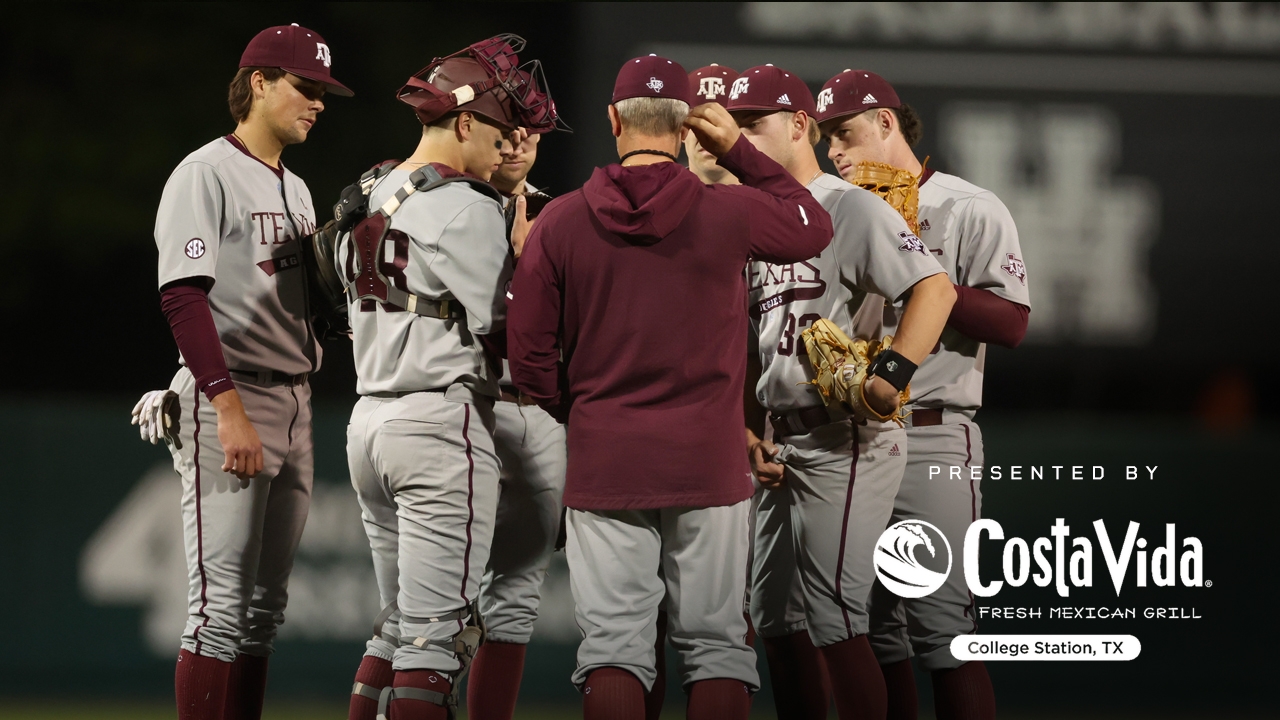 Jim Schlossnagle
Brad Rudis
Robert Hogan
Texas A&M Baseball
'Wolfpack' shines at Houston as No. 15 A&M wins eighth straight, 5-1
---
Game #17: No. 15 Texas A&M 5, Houston 1
Records: Texas A&M (13-4), Houston (5-11)
WP: Brad Rudis (3-0)
LP: Josh Ekness (1-2)
Box Score
---
HOUSTON — Cougars are no match for wolves.
On a chilly Tuesday night, a pack of wolves owned the Schroeder Park mound.
It was No. 15 Texas A&M's pitching staff — which calls itself a wolfpack — that powered the Aggies to their eighth consecutive win after downing Houston, 5-1.
A light night offensively might be alarming, but A&M's ability to win with dominant outings from multiple relievers should be somewhat calming, even with Southeastern Conference play beginning this weekend.
"It's huge out of the bullpen tonight. We did what we had to do," reliever Brad Rudis said. "We have one of the best offenses in the nation. Every once in a while, they're going to have an off night, and so the bullpen has to pick them up."
The only run surrendered came in the fifth on back-to-back Cougar singles that chased A&M starter Justin Lamkin.
Throughout the night, Houston seemed poised to pounce, but the Cougars never did. Instead, they stranded 12 as a quartet of Aggie pitchers escaped jam after jam.
"I think every reliever that came in the game got the first guy out this time, which we haven't had that as much out of the bullpen," A&M head coach Jim Schlossnagle said. "Certainly, we gave up a lot of free bases."
Lamkin struck out Drew Bianco on a 3-2 fastball in the fourth to leave the bases loaded and protect an early 2-0 lead. The left-hander departed after facing two batters in the next frame, finishing with four strikeouts and allowing just one run on three hits and three walks.
"It's huge out of the bullpen tonight. We did what we had to do. We have one of the best offenses in the nation. Every once in a while, they're going to have an off night, and so the bullpen has to pick them up."
"Last week, he pitched with his fastball more against Rice, and today, he had his changeup and breaking ball going a little bit better," Schlossnagle said of Lamkin. "He had some spacey walks. … That's not him. We have to clean that up a little bit, but I thought he made good pitches."
Behind Lamkin, Rudis, Robert Hogan and Will Johnston were brilliant.
Rudis prevented Houston from pulling even in the fifth and struck out four over 2.1 innings.
"It was huge," Rudis said. "With them being able to believe in me to get those outs, get out of that inning and maintain that lead, that was huge for us."
Hogan recorded two outs in the seventh to thwart a building threat, punctuated by a strikeout of Cameron Nickens with a filthy slider. He struck out three total and also pitched a scoreless eighth.
"It felt amazing just kind of doing my thing finally," Hogan said. "It felt really good to be able to throw strikes and throw a fastball for a strike. That was kind of the biggest thing that I talked to (Nate) Yeskie about. If I land that fastball for a strike, no one's going to be able to hit me because I've got probably one of the best sliders. I've got the greatest defense and greatest offense behind me.
"We've just got to trust ourselves, and that's all."
After A&M's three-run ninth, Johnston emphatically slammed the door, tossing A&M's second 1-2-3 frame of the ballgame.
"It was really good to see Will come back crisp," Schlossnagle said. "I didn't really have him on the travel list until he called me last night and said he felt great and wanted to go. Sometimes, you listen to your players."
Offensively, the cooler weather cooled A&M's bats.
"It was a tough night to hit," Schlossnagle said. "The wind was blowing in. It was a weird night offensively. Their guy [starting pitcher Josh Ekness], I think he threw 75 pitches on Sunday and threw however many more today. Ekness, I thought he did a really good job."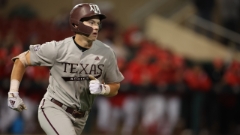 Ethan Mito/Texas A&M Athletics
Ekness' 93-95 mph sinker gave A&M trouble as he allowed just two runs on three hits in 6.2 innings.
Following a two-run third, A&M's offense stayed quiet while the pitching remained strong until the late call for insurance.
A&M mustered just three hits until Hunter Haas' inside-the-park home run in the ninth gave the visitors a 3-1 edge. Austin Bost then stretched his hitting streak to 10 games with an RBI triple to right-center. Ryan Targac's single drove home the final run as the Aggies finished with just seven hits.
A&M's only multi-hit outing belonged to Jack Moss.
"Hopefully it gave us some confidence," Schlossnagle said of the late charge. "We're obviously a four-wheel car working on three-and-a-half. That's what it feels like without (Trevor) Werner and (Brett) Minnich and playing some young players.
"I'm proud of our guys winning ballgames in different ways."
On Tuesday, the Aggies walked six and committed three errors but prevailed regardless. They have yet to completely click in all phases but have still shown the ability to cover up their flaws.
"Obviously, (Paul) Skenes is going to be running it up there pretty good on Friday night," Schlossnagle said. "Seeing a good arm and preparing us for the weekend, that's real positive."
As competition ramps up with top-ranked LSU coming to Blue Bell Park on Friday, the Aggies are confident their wolfpack mentality can yield success.
"We're a lot better than we were," Hogan said. "If we keep growing and with the momentum and everything, we're going to be the best we can be. No one is going to stop us with this momentum."
Never miss the latest news from TexAgs!
Join our free email list
PRESENTED BY