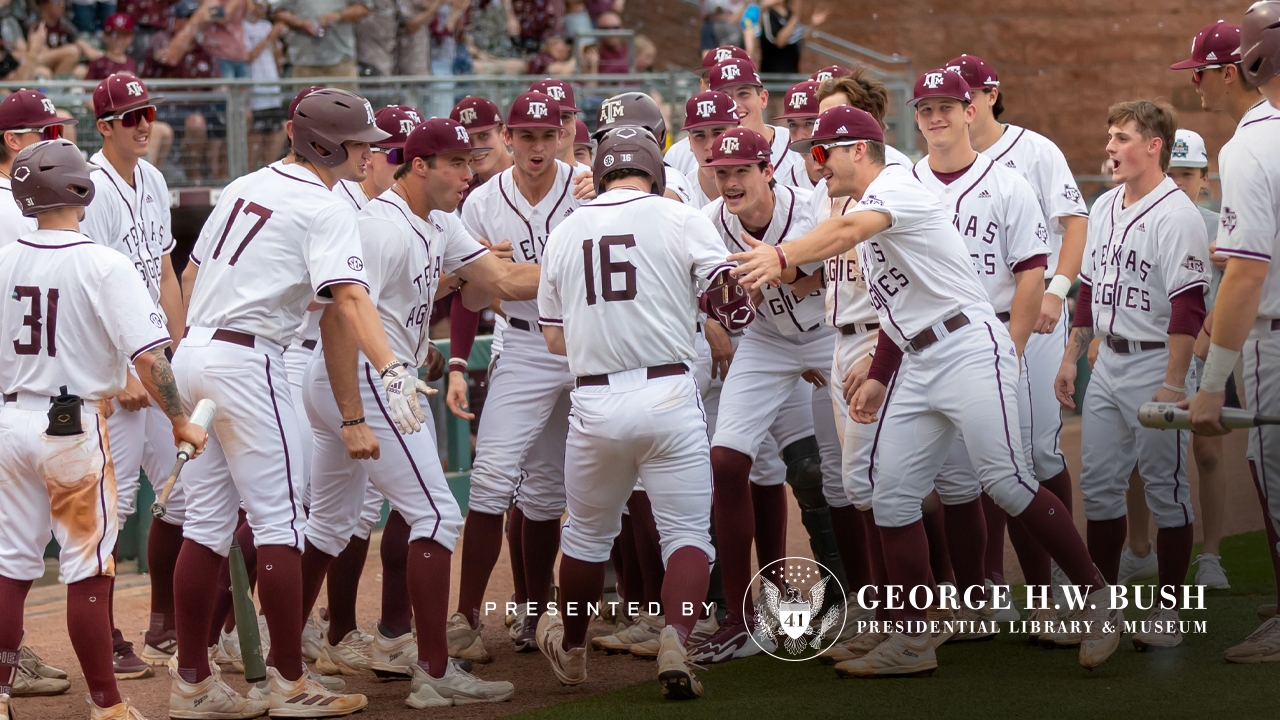 Jim Schlossnagle
Ryan Targac
Troy Wansing
Texas A&M Baseball
Targac homers twice as No. 15 A&M blows doors off Northern Kentucky
---
Game #15: No. 15 Texas A&M 12, Northern Kentucky 1 (7 innings)
Records: Texas A&M (11-4), Northern Kentucky (8-6)
WP: Troy Wansing (2-1)
LP: Ben Gerl (1-2)
Box Score
---
The Aggie offense continues to heat up.
After claiming the series opener on Friday, Texas A&M took down Northern Kentucky again at Blue Bell Park on Saturday in run-rule fashion, 12-1.
"I thought our at-bats were more consistent today," A&M head coach Jim Schlossnagle said. "Offensive ballpark, and we got some balls up in the wind. Some hit hard. Some not so much."
The Aggie who took the most advantage out of a windy day was first baseman Ryan Targac going 2-for-4 in the game with a pair of home runs, one from each side of the plate. "The Hallettsville Hammer" finished with five RBIs on the afternoon.
"I know sometimes it's easy to get caught up in the elements, the winds blowing out, try to lift some balls, but we stay true to who we are, and that's staying on baseballs," Targac said. "I hit two in the air that got out. That's good, but the plan is to just stay on base."
Targac gave the Aggies a 2-0 lead with his first homer of the game in the first inning, driving one 450 feet over the batter's eye in center field. He later capped off a seven-run fourth with a three-run blast to right field, extending the A&M lead to 10-1.
Travis Chestnut got the start in centerfield for A&M and went 2-for-4 with an RBI double in the fourth inning.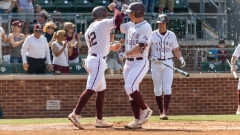 CJ Smith, TexAgs
"He's had a really good week of practice and made some adjustments at the plate. He's an elite runner," Schlossnagle said of Chestnut. "I just thought it was a good opportunity before conference play to give him a chance to play and get some at-bats."
Jace LaViolette got in on the offense as well, hitting a two-run home run in the sixth that landed in Section 12.
On the mound, Aggie starter Troy Wansing pitched a gem, allowing one run on four hits through six innings. The lefty fanned 10 NKU hitters — the most strikeouts for an Aggie hurler this season.
"All in all, he did an awesome job," Schlossnagle said. "Punched out 10 in six innings, got us deep into the ballgame, and it's a good precursor for next weekend."
Wansing worked 1-2-3 innings in the fifth and the sixth to close out his day on the mound with 99 pitches.
"I knew that my count was getting kind of high, so I wanted to get through those innings as fast as I could and get our guys back to the dugout," Wansing said.
Off-speed pitches worked well for Wansing all afternoon, especially his slider.
"The slider's been there all year, and hopefully, it will continue to be there," Wansing said. "I threw a few changeups today. Some of them were good. Some of them were alright, but I'll continue to work that in and then keep going with fastball command."
Bryce Miller homered for the Norse in the third inning off a Wansing fastball, accounting for NKU's only run.
"Just missed my spot," Wansing said. "I don't want to take anything away from him, but I just missed my spot, and he capitalized on that."
Jaren Warwick made his Aggie debut on the mound, closing out the victory in the seventh and striking out a pair.
"It's going to be a different day tomorrow," Schlossnagle said. "Tomorrow, it's going to be that North wind, so it's going to be a much different ballgame."
A&M goes for its second sweep of the season on Sunday as Chris Cortez takes the mound at 11:30 a.m. CT.
Never miss the latest news from TexAgs!
Join our free email list
PRESENTED BY