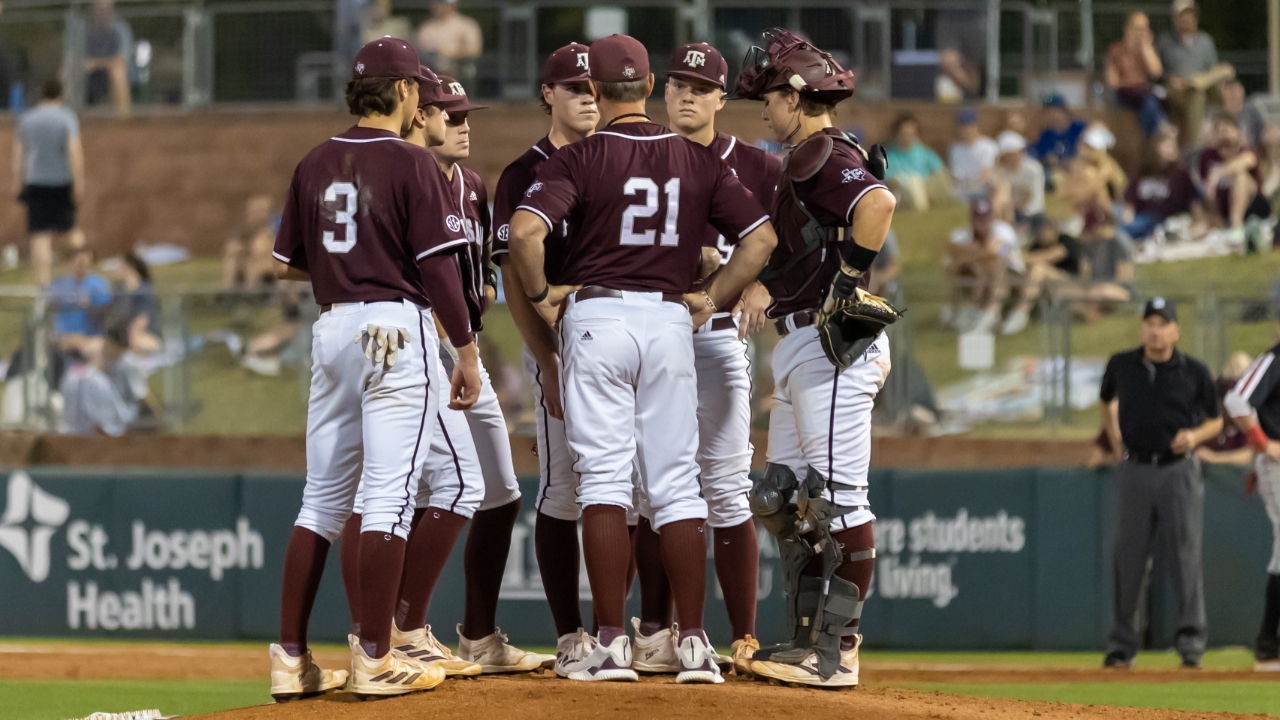 Photo by CJ Smith, TexAgs
Texas A&M Baseball
Series Preview: No. 15 A&M faces NKU on final non-conference weekend
---
Also included above is a radio segment with Ryan Brauninger, Richard Zane and Scott Clendenin from Friday morning, previewing this weekend's series between No. 15 Texas A&M and Northern Kentucky
Who: Northern Kentucky (8-4, 0-0 Horizon League)
Where: Olsen Field at Blue Bell Park – Bryan-College Station, Texas
When:
Friday: 6:00 p.m. CT (SEC Network+)
Saturday: 2:00 p.m. CT (SEC Network+)
Sunday: 11:30 a.m. CT (SEC Network+)
Pitching matchups
Friday: Nathan Dettmer (RHP, 0-1, 3.46) vs. Ben Gerl (LHP, 1-1, 7.30)
Saturday: Troy Wansing (LHP, 1-1, 3.29) vs. Kaden Echeman (RHP, 0-0, 4.97)
Sunday: Chris Cortez (RHP, 1-0, 5.40) vs. Matthew Lopez (RHP, 1-0, 6.00)
Scouting Northern Kentucky
Northern Kentucky has embraced its directional roots so far in the 2023 season having played the likes of Western Michigan, Eastern Kentucky and Eastern Michigan en route to an 8-4 early season record. Add in games against Xavier, Murray State and Bellarmine, it's safe to say Texas A&M provides a completely different type of opponent for the Norse, so take the season statistics with a grain of salt.
We might as well start off with the headliner for Northern Kentucky for this season. Actually, it may be the greatest single day in the program's history. On Feb. 26 against Western Michigan, Liam McFadden-Ackman had a dream game for any hitter at any level of baseball. He finished the day with five hits and hit for the cycle. Sounds pretty impressive, but there's more. He collected 10 RBIs, but still, there's more. So what's the big deal here? The junior designated hitter received national media attention when he hit two grand slams in a 14-run first inning.
You have to admit, that's a special day.
Add in games against Xavier, Murray State and Bellarmine, it's safe to say Texas A&M provides a completely different type of opponent for the Norse, so take the season statistics with a grain of salt.
Kudos to the young man, but I think you can see where we're going with this narrative. The Norse scored 27 against Western Michigan, 18 runs against Bellarmine, 13 runs against Murray State and so on. That's why you see a team batting average of .324 and a massive slugging percentage of .500. Colton Kucera is hitting .516. John Odom is swinging a white-hot bat at a .455 clip, while Trevyin Moss is sitting at .406.
What could be troubling for the Norse is pitching. The statistics are suspect even given the less-than-stellar competition with a bloated team ERA of 6.05. Friday starter Ben Gerl was hammered in his last start, and his ERA ballooned to 7.30. Righty Kaden Echeman has been the most consistent arm in the rotation with a 4.97 ERA, but he has yet to pick up a win in 2023. Matthew Lopez has taken over the Sunday starter role in recent weeks with mixed results (1-0, 6.00 ERA).
So the opportunity is there for Aggie hitting to right the ship this weekend.
| | | | | | |
| --- | --- | --- | --- | --- | --- |
| Hitting | Avg. | Runs | Slugging % | On-Base % | Strikeouts |
| Texas A&M | .265 | 105 | .417 | .414 | 100 |
| N. Kentucky | .324 | 115 | .500 | .433 | 87 |
| | | | | | | |
| --- | --- | --- | --- | --- | --- | --- |
| Pitching | ERA | WHIP | Walks | Opp. Avg. | Strikeouts | Fielding % |
| Texas A&M | 3.55 | 1.38 | 58 | .233 | 140 | .981 |
| N. Kentucky | 6.05 | 1.58 | 59 | .267 | 91 | .982 |

Texas A&M storylines to watch
If you've followed Texas A&M baseball this season, you know the narrative. This team has been pretty solid on the bump, and the defense has been stellar fielding at a .981 rate. Sure, there have been a handful of shaky bullpen outings which is to be expected this time of year, but overall Jim Schlossnagle must be happy with a team ERA of 3.55. That should be good enough to pile up a lot of wins against early-season opponents.
However, the veteran batting order has not started as expected which has led to several extended offensive droughts. Add in a few nagging injuries here and there, and the veteran lineup has suddenly looked pretty young at times. True freshmen Jace LaViolette, Kaeden Kent, Max Kaufer and Kasen Wells along with sophomore Tab Tracy have played a lot more innings than I think most team observers expected at the start of the season.
However, the team's fortunes started to turn around at Minute Maid Park last weekend with two wins over Rice and nationally-ranked Texas Tech, followed up by midweek wins over Incarnate Word and Rice (again) to come into this weekend with some momentum at 9-4. You can see the momentum building at the plate for veteran Austin Bost, who had a couple of nice hits on Wednesday and raised his batting average to .292. Newcomer Hunter Haas has been one of the most consistent hitters so far with a .349 average. Kent is also having a solid freshman campaign, hitting .308 with 14 RBIs, and he'll only get better. Tracy's playing time has increased recently, and he's swinging at a .435 clip in limited plate appearances. That's the good.
However, the rest of the lineup continues to struggle, and the Aggies must snap out of it this weekend against the Norse with No. 1 LSU waiting in the wings next weekend.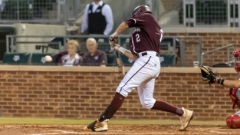 CJ Smith, TexAgs
A&M was counting on riding a core group of veteran hitters, but guys like Trevor Werner (.194), Jack Moss (.264), and Ryan Targac (.217) haven't found their groove yet… and that is a must for this team going forward. Add in phenom true freshman LaViolette's two-week slump (.213), and you can see why scoring runs has been a challenge in 2023. Getting these middle-of-the-order bats heated up is job number one this weekend.
On the hill, the key is getting Nathan Dettmer into Friday night form. He struggled quite a bit against a good Louisville squad last week. One bad outing will happen to every good pitcher, but Dettmer has yet to register a win on the season. Prior to Friday, he's been solid. He's been serviceable. But the Aggies need him to be a Friday night guy that dominates because every SEC team will be rolling out their dominant Friday starter every weekend after Northern Kentucky. Dettmer needs to show it.
After a shaky debut opening weekend, transfer Troy Wansing has settled in and become A&M's best starter over the past two weekends. He's knocked his ERA down to a very respectable 3.29, and he looks primed to be a quality game-two starter in the SEC. Chris Cortez has been respectable in his three Sunday starts. He's getting more comfortable mixing in his improved offspeed offerings from last year, and it's paying off. He does need to cut down on his walks and be more efficient with his approach, and hopefully, we'll see that on Saturday.
The big news on the mound has been the emergence of lefty Evan Aschenbeck out of the bullpen, who had a clean outing under tremendous pressure in the 16-inning marathon win over Texas Tech. He's already notched two wins and has a stingy 1.64 ERA in 11 innings of work. Justin Lamkin came in and got the save for Aschenbeck in that Tech win on Sunday. He also came back on Wednesday and started the Rice game, going five scoreless innings. He's on the verge of being a breakout star for this staff, and his 0.75 ERA reflects that. The lefty has some of the best stuff on the team. Brandyn Garcia showed out well against Rice as well, so the pieces are starting to come together for the bullpen, and that needs to continue against Northern Kentucky.
What's at stake this weekend
The Aggies have rebounded nicely from a disappointing 5-4 start. Now at 9-4 with momentum building, a sweep can put this team back on track at 12-4 with a seven-game winning streak. I know that asking for a sweep is a tall task, but given the opponent and the momentum Texas A&M has built since the Louisville loss on Friday, a sweep is definitely needed and expected. Even one loss this weekend will stem the tide and hurt the overall record. This team needs to sweep the Norse and keep this ride going. LSU is just around the corner.
Sweep, sweep, sweep, sweep!
Never miss the latest news from TexAgs!
Join our free email list