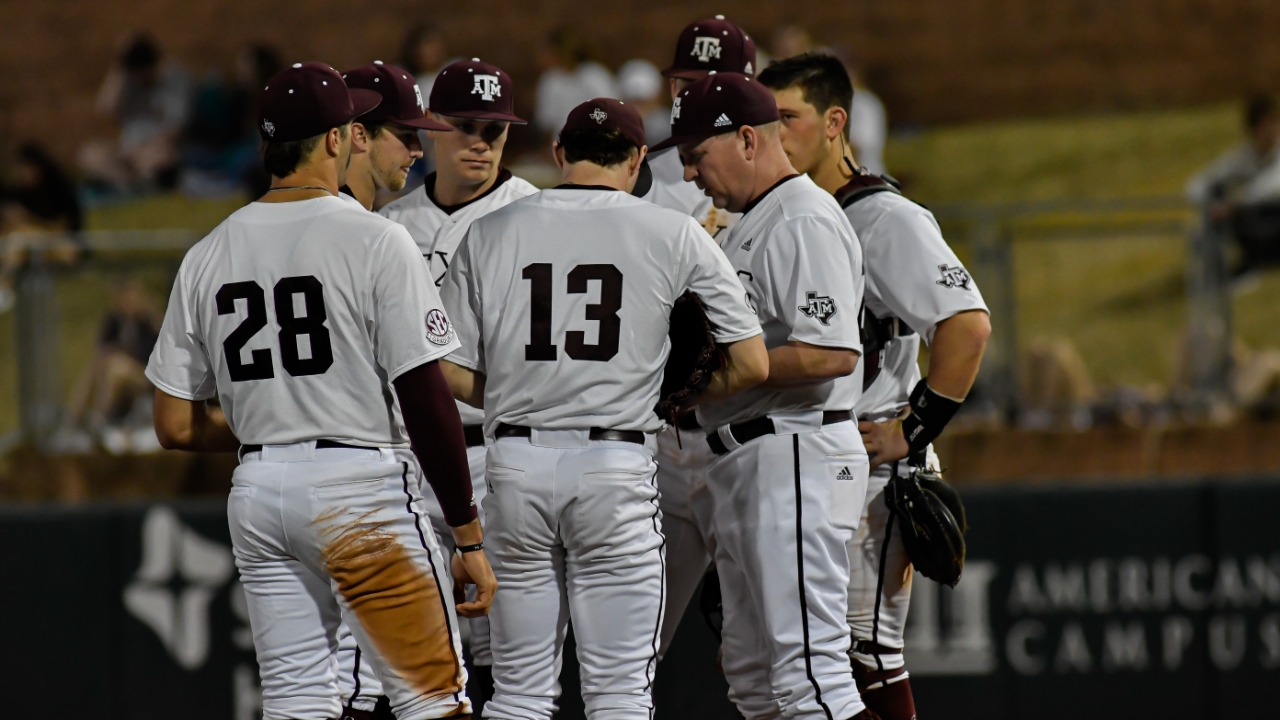 Jim Schlossnagle
Jordan Thompson
Texas A&M Baseball
Aggies drop first midweek of 2023 as Lamar upsets No. 5 A&M, 7-4
---
Game #4: Lamar 7, No. 5 Texas A&M 4
Records: Texas A&M (3-1), Lamar (4-0)
WP: Foster Kreuzer (1-0)
LP: Matt Dillard (0-1)
Save: Jackson Cleveland (2)
Box Score
---
Midweek lessons.
After being out-hit for the third time in four games, No. 5 Texas A&M dropped its first game of the season to Lamar on Tuesday night, 7-4.
"We got outplayed in every phase of the game," A&M head coach Jim Schlossnagle said. "We got out-hit. They made better pitches than we made... I never felt like we really pressured them."
There are not many positives to take away from a loss to a team with less talent than you, but sometimes lessons need to be learned early in the season.
"We know we're going to get punched in the face," centerfielder Jordan Thompson said. "We have a target on our backs from last year, so one thing I learned is to keep on pushing because of all the hardships I know the returning guys went through last year."
"We have a target on our backs from last year, so one thing I learned is to keep on pushing because of all the hardships I know the returning guys went through last year."
Thompson got the scoring started for the Aggies in the third inning with a moonshot solo home run off the top of the scoreboard.
"I got a hanging slider, and it felt pretty good off the bat," Thompson said. "I knew it was gone from the get-go, especially with the wind howling 30 mph up there.
"It is what it is. It doesn't really mean anything."
The Aggies led 2-0 at the end of the third inning after an RBI single from Jack Moss.
Moss added an RBI walk, and Austin Bost hit a sac-fly to give the Aggies a 4-2 lead in the fifth, but the runs for A&M would stop there.
Behind a four-run seventh inning, Lamar pulled ahead of the Aggies, and the Cardinals did not look back.
Left-handed pitcher Matt Dillard entered to start the seventh for A&M and had a rough go. Ryan Snell launched a three-run home run over the left field wall to cap off the four-run frame and give Lamar a 6-4 lead.
Thompson attributed the lack of Aggie offense to some bad luck.
"I don't really think there is an issue," Thompson said. "I think it's early. Eventually, we'll all find our grooves. That's how baseball works. I think everyone is swinging it pretty good. Nothing is dropping for us."
Schlossnagle echoed that sentiment.
"I thought we've hit some balls good but just not enough," Schlossnagle said. "I don't know if guys are pressing. Certainly, losing (Brett) Minnich is an emotional hit, but no excuse. We have enough good offensive players to be a good offense. I still think we're going to be a good offense, but we got to go play the games."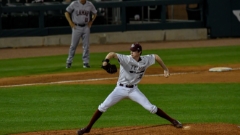 Zoe Kelton, TexAgs
Right-hander Wyatt Tucker started on the mound for the Aggies, throwing 3.2 innings and allowing two earned runs on five hits. Tucker worked out of jams in the first and third innings but could not get out of a mess in the fourth, in which he gave up two runs.
"I thought it was adequate, not special; not as good as he's been in the last couple intrasquad outings, but we'll keep giving him a chance," Schlossnagle said Tucker's start. "We need some right-handed pitching out of that bullpen, and (Ty) Sexton and (Robert) Hogan did a nice job. Those two and (Shane) Sdao are really big positives."
Sexton, Hogan and Sdao combined to pitch five innings, allowing one run on one hit and punching out five Lamar hitters between the three. However, it was Dillard's struggles that proved too much to overcome.
"We'll be fine," Schlossnagle said. "This one hurts, there's no doubt about it, but I thought we learned about Sexton a lot tonight. I thought we learned another thing about Shane Sdao, and we learned about some other guys."
A&M will look to get back in the win column as they host Portland for a weekend series beginning Friday at 6 p.m. CT.
Never miss the latest news from TexAgs!
Join our free email list