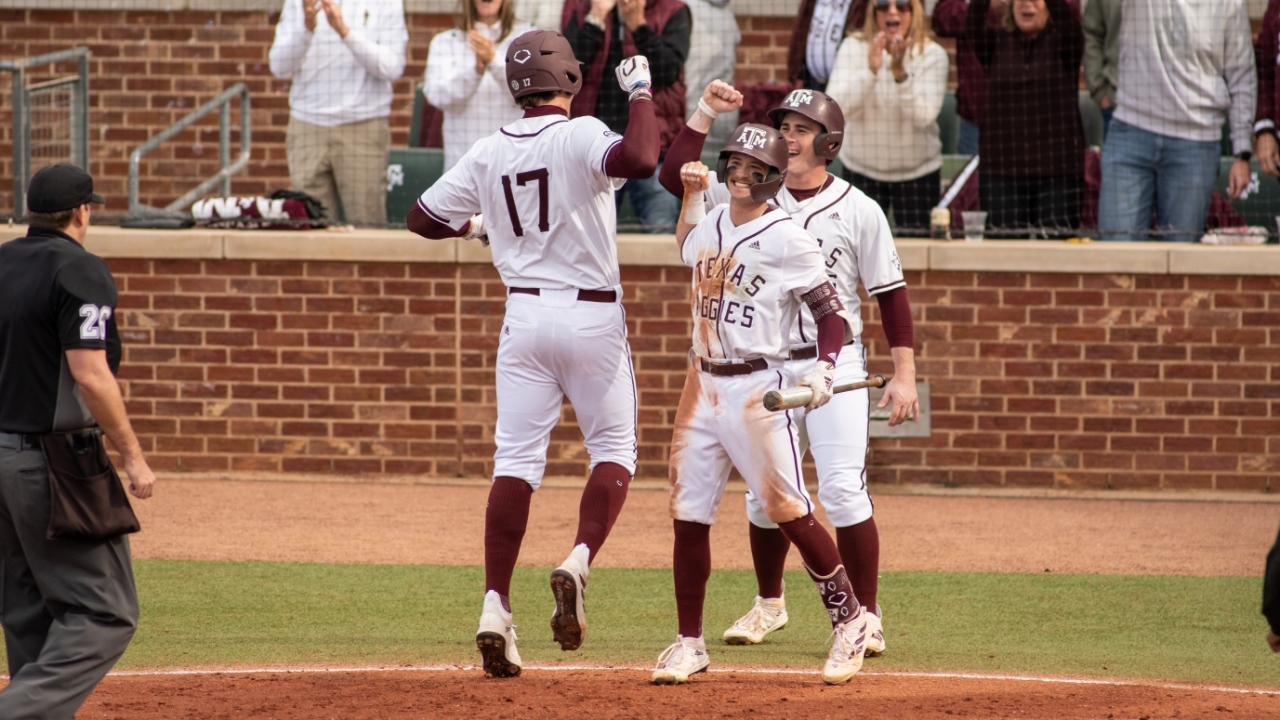 Jim Schlossnagle
Jace LaViolette
Justin Lamkin
Texas A&M Baseball
LaViolette homers twice as No. 5 A&M's youth shines in Saturday win
---
Game #2: No. 5 Texas A&M 6, Seattle 3
Records: Texas A&M (2-0), Seattle (0-2)
WP: Brad Rudis (1-0)
LP: Nestor German (0-1)
Save: Will Johnston (1)
Box Score
---
The kids are going to be more than alright.
Behind three home runs, No. 5 Texas A&M clinched the season-opening series with a 6-3 win over Seattle on a chilly Saturday afternoon. A&M's youth — today led by Jace LaViolette and Justin Lamkin — continues to steal headlines from the Aggies' seasoned veterans.
"We talked about how old our team was, but you're an injury away from losing some of those guys, which we had that yesterday," A&M head coach Jim Schlossnagle said. "As I told you before the season, we have some really good young players that we like on this team.
"It's going to take all of us to have the season we want."
On A&M's first hit of the day, Austin Bost kickstarted a five-run fourth by tattooing a 2-1 Nestor German offering just over the left-field wall for a two-run homer.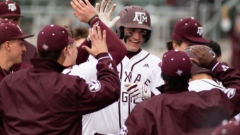 Jamie Maury, TexAgs
"We kind of started off slow and had to pick it up, and Austin just getting his pitch and putting a really good swing on it, that kind of carried for the rest of the team," LaViolette said. "We went back to what we were doing and trusting our routines."
Later in the inning, Ryan Targac singled with one out, and LaViolette took a moment to properly introduce himself to the 12th Man.
Trailing 3-2 on a 3-2 pitch, the freshman put A&M on top, clearing Section 12 with a majestic 424-foot blast that left his bat at 111 mph. It was the final pitch of German's outing.
"I was too much in the moment, and I was having a lot of fun," LaViolette said. "If it goes over, it goes over, no matter how far."
LaViolette added a second long ball in the eighth, sneaking a solo job over the fence in right-center. He finished as the lone Aggie with multiple hits
"I can't even put into words how much fun it is," LaViolette said. "I've never been a part of a culture like this, and coming out here and playing in front of the best fans, what more can you ask for?"
The fourth-inning rally erased what was a 3-0 deficit, dug in large part by free passes from A&M pitchers.
Scoring a run in the first, Seattle added two more in the top of the fourth without the benefit of a hit. In total, Aggie arms issued seven walks and hit four batters.
"That's not the way we want to live," Schlossnagle said. "Most of those jams were self-created. A lot of free bases."
Seattle stranded 16 men, including two in the ninth as Will Johnston recorded his first save of the year.
"I've never been a part of a culture like this, and coming out here and playing in front of the best fans, what more can you ask for?"
In his A&M debut, Troy Wansing struck out seven in 3.1 innings. However, four hits and three walks saw the Purdue transfer allow three earned runs as two inherited runners scored with reliever Brad Rudis struggling to find the strike zone.
"I think it was a positive step simply because he hasn't pitched in this environment," Schlossnagle said of Wansing. "No disrespect, pitching here is not like pitching in the midwest or on the west coast. That's not a slam. It's just fact."
Taking over with two on and one out in the top of the fifth, Lamkin escaped the jam, beginning a brilliant day of work for which he earned the wolf necklace as Saturday's standout member of the A&M pitching staff.
"It was great," Lamkin said. "I was nervous at first, obviously, but kind of settled in. I knew the team had my back, and I just had to fill up the zone, and everything would go our way."
The freshman lefty punched out five over 3.2 innings of work that saw Lamkin make a handful of plays defensively.
"I thought Lamkin was outstanding, and he made some big pitches," Schlossnagle said. "A big key to the game was him fielding his position."
Other than LaViolette and Lamkin, freshmen Kasen Wells and Max Kaufer performed admirably again. Wells recorded his first career hit in his first start, and Kaufer walked three times in his second game behind the plate.
"Those two guys, especially, have stepped up," LaViolette said. "It's just about playing together, playing as we have been and letting it roll."
Now going for the sweep, A&M looks to keep rolling as the series concludes on Sunday morning at 10:30 a.m.
Never miss the latest news from TexAgs!
Join our free email list