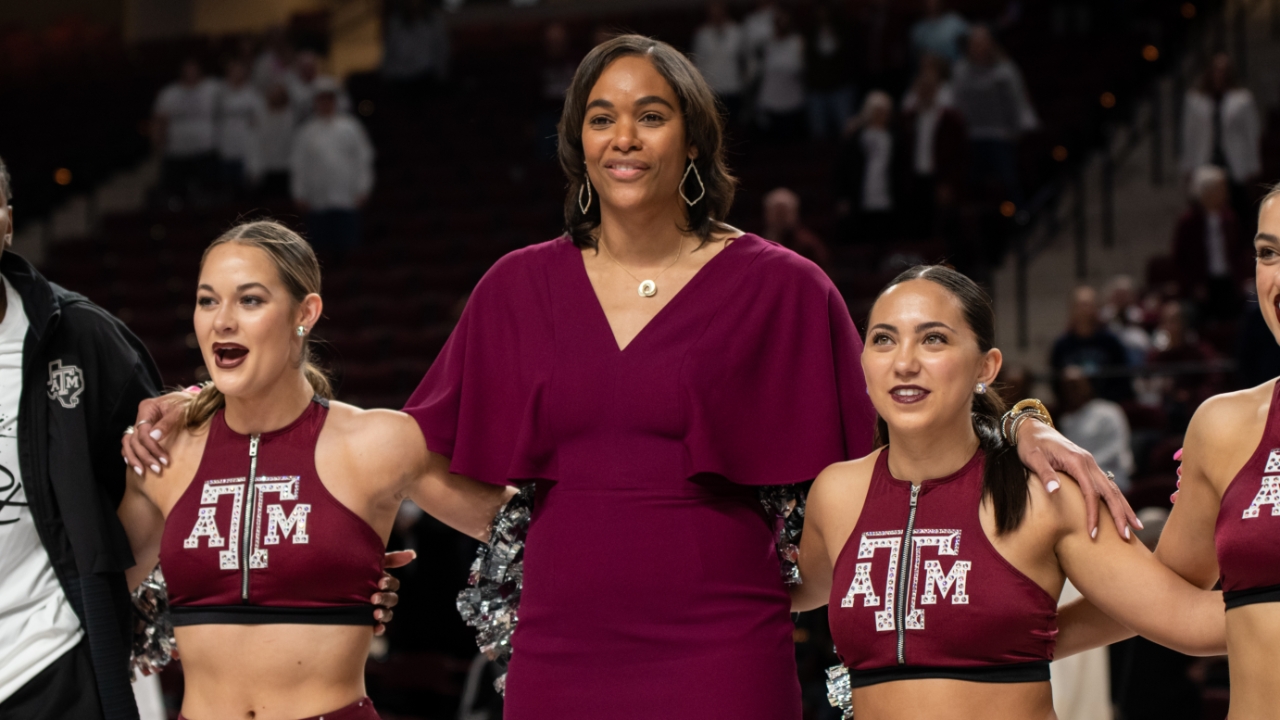 Photo by Jamie Maury, TexAgs
Texas A&M Women's Basketball
Taylor shares what it was like to earn her first SEC victory as an Aggie
---
Texas A&M women's basketball snapped a long losing streak on Sunday when the Aggies took down Georgia at Reed Arena, 75-73. The win was Joni Taylor's first SEC victory, and on Tuesday, she shared the emotions that came along with it as well as a look ahead to A&M's next game.
---

Key notes from Joni Taylor interview
I'm really proud of our young ladies and the resiliency they've had over the last month. We haven't had a win in a very long time. They trusted the process. We talked about what you learn from losing, and you don't become a winner until you suffer some losses. Janiah Barker and Tineya Hylton coming back and giving us some bodies helped tremendously as well. I'm really proud of their fight and resiliency.

I didn't have any extra emotions facing Georgia. It was the next game on our schedule. Maybe it will be different going to Athens next year. For me, I've played at Alabama and worked at LSU, so I've experienced this a few times. I love the players and people in that Georgia program still. Sometimes God winks at you, so getting that first SEC win over Georgia might have been a wink from God.

Who you are in one place is who you are everywhere. We want players to see the situation for what it is, and we've been honest with them since we got here. We have a lot of work to do. Even if we hadn't had the injuries, we would've taken our bumps this year. We prepared them for what we're becoming. Our motto for this year is "Becoming." We've been able to maintain our focus and position mindset because this was something we were expecting before the injuries hit. Credit to them for staying bought in and trusting us.

Barker opens the floor for everybody else. She's a three-level scorer. Hylton too. When players like that are on the floor, it forces the defense to play a little more honestly. We got Aaliyah Patty more rest on Sunday than she has had in a long time. Jada Malone as well. They're fresher when you get them on the floor.

Hylton hit two big shots and got fouled. Mya Petticord was excellent off the bench, and she's coming into her own as she gets used to our offense. We've been on McKinzie Green about running our team as a point guard. She's someone defenses play off of to take away other players. She knocked down two huge shots for us. I'm really proud of all our players and the role they played in stepping up when their name was called.

We have to have players that play on both ends, and Patty is a great example of that. She has carried the brunt of our offensive production during this stretch. We let her be a facilitator vs. Georgia, and that took her out of what she normally does. We trusted her with the type of pressure Georgia brings, and she gladly took on that role. She has 11 assists. She looked at me and told me whatever I needed. We want versatile, hybrid players like that.

It's about continuing to stay focused. Dream big and focus small. That game is over. We have a bye week to get some rest and work on us. We've shortened practice because of our limited numbers, so I'm looking forward to working on some things for us to get better. We don't play Thursday and then travel to Vanderbilt on Sunday. They have not won a conference game yet, but they're also very close, just like we were. For us, it's about continuing to do what we've been doing, and that's drowning out the noise. Coach Landers always said that success killed Elvis. If we look in the rearview mirror instead of ahead, it won't work. We have to keep trusting the process that has gotten us to that point.
Never miss the latest news from TexAgs!
Join our free email list