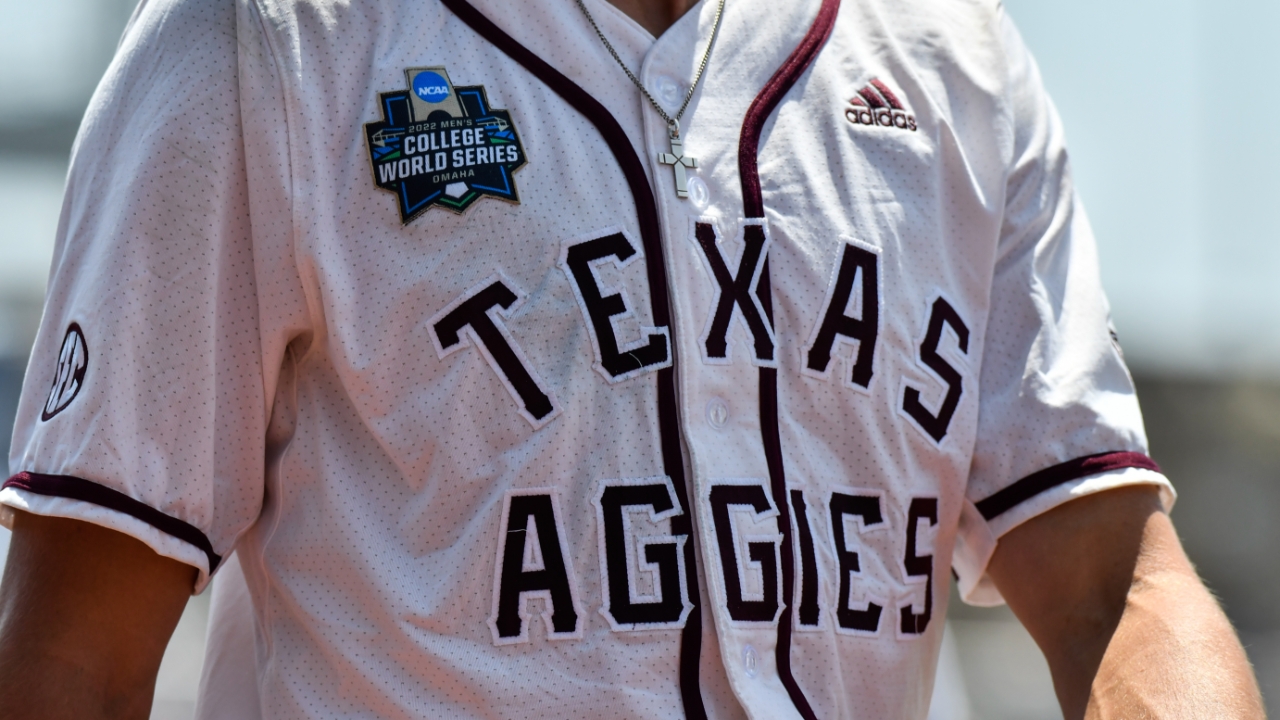 Photo by Jamie Maury, TexAgs
Texas A&M Baseball
12 special moments from Texas A&M baseball's special 2022 season
---
There were clutch hits, towering home runs, big pitches and an array of outstanding performances in Texas A&M's march to the Men's College World Series.
It was indeed a memorable season.
The Aggies demonstrated a knack for coming from behind. They rebounded from a slow start to win the Southeastern Conference West Division. They came from behind for regional victories over Louisiana and TCU.
They got clutch pitching to defeat Louisville in super regionals.
They won elimination games over Texas and Notre Dame in the Men's College World Series.
Clearly, there is much to look forward to under first-year coach Jim Schlossnagle.
But there is also much to look back on.
Here's a review of perhaps the most memorable moments of the Aggies' first season under Schlossnagle.
12. NINTH-INNING RALLIES IN BATON ROUGE
The Aggies got off to a lackluster start. They were just 10-6 when opening Southeastern Conference play on the road against LSU. That's when the Aggies' fortune began to change. Austin Bost and Dylan Rock had RBI singles in the ninth inning, and Chris Cortez picked up a win in relief in a 6-4 series-opening victory.
The next day, Kole Kaler had an RBI single and Troy Claunch hit a two-run double in a four-run ninth inning for an 11-7 victory. It was the first of eight SEC series wins for A&M.
11. DALLAS SKINS GATORS
Senior right-handed pitcher Micah Dallas finished SEC regular season play in a slump. He made it through only four innings or less in his last four conference starts. In that span, he had a 14.59 earned run average.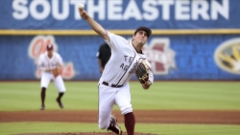 Michael Wade/SEC Photo
However, he bounced back in the SEC Tournament. Dallas allowed just one hit in five innings of work as the Aggies defeated Florida 10-0. That effort indicated he had broken out of the slump.
Dallas later allowed just one earned run in five innings of a regional victory over Oral Roberts and just one run in five innings of a 10-2 victory over Texas in Omaha.
10. PALISCH SAVES THE DAY(S)
Arkansas was ranked No. 4 in the nation when visiting College Station on April 22. The Aggies held a 2-1 lead in the series opener when Jacob Palisch came on in the sixth inning. He allowed just two hits and four scoreless innings to earn a save.
Two days later, the Razorbacks rallied from a 9-1 deficit and pulled within 11-8 with no outs and the bases loaded. Palisch gave up a two-run double to the first batter he faced but then struck out the next three hitters. He retired the Razorbacks in order in the ninth to earn another save.
9. THE MAYOR OF OXFORD
Dylan Rock had a tremendous performance in two victories over Ole Miss, which enabled the Aggies to win the SEC West Division. In the wins, Rock hit .400 (4-of-10), hit three home runs, drove in six runs and scored five. He had a game-tying three-run home run in the fourth inning in a 12-5 victory on the final day of SEC play.
That win lifted the Aggies to a one-game lead over Arkansas in the West Division standings. Brett Minnich also had a grand slam in that victory.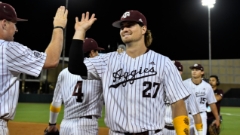 Jamie Maury, TexAgs
8. ROCK SHOCK
The Aggies were still searching for their identity when they traveled to Austin to face No. 8 Texas on March 29. The score was tied 4-4 in the fourth when the Aggies might have found themselves. Dylan Rock belted a grand slam for an 8-4 lead. A&M went on to take a 12-9 victory. Jack Moss also hit for the cycle in the win.
7. FRYING THE CHICKENS
South Carolina led A&M 9-0 after four innings in the second game of an SEC series. The Aggies steadily fought back but trailed 12-11 in the bottom of the ninth. The first two batters were retired, and Logan Britt was behind in an 0-2 count. Britt fouled off six pitches en route to drawing a walk. Then, Brett Minnich blasted a walk-off home run over the centerfield fence for a 13-12 victory.
6. EXORCISING THE DEMONS
Texas A&M lost to TCU in super regionals in 2015 and '16 and the College World Series in '17. It appeared the Frogs curse might continue in regionals at Blue Bell Park. TCU had scored twice in the bottom of the eighth to take a 9-8 lead going into the ninth.
Times are different, though.
Jack Moss and Dylan Rock each delivered two-run singles, while Austin Bost, Troy Claunch and Jordan Thompson also drove in runs in a seven-run outburst. The Aggies prevailed 15-9 and advanced to the super regionals.
5. SINKING THE TITANIC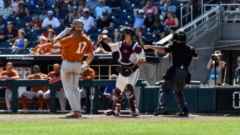 Jamie Maury, TexAgs
Though A&M held an 8-2 lead over Texas in a Men's College World Series elimination game, and the Longhorns threatened to get back in contention. They had the bases loaded with two out and Ivan Melendez — aka "The Hispanic Titanic" — coming to bat.
Melendez led the nation in home runs, RBIs and was facing reliever Jacob Palisch. Melendez fouled off three pitches before Palisch froze him on a breaking ball to end the inning.
Palisch struck out three of the four batters he faced that inning.
4. CLAUNCH DELIVERS AGAIN
A&M loaded the bases four times and failed to capitalize against Louisville in the first game of a super regional. They got the bags full for the fifth time in the ninth inning with the score tied 4-4. This time, with one out, Troy Claunch punched the first pitch into right field to score drive in Trevor Werner and notch a 5-4 victory.
3. SCHLOSSNAGLE CALLS ON PALISCH
One win away from clinching a return to the Men's College World Series, the Aggies held a precarious 4-3 lead over Louisville in the ninth inning of a super regional.
The lead-off hitter singled off Brad Rudis and reached second base on a wild pitch. The next hitter, Ben Metzinger, fouled off several pitches with the count full.
That's when Schlossnagle opted to bring in Jacob Palisch. Palisch struck out Metzinger on one pitch, retired the next batter on a fly ball and got a final strikeout to send A&M to Omaha.
2. WERNER'S MASTERFUL AT-BAT
There may not have been a more crucial plate appearance in the history of Texas A&M baseball. The Aggies were tied 2-2 in the second inning of a Men's College World Series elimination game with archrival Texas.
Third baseman Trevor Werner came to the plate with two on and two out.
He fell behind early but fouled off six pitches en route to a full count. Then, on the 11th pitch of the at-bat, Werner delivered a two-run single to give the Aggies a 4-2 lead and changed the trajectory of the game. A&M went on to a 10-2 victory and sent the Longhorns home.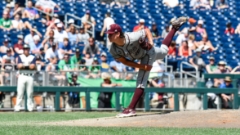 Jamie Maury, TexAgs
1. DETTMER SHINES
When a blister developed on the ball of sophomore pitcher Nathan Dettmer's right foot in May, he began to struggle. Dettmer failed to complete five innings in eight consecutive starts. The bottom occurred in the first game of the Men's College World Series. He lasted just 1.2 innings and gave up seven runs in a 13-8 loss to Oklahoma.
But four days later, Schlossnagle opted to give Dettmer the ball in an elimination game against Notre Dame. Dettmer rewarded that show of confidence with his best outing of the season. He pitched seven scoreless innings, gave up just three hits and struck out six in a 5-1 A&M victory.
Never miss the latest news from TexAgs!
Join our free email list
PRESENTED BY