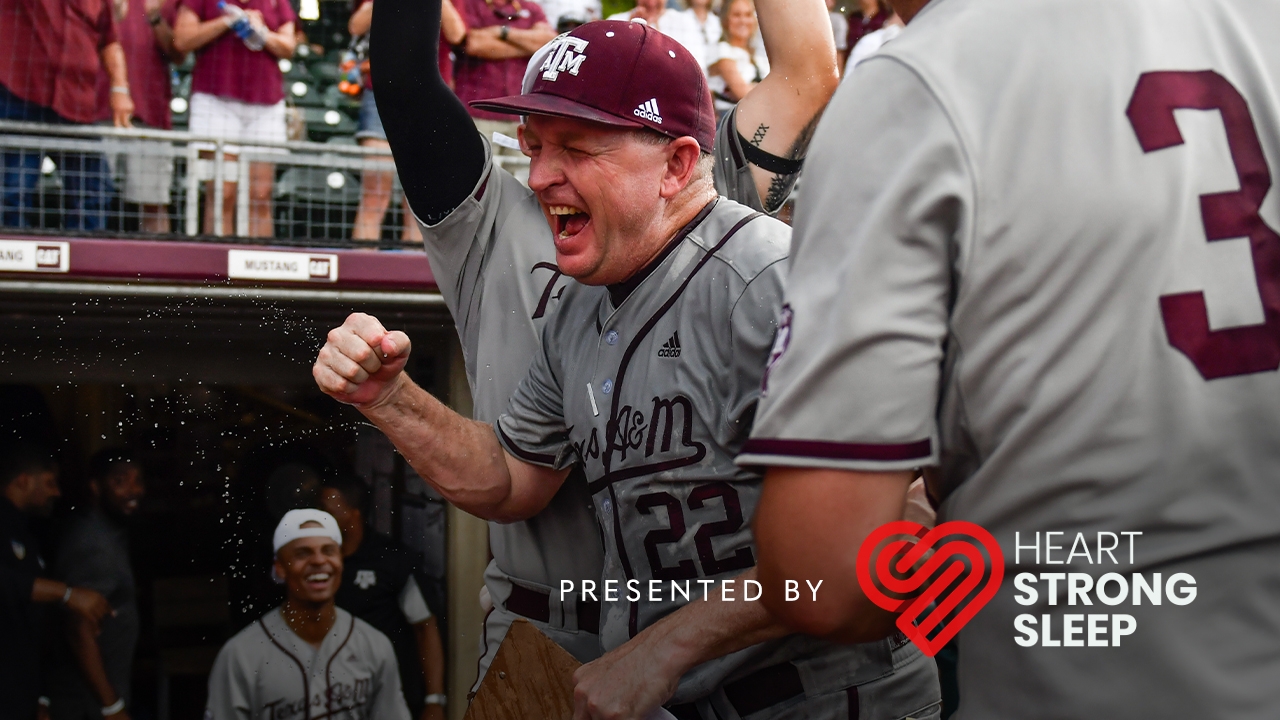 Photo by Jamie Maury, TexAgs
Texas A&M Baseball
Jim Schlossnagle recaps a supers sweep as A&M heads to the heartland
---
Texas A&M is headed to the College World Series in Jim Schlossnagle's first year guiding the Fightin' Texas Aggies. On Monday morning, the head baseball coach joined TexAgs Radio to recap the Aggies' sweep of Louisville and share his excitement to be going to Omaha.
---

Key notes from Jim Schlossnagle interview
Gig' Em! We're going to Omaha!

The ice bath felt good because it was a hot day. That's always a great moment when you get to watch a team celebrate going to the World Series. A select few have ever been, so I'm excited for our players and the 12th Man. I know what the fans want, and I'm excited to see how long we can ride this thing out.

We laugh pretty much after every game. The identity of this team is what it is. It's not changing. When you're a traditional baseball guy that believes in having great starting pitching and outstanding defense, the coaching staff has to slap themselves across the face and stop worrying about what they don't have. We're fired up about what we do have and the competitive grit of this team. You don't make it this far without being talented, and sometimes, we get sold short on how talented these guys are.

We do a little thing in practice where it's a team defensive thing. I always finish with three tough plays to get to Omaha. We did that in our last practice before the super regional. The kids always celebrate after it. Somebody said something about a dog pile, but Troy Claunch stopped them and said, "There's only one dog pile, and that's when you win it all. There will be no dog pile this weekend." It was an example of the quiet confidence that Troy has that only comes from experience.

I can't remember making a move in a full count. I talked to Nate Yeskie about it when we got to the 2-2 pitch. When it's an unorthodox move, your head starts to spin, and I thought maybe I should've done it on a 2-2 pitch. Once that guy almost came out of his shoes on that last changeup from Brad Rudis and they were starting the runner, that's when I knew. A double in the gap for sure scores, and you weren't going to get a double-play ball. I was going to bring Jacob Palisch in to face Dalton Rushing. Palisch told me he had maybe one inning in him, so I was trying to squeeze one more out of Rudis.

I don't know what Yeskie said before the last strikeout. I haven't asked what he said. I think he was making sure they were all squared away on the pitch and what they wanted to do. Jack Payton was hitting .440 against left-handed pitching, and we had handled Levi Usher pretty well. I think he was telling them not to give Payton anything good to hit.

If you had told me that you held them to seven total runs and Dylan Rock and Austin Bost didn't have the best weekend, I'm not sure I would have believed you. Like I said in the postgame, it was good to see us win ballgames without a lot of home runs.

Guys are in the weight room right now. We will have a super light workout today for the hitters and infielders. We have guys that need to throw simulated games that didn't pitch. Ryan Prager, Wyatt Tucker and Chris Cortez will likely throw three to four innings against the guys that didn't hit this weekend. That's how we try to keep them game ready. We're keeping our schedule this week very similar to what we did all season.

Jordan Thompson had a lot of great at-bats. He drove in our first run in that game. He played well in centerfield. He made a nice catch against Rushing that was maybe four feet away from being a home run. He should have slid at second base, but I think the middle infielder deked him a little bit. With him and Kole Kaler back-to-back, teams might think that's their breather in the lineup, but both have been putting together great at-bats.

Nathan Dettmer was solid. I would have preferred he throw five-plus innings, but he got a little deeper. Joseph Menefee did what he did all year behind him. Hopefully, Dettmer can take some confidence from his performance and give us a good start in the College World Series.

There aren't too many teams in the SEC you don't think could go to Omaha. I got a nice text from the coach at Alabama, and I thought they had an Omaha club this year. Ole Miss might be the 64th team in the field this season, and you could really see them winning it all. Things unfold differently for different teams. There is a reason Arkansas and Ole Miss were ranked so highly earlier this season. They're getting hot at the right time. Ole Miss was comfortable playing in that park in Hattiesburg, and Mike Bianco has a great team with a great staff. It doesn't surprise me at all to see the Rebels going to Omaha.

Ivan Melendez from Texas and Sonny DiChiara from Auburn are two guys you don't want to play. I believe Arkansas' Robert Moore is a winning player that is always one play away from changing the game. There is so much talent in college baseball right now, and the game has changed because of COVID and the 20-round draft. More players have come to college, and more have stayed in college. Today's player is more physically skilled than ever before in college baseball. It's both great and awful to be a college coach right now. You get to see all these great players, but it stinks because it's so stressful.
Never miss the latest news from TexAgs!
Join our free email list
PRESENTED BY