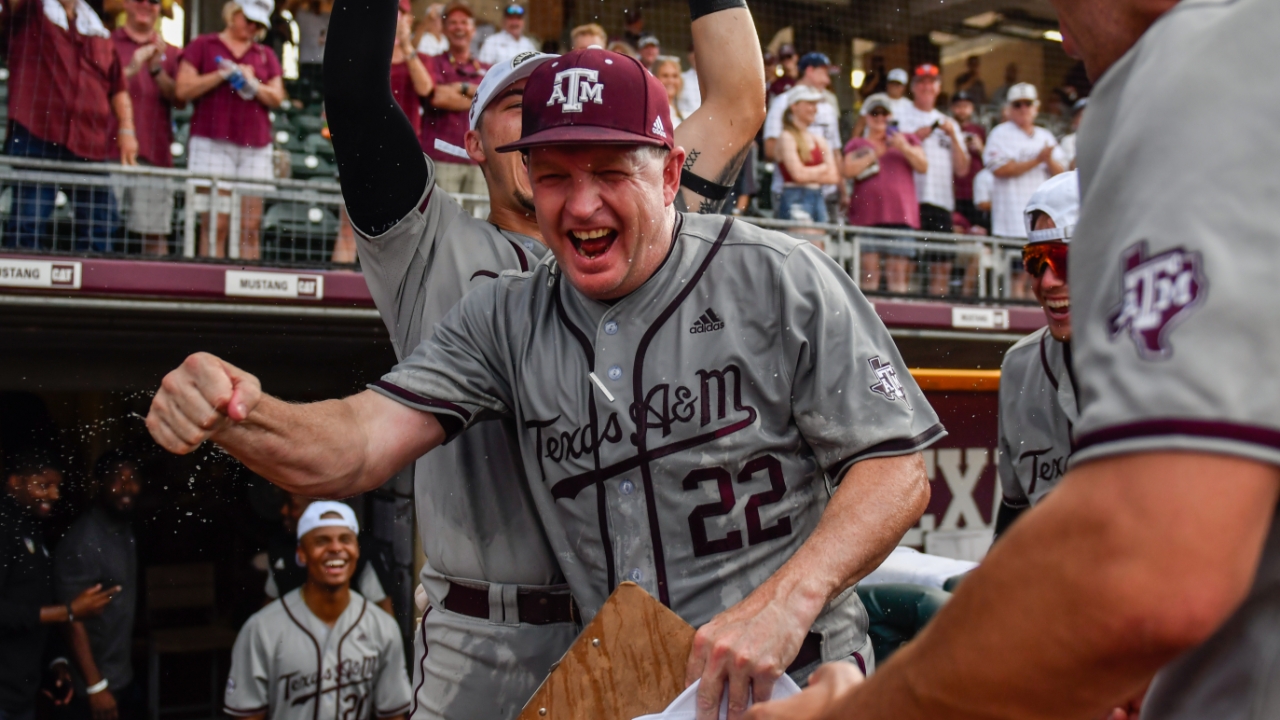 Texas A&M Baseball
OMAHA! Aggies secure super sweep of Louisville, punch ticket to CWS
---
Game #60: #5 Texas A&M 4, #12 Louisville 3
Records: Texas A&M (42-18, 19-11), Louisville (42-21-1, 18-11-1)
WP: Will Johnston (3-1)
LP: Ryan Hawks (5-3)
Save: Jacob Palisch (5)
Box Score
---
The move to Texas A&M made by Jim Schlossnagle last June has proved to be great for the Aggie baseball coach.
The moves Schlossnagle made on Saturday were even better for the Aggies.
Schlossnagle made a series of astute moves on the mound and in the dugout that resulted in #5 A&M (42-18) posting a thrilling 4-3 super-regional victory over #12 Louisville (42-21-1).
Consequently, the Aggies — who did not even qualify for the Southeastern Conference postseason tournament last season — are moving on to the College World Series in Omaha next week.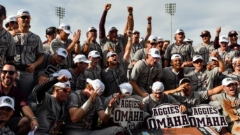 Jamie Maury, TexAgs
"Just so excited for our players," said Schlossnagle, who left TCU last year to become A&M's head coach. "To be where we were three or four months ago and getting ready to hop on a plane and go to Omaha…super proud of them."
His team and the 6,656 fans, who turned Blue Bell Park into a bubble festival, should be incredibly impressed at the moves Schlossnagle made to gain and protect a precious one-run margin.
He made three brilliant moves to the bullpen that produced perfect results. He also delivered a speech that apparently led to a momentum-changing Ryan Targac home run.
The Aggies trailed 3-2 after five innings, so before the sixth, Schlossnagle gathered his hitters together for an impromptu meeting.
Targac, who previously had struck out twice, then hammered the first pitch well over the left-field fence."
"He said, 'Just go up there and get your pitch. Don't try to be the hero. Don't try to do too much. Just get your pitch and trust it,'" Targac said of Schlossnagle. "The whole entire day, I was chasing stuff out of the zone. I just told myself I know where my zone's at. I got a pitch to handle, and I just put a good swing on it."
Added Schlossnagle: "It's always cool when you have a team meeting and then the guy hits a homer on the first pitch. It makes you look like you can coach."
The Aggies took a 4-3 lead the next inning. Trevor Werner was hit by a pitch, went to third on a Jack Moss single and scored on Dylan Rock's sacrifice fly to centerfield.
"To win a championship, you have to win in a variety of ways. It's good to see us win the more lower-scoring pitching and somewhat defensive games without a bunch of homers."
"With Jack Moss behind me…he seems to be a walking barrel," Werner said. "Whenever I get on first, I know he's got the ability to drive the ball either down the line or in the gap. I always look at (Michael) Earley and smile and say, 'I'm scoring on a ball in the gap.'
"He stroked one into the gap. We got first and third. That was big-time there. Rock eventually drove me in with a sac-fly. It's huge having that confidence that if I get on base, you've got Rock and Bost and Targac behind me, and for sure, somebody's going to drive me in."
But the Aggies couldn't be confident they could maintain that one-run margin against the heavy-hitting Cardinals.
Or could they?
The Cardinals' leadoff hitter reached base in the fifth, sixth, seventh, eighth and ninth innings, but only one run was managed.
That score came in the fifth on a single by cleanup-hitter Jack Payton off A&M starter Micah Dallas to give the Cardinals a 3-2 lead. A threat to add to the margin remained with two runners on base.
Schlossnagle opted to bring in left-handed reliever Will Johnston (3-1), who promptly got a ground ball out to end the inning.
Johnston pitched a scoreless sixth but was removed with one out in the seventh in favor of freshman Brad Rudis.
Rudis got the next two outs. He also pitched a scoreless eighth with help from catcher Troy Claunch throwing out an attempted base stealer.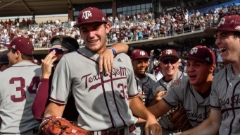 Jamie Maury, TexAgs
But with one on in the ninth and a full count, Schlossnagle brought in the left-handed Jacob Palisch to face right-handed hitting Ben Metzinger, who had fouled off four pitches in the at-bat.
"I just thought the right-handed hitter was getting good swings on (Rudis)," Schlossnagle said. I felt like we could change the look. I thought (Metzinger) was in swing mode. The pitch that Jacob is most comfortable throwing in just about count is his slider, his breaking ball. I just wanted to go right to that and change the look and see what happened."
Palisch struck out Ben Metzinger with his first pitch. He then retired Dalton Rushing on a deep fly to the warning track in centerfield.
Palisch followed by striking out Payton to end the game and start a bubble infestation.
A&M frequently has won high-scoring slugfests. Schlossnagle said the 4-3 victory, which followed a 5-4 win on Friday, enhanced A&M's possibilities in Omaha.
"To win a championship, you have to win in a variety of ways," Schlossnagle said. "It's good to see us win the more lower-scoring pitching and somewhat defensive games without a bunch of homers."
Never miss the latest news from TexAgs!
Join our free email list