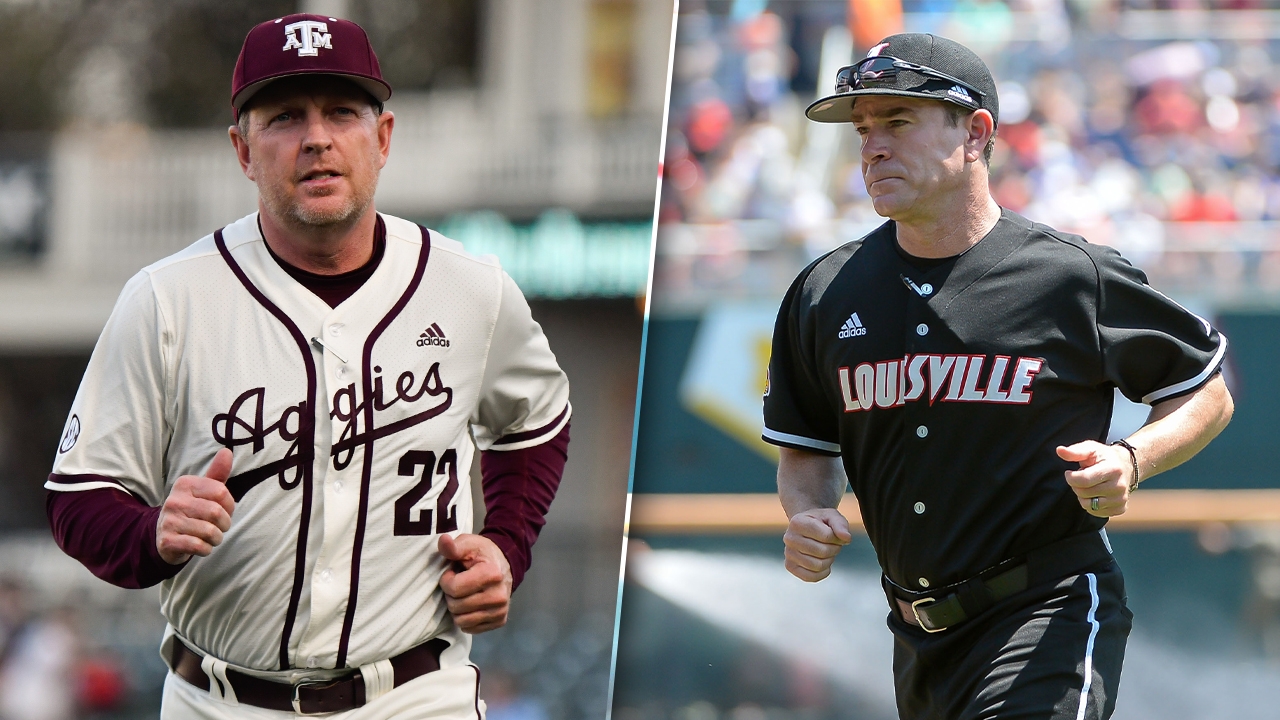 Texas A&M Baseball
College Station Super Regional Preview: #5 Texas A&M vs. #12 Louisville
---
Included above are Thursday's press conferences from both Texas A&M and Louisville.
Who: #12 Louisville Cardinals (42-19, 18-11-1 SEC)
Where: Olsen Field at Blue Bell Park – Bryan-College Station, Texas
When:
Friday: 7:30 p.m. CT (ESPN)
Saturday: 2p.m. CT (ESPN2)
Sunday: TBD (TBD)
Pitching matchups
Friday: RHP Nathan Dettmer (5-2, 4.67) OR RHP Micah Dallas (6-3, 5.38) vs. RHP Jared Poland (5-5, 3.43)
Saturday: Dettmer OR Dallas vs. TBD
Sunday: TBD vs. TBD
Scouting Louisville
Luckily, the Cardinals will be playing in those 1980s-style Astros red rainbow jerseys that stand in stark contrast to the Aggies' traditional Maroon & White uniforms. Otherwise, fans may not know which team is which.
Both squads rely heavily on their explosive offenses. Both squads have thin, inconsistent pitching staffs.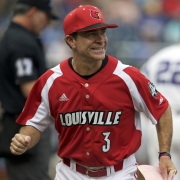 Bruce Thorson-USA TODAY Sports
The slight difference: Louisville's offense is a little more explosive, and their pitching staff is a little more "bad."
In comparing the stats of both teams, the most relevant number that should stick out for Aggie fans is the number of walks surrendered by Louisville's pitching staff. The Cardinals have given out a whopping 284 free passes in 2022. Those numbers have slightly improved in recent weeks, but in comparison, the Aggies have walked just 194 batters. The Aggies are patient at the plate, so that is a matchup to watch.
Sticking with pitching, all eyes will be on Louisville's ace and Friday night starter Jared Poland.
Poland has been wildly inconsistent in recent weeks, taking the critical loss in last weekend' winner's bracket game against Michigan in the regionals, allowing seven runs and nine hits in 4.2 innings of work. However, in his last regular-season start against then-No. 10 Virginia, he was dominant, completing seven innings with a two-hit, one-run effort.
After Poland, head coach Dan McDonnell has been using the pitching-by-committee approach, which is very similar to what Jim Schlossnagle has had to do in 2022.
Garrett Schmeltz had pitched just 20 innings and started one game going into regional play. He started two games last weekend, including the winner-take-all finale against Michigan, with mixed results. McDonnell started another little-used arm in Carson Liggett but pulled him quickly for an established reliever.
Aside from Poland, the only other full-time starter for the Cardinals in 2022 has been Riley Phillips, with a 5-1 record and a 4.25 ERA in 14 starts. However, he was shut down in early May with arm issues but did return to start one of the elimination games in the regionals. He looked good, going five innings while allowing just two hits and a run with no walks. Does he get the nod on Saturday? It's anybody's guess what McDonnell will do.
Louisville has a stable of very solid relievers, led by closer Michael Prosecky with 11 saves and a 3.25 ERA. However, as with several of Louisville's top relievers, he can sometimes be inconsistent and walk some batters. At other times, they are tough to hit. Tate Kuehner has been a big piece of the puzzle in the Cardinal bullpen with four saves and an ERA of 3.35. He has also walked 31 batters in 69 innings. From there, the numbers get bloated for Louisville.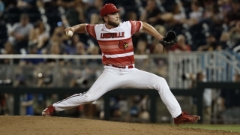 Bruce Thorson-USA TODAY Sports
The key for Louisville pitching this weekend: Get Poland back on track with a quality start, see if Phillips is healthy and ready to go, pray that one of those little-used pitchers that started last week can deliver, and then rely heavily on Kuehner and Prosecky.
If that plan breaks down anywhere along the way, it could get ugly for the visitors.
The offense is a different story.
The team is hitting at a .309 clip, even better than the Aggies' SEC-leading .294. And remember, Louisville put up those numbers in a very strong ACC conference. While we're talking about the Aggies' explosive offense, the Cardinals have hit 16 more home runs (94) than A&M (78), scored 103 more runs and have a higher slugging and on-base percentages.
Yeah, they are good at the plate. Oh, and they've stolen 26 more bases. Yikes.
Dalton Rushing (.310, 22 HR, 60 RBIs) and Ben Metzinger (.305, 19 HR, 68 RBIs) lead the Cardinals in run production, but there's danger up and down this lineup with eight of the nine starters hitting .294 or above. Jack Payton leads the group in hitting at .354, along with Christian Knapczyk at .343. Levi Usher flies on the basepaths with 36 steals in 39 attempts as A&M pitching will need to keep him off the bases.
This lineup will be a minefield for Aggie pitchers, especially with hot, dry conditions and the wind expected to blow out to left field at 10-12 mph.
| | | | | | |
| --- | --- | --- | --- | --- | --- |
| Hitting | Avg. | Runs | Slugging % | On-Base % | Strikeouts |
| Texas A&M | .294 | 441 | .478 | .402 | 523 |
| Louisville | .309 | 544 | .516 | .417 | 498 |
| | | | | | | |
| --- | --- | --- | --- | --- | --- | --- |
| Pitching | ERA | WHIP | Walks | Opp. Avg. | Strikeouts | Fielding % |
| Texas A&M | 4.74 | 1.41 | 196 | .260 | 529 | .967 |
| Louisville | 5.23 | 1.51 | 284 | .260 | 625 | .974 |

Texas A&M storylines to watch
I've been writing these previews for four months.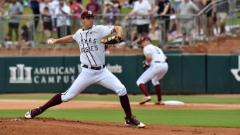 Jamie Maury, TexAgs
Y'all know the over-arching storylines for the Aggies to win and advance to Omaha.
The path to Omaha gets much easier if Micah Dallas and Nathan Dettmer can somehow reach into their bag of tricks and deliver a quality 5-6 inning start against this explosive Louisville lineup.
Is that realistic at this point? I don't know.
We've seen one quality start from this duo in the past seven weeks. Then again, A&M keeps winning during this drought thanks to a timely, explosive offense and a gritty bullpen.
I think fans overlook graduate transfer Jacob Palisch and what he's put together in the last half of the season. His season ERA is down to 2.73 — the best on the team. He throws strikes (eight walks in 49 IP) in pressure situations, and he has bridged many long gaps between A&M's struggling starters and the back-end of the bullpen. A lot will be on his shoulders this weekend, and the 23-year-old has super regional and College World Series experience. Palisch has quietly become one of Jim Schlossnagle's most valuable components on the mound. With this explosive Louisville offense and a bid to the CWS on the line, he'll be asked to carry a huge portion of the burden this weekend.
The other key component is Joseph Menefee. On paper, his numbers are not pretty. He has a plump ERA of 5.67 and leads the team in walks (36). He's also struck out 78 hitters in 46 innings pitched. He takes fans on a roller coaster ride with every outing, but more times than not, he has found a way to squeeze out of tight situations in the second half of the season. A&M will need him to squeeze out of a few more tight situations this weekend against the dangerous Cardinal offense.
On offense, there's not much for me to say. There's a formula for success.
These Aggies wear down a pitching staff and feast on weaker bullpens in the late innings. Louisville's inconsistencies on the mound will simply reinforce this offensive game plan for the Aggies.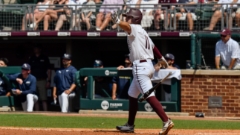 Jamie Maury, TexAgs
Be patient. Be selective. Pound mistakes. Rinse and repeat. You know the drill.
In this matchup, I think the outcome is more about what Louisville does or doesn't do in this series vs. what A&M can or can't do.
Louisville has struggled with finding the right combination of starting pitching after Poland. However, they are talented. Their struggles can be traced back to some injury issues with Riley Phillips and a lack of depth which has forced McDonnell to rely on inexperienced but talented arms late in the season. The talent is there, but can a hurler with 25 innings pitched be ready for a raucous 6,500 fans at Olsen Field with a trip to Omaha on the line? I think that's the big question. If they can get a couple of these guys to pitch well, they will be tough to beat.
However, where Texas A&M can really impact this series is playing clean defense. Simply make the plays in front of you. Field bunts cleanly. Make strong throws to first base. Execute relay throws and cut-offs. Do that, and Texas A&M has a good chance to ride the momentum of the Olsen Field crowd into the CWS.
What's at stake this weekend
Omaha...period.
Never miss the latest news from TexAgs!
Join our free email list
PRESENTED BY