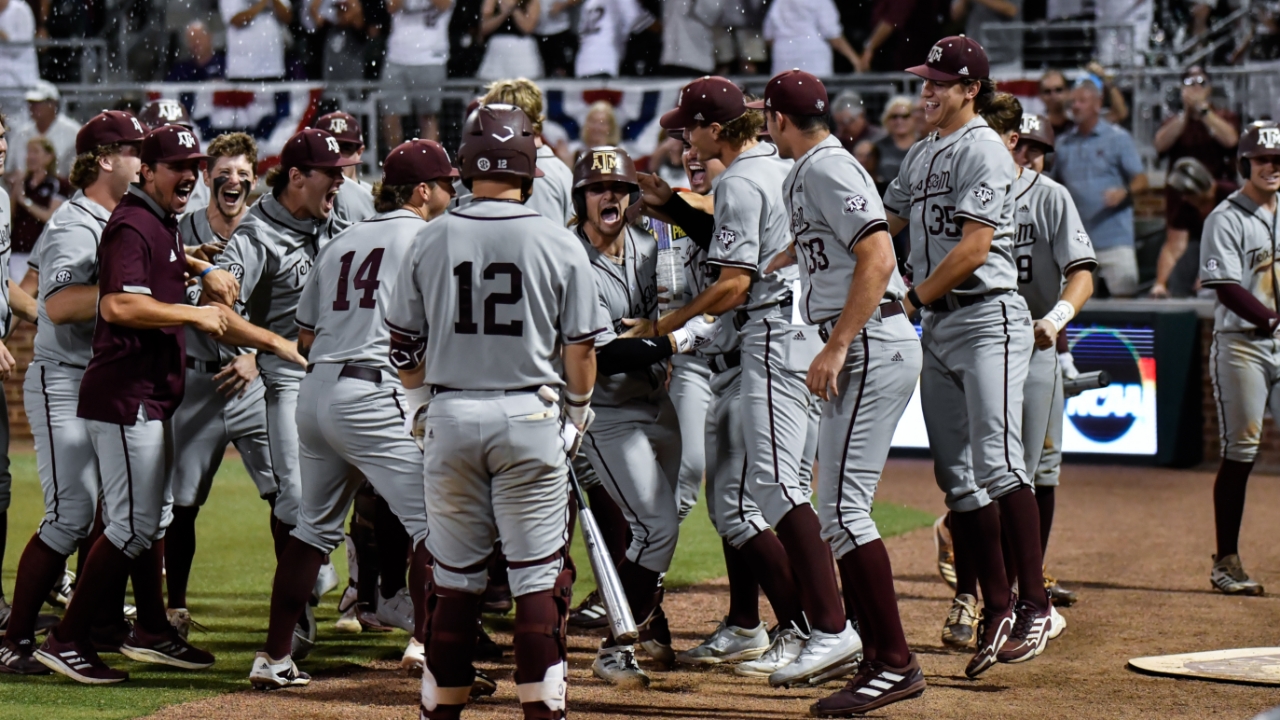 Texas A&M Baseball
Super Aggies: Texas A&M outlasts TCU in offensive grudge match, 15-9
---
Game #58: #5 Texas A&M 15, Texas Christian 9
Records: Texas A&M (40-18, 19-11), Texas Christian (38-22, 16-8)
WP: Will Johnston (2-1)
LP: River Ridings (2-3)
Box Score
---
Concerns were building that Texas A&M might be forced to win on Monday to advance to the super regionals of the NCAA Baseball Tournament.
The Aggies did, but not in the way that was feared by the crowd of 6,525 at Blue Park.
Jack Moss and Dylan Rock laced consecutive two-run hits in a seven-run ninth inning that propelled the Aggies (40-18) to a 15-9 victory over TCU (38-22) in a five-hour marathon that extended past midnight.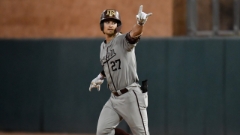 Jamie Maury, TexAgs
In such a bizarre game, Will Johnston (2-1) picked up the victory despite pitching just 1.1 innings and allowing two hits, two runs and two walks. Meanwhile, River Ridings (2-3), the fifth of seven TCU pitchers, took the loss.
The Aggies will play host to either Louisville or Michigan in next week's College Station Super Regional.
"What a ballgame," A&M coach Jim Schlossnagle said. "Just when you think our guys are going to give in, they don't. Most resilient team I've ever coached. Just an honor to be in the dugout with them."
The Aggies failed to hold a 7-3 lead after Rock's three-run homer in the seventh. They fell behind 9-8 on TCU shortstop Tommy Sacco's two-run home run in the bottom of the eighth.
But A&M was undaunted. The Aggies have made a habit of coming from behind. That message was again relayed in the dugout.
"Just keep fighting. Never give up. Just keep going, winning pitches," Rock said. "Just do what we do."
Moss added: "We've been in that situation all year. Nothing changes."
Nothing but the scoreboard.
The Aggies accumulated five hits and three walks while sending 12 batters to the plate in the decisive seven-run rally.
Troy Claunch drove in Austin Bost with a game-tying single off TCU reliever Caleb Bolden, the Horned Frogs' sixth pitcher.
Ryan Targac scored on Jordan Thompson's bases-loaded dribbler to first to give the Aggies a 10-9 lead.
"I don't celebrate anything until it's over," Schlossnagle said. "Every added-on run is enormous for us."
"Just when you think our guys are going to give in, they don't. Most resilient team I've ever coached. Just an honor to be in the dugout with them."
That's when Moss and Rock came through with a pair of enormous hits.
With the bases loaded and two out, Moss sent a 2-0 pitch into right field to drive in Claunch and Brett Minnich.
With the crowd clapping and chanting in unison, Rock launched a two-run double off the outstretched glove of right-fielder Luke Boyers.
Bost followed with a single to score Rock and stake the Aggies to the six-run lead.
"Once they get a little bit of momentum, especially playing at home, it feeds off itself," TCU coach Kirk Saarloos said of A&M's ninth-inning outburst. "We just couldn't get it stopped."
Freshman Brad Rudis, the Aggies' fifth pitcher, threw a scoreless inning against the bottom of the TCU order to finally end the game.
"I felt good once Brad got the first out," Schlossnagle said. "He's such a strike-thrower. I felt good about that. As long as he didn't flip that lineup over and get back down to Tommy and Brayden (Taylor) and give them a chance to get back with one swing."
Schlossnagle knows all too what Sacco and Taylor could do, and not because they both hit home runs.
Schlossnagle previously coached the Horned Frogs before coming to A&M this year. He recruited them to TCU.
So, he was feeling a twinge of mixed emotions after the win.
"This is a tough one for me," Schlossnagle said. "I'm super excited for our team and our players. I told our team I love our players at Texas A&M as much as I love my children, but you've got to understand that 90 percent of the guys over there I loved as much.
"I'm excited we won, but I'm way more than excited just to move on."
Even if they did have to wait until Monday to do so.
Never miss the latest news from TexAgs!
Join our free email list