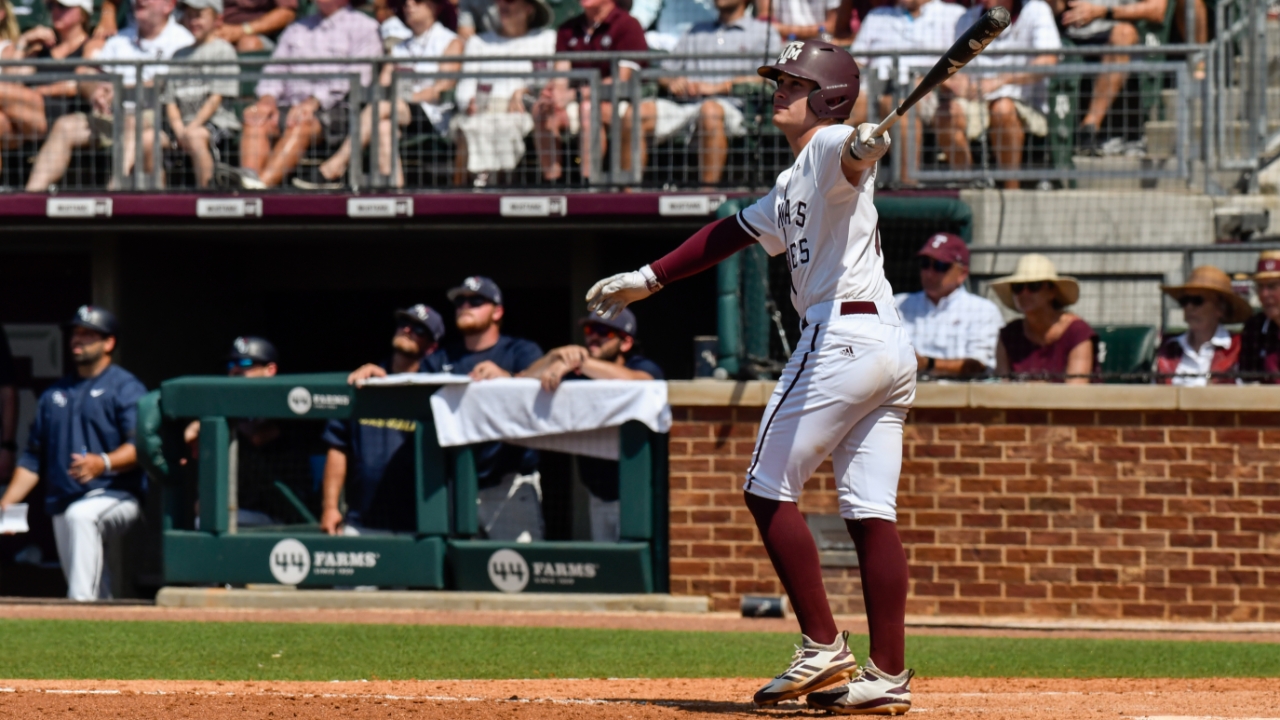 Texas A&M Baseball
#5 Texas A&M overpowers Oral Roberts in regional opener, 8-2
---
Game #56: #5 Texas A&M 8, Oral Roberts 2
Records: Texas A&M (38-18, 19-11), Oral Roberts (38-19, 17-7)
WP: Micah Dallas (6-3)
LP: Ledgend Smith (7-5)
Box Score
---
Remember those old days for Texas A&M when erratic defense and relief pitching were cause for concern?
That was a different time. And seemingly a different team.
The top-seeded Aggies (38-18) excelled in all three facets in an 8-2 victory over fourth-seeded Oral Roberts (38-19) in the NCAA Baseball Tournament College Station Regional opener on Friday afternoon at Blue Bell Park.
A&M advances to the winner's bracket on Saturday. The Aggies face the winner of Friday night's clash between second-seeded TCU and third-seeded Louisiana.
Starting pitcher Micah Dallas (6-3) allowed one run in five innings to pick up the win for A&M. ORU left-hander Ledgend Smith (7-5) took the loss despite a solid showing in which he gave up three runs — two unearned — and struck out six in 4.1 innings.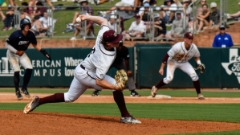 Jamie Maury, TexAgs
Smith got minimal run support as defensive gems — including a pair of double plays — thwarted Oral Roberts' scoring threats. So did Joseph Menefee, who pitched three clutch innings of brilliant relief.
Menefee allowed just two hits and one run while striking out seven in three innings.
"He's got two really good pitches," ORU head coach Ryan Folmar said of Menefee. "If you're looking for one and he throws the other, you're in trouble. I think we got caught in between several times."
Speaking of relief, Austin Bost blasted a three-run home run in the seventh, and Jack Moss ripped a two-run double in the eighth, which allowed the Aggies to finally breathe easily.
"For as poorly as we played defense in our last game (a 9-0 SEC Tournament loss to Florida), we played really good defense," A&M head coach Jim Schlossnagle said. "I think we turned at least two double plays during Micah's (Dallas) innings. (Trevor) Werner made some really nice plays.
"(Dallas) pitched out of trouble, kept us in the ball games. Moo (Menefee) kind of settled the storm, and Austin's homer took a whole heck of a lot of pressure off."
The Aggies committed eight errors in three games in the SEC Tournament. Their defense appeared worrisome again in the second inning. A throwing error by Dallas contributed to the visiting Golden Eagles taking a 1-0 lead and putting two runners on base with one out.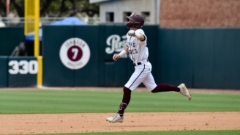 Jamie Maury, TexAgs
But Werner fielded a hard smash at third base and executed a double play to end the inning.
ORU's Mac McCroskey led off the third inning with a single, but one out later, Dallas got Jackson Loftin to ground into another double play.
ORU also had runners at the corners with two out in the fourth, but Werner made a nice play to end that threat.
"We spent time on (defense) all week," Schlossnagle said. "We did a few different things. We tried to make things a little more game-like vs. just hitting repetitive ground balls one after the other. We tried to do some game-like things and play some balls live. For the most part, we did a nice job today."
The good defensive efforts helped the Aggies protect a 3-1 lead they had built on the strength of a Jordan Thompson two-run homer and a Bost sacrifice fly.
That lead became precious in the seventh.
Menefee, who relieved Dallas in the sixth, issued a one-out walk. He appeared to get out of the inning by getting Jake McMurray to hit a tailor-made double-play ball, but second baseman Ryan Targac misplayed it for a two-base error.
Undaunted, Menefee struck out two-hitter McCroskey and three-hitter Caleb Denny.
"[Menefee] almost had an inning-ending double play," Schlossnagle said. "Now, the game's on the line, 3-1, (runners on) second and third and the middle of the order, and he gets strikeouts.
"That's what this team has been about all year long. Something ugly happens, and they fight right back."
"That's what this team has been about all year long. Something ugly happens, and they fight right back."
The counterpunch in the bottom of the inning was a knockout, and it was a thing of beauty.
Kole Kaler and Jack Moss were on base with one out. Folmar brought in right-hander Kaleb McCullough, the Golden Eagles' third pitcher.
One out later, Bost launched a 2-0 pitch that soared way over the left-field fence and hit the Rec Center on the bounce.
ORU managed a run in the eighth, but the Aggies answered in the bottom of the inning with Moss' double to score Thompson and Werner.
"They were mixing me well all day," Bost said. "That lefty (Smith) is good for a reason. They brought in the righty (McCullough), and he threw some good pitches away.
"Then he brought the fastball in. I was able to pull my hands inside and get a good swing on it. Good things happen when you put good swings on it."
Never miss the latest news from TexAgs!
Join our free email list