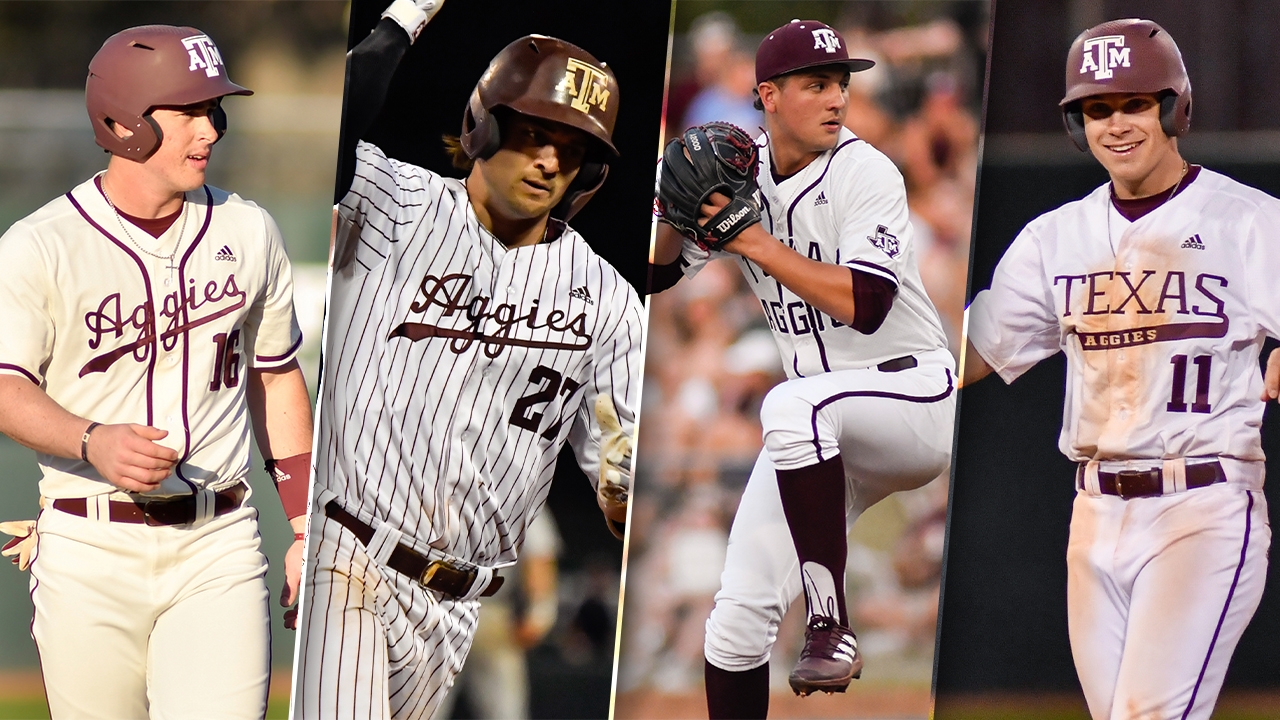 Texas A&M Baseball
All-SEC Aggies: Rock, Bost, Targac & Cortez earn All-Conference honors
---
All-Conference Aggies.
Four members of the 2022 SEC West champion Fightin' Texas Aggie baseball team have been chosen as All-SEC selections. Dylan Rock, Austin Bost, and Ryan Targac earned second-team honors, while Chris Cortez was an All-Freshman team selection.
In his only season in Aggieland, Dylan Rock paced the club in runs (60), home runs (16), total bases (122) and on-base percentage (.490). The .337 hitter established himself as one of the most feared hitters in the league as well as one of the toughest outs, working 44 walks on the year. Rock also drove in 49 runs, good for second on the team, and his grand slam vs. Texas is one of many turning points for the Aggies in 2022.
A graduate transfer from UTSA, Rock was honored as the SEC's co-Player of the Week following his performance in A&M's series victory over Kentucky. "The Mayor of Oxford" put the finishing touches on a sparking regular season with a three-run, game-tying homer in the Aggies' division-clinching win on Saturday.
Rock concluded the regular season in the top-ten in the SEC in slugging percentage (sixth), on-base percentage (.490), runs scored (tied for fourth), home runs (tied for 10th), walks (tied for fifth) and stolen bases (fifth, 15). He also carries a 43-game on-base streak into this week's SEC Tournament, and his exclusion from the SEC's first-team is ridiculous.
After hitting over .300 with double-digit home runs in 2021, Austin Bost might have one-upped himself this spring. Selflessly seeing time at second base, left field and designed hitter, Bost slashed .365/.550/.461 in the middle of the A&M lineup. The Groves native's 69 hits are second on the team, and in SEC games this season, Bost led the conference with 45 hits and was second behind LSU's Jacob Berry with a .385 average.
A glance at Ryan Targac's overall statistics might not scream "all-conference," but a look at his SEC-only numbers would do the yelling.
In A&M's 30 SEC games, Targac ranked ninth in average (.346), sixth in slugging (.710), fourth in OBP (.474), first in RBIs (41), tied for 12th in home runs (10), eighth in total bases (76) and tied for sixth in stolen bases (7). The switch-hitter's power was on full display in the Aggies' series-clinching victory at Vanderbilt, hitting a pair of home runs — including a 489-foot bomb that might still be traveling. "The Hallettsville Hammer" should also be commended for his selflessness, stepping in to play third base before shifting to second upon Trevor Werner's return from injury.
The lone Aggie pitcher receiving recognition is Chris Cortez as he finds himself on the All-Freshman squad. In 22 appearances, the Las Vegas product sports a 5-3 record with a 4.78 ERA. The fireballer has punched out 29 batters in 37.2 innings of work. Cortez was particularly effective in the Aggies' Saturday victory over Mississippi State, working a career-high five innings and allowing one run on four hits while striking out five.
Now ranked No. 5 in the nation, Texas A&M heads into the SEC Tournament and will face either Florida or South Carolina on Wednesday in Hoover.
---

All-SEC Team
First-team
C: BT Riopelle, Florida
1B: Sonny DiChiara, Auburn
2B: RJ Yeager, Mississippi State
3B: Trey Lipscomb, Tennessee
SS: Jacob Gonzalez, Ole Miss
OF: Enrique Bradfield Jr., Vanderbilt
OF: Dylan Crews, LSU
OF: Drew Gilbert, Tennessee
SP: Chase Dollander, Tennessee
SP: Jonathan Cannon, Georgia
RP: Tyler Guilfoil, Kentucky
DH/UT: Dominic Keegan, Vanderbilt
Second-Team
C: Logan Tanner, Mississippi State
1B: Tim Elko, Ole Miss
2B: Ryan Targac, Texas A&M
3B: Jacob Berry, LSU
SS: Josh Day, Missouri
OF: Wyatt Langford, Florida
OF: Spencer Jones, Vanderbilt
OF: Dylan Rock, Texas A&M
SP: Chase Burns, Tennessee
SP: Drew Beam, Tennessee
RP: Blake Burkhalter, Auburn
DH/UT: Brandt Belk, South Carolina*
DH/UT: Austin Bost, Texas A&M*
Freshman All-SEC Team
Chase Burns, SP, Tennessee
Drew Beam, SP, Tennessee
Brady Tygart, RP, Arkansas
Hunter Elliott, SP, Ole Miss
Hagen Smith, SP, Arkansas
Carter Holton, SP, Vanderbilt
Hunter Hines, INF/OF, Mississippi State
Blake Burke, 1B/OF, Tennessee
Brandon Neely, P, Florida
Devin Futrell, SP, Vanderbilt
Michael Braswell, INF/P, South Carolina
Dylan Ray, RP, Alabama*
Chris Cortez, RP, Texas A&M*
SEC All-Defensive Team
C: Logan Tanner, Mississippi State
1B: Tre' Morgan, LSU
2B: Robert Moore, Arkansas
3B: Blake Rambusch, Auburn
SS: Ryan Ritter, Kentucky
OF: Enrique Bradfield, Jr., Vanderbilt
OF: Dylan Crews, LSU
OF: Drew Gilbert, Tennessee
P: Connor Noland, Arkansas
*Ties (Ties are not broken)
Co-Player of the Year: Dylan Crews, LSU
Co-Player of the Year: Sonny DiChiara, Auburn
Pitcher of the Year: Chase Dollander, Tennessee
Freshman of the Year: Drew Beam, Tennessee
Scholar-Athlete of the Year: Ben Anderson, Georgia
Coach of the Year: Tony Vitello, Tennessee
Never miss the latest news from TexAgs!
Join our free email list