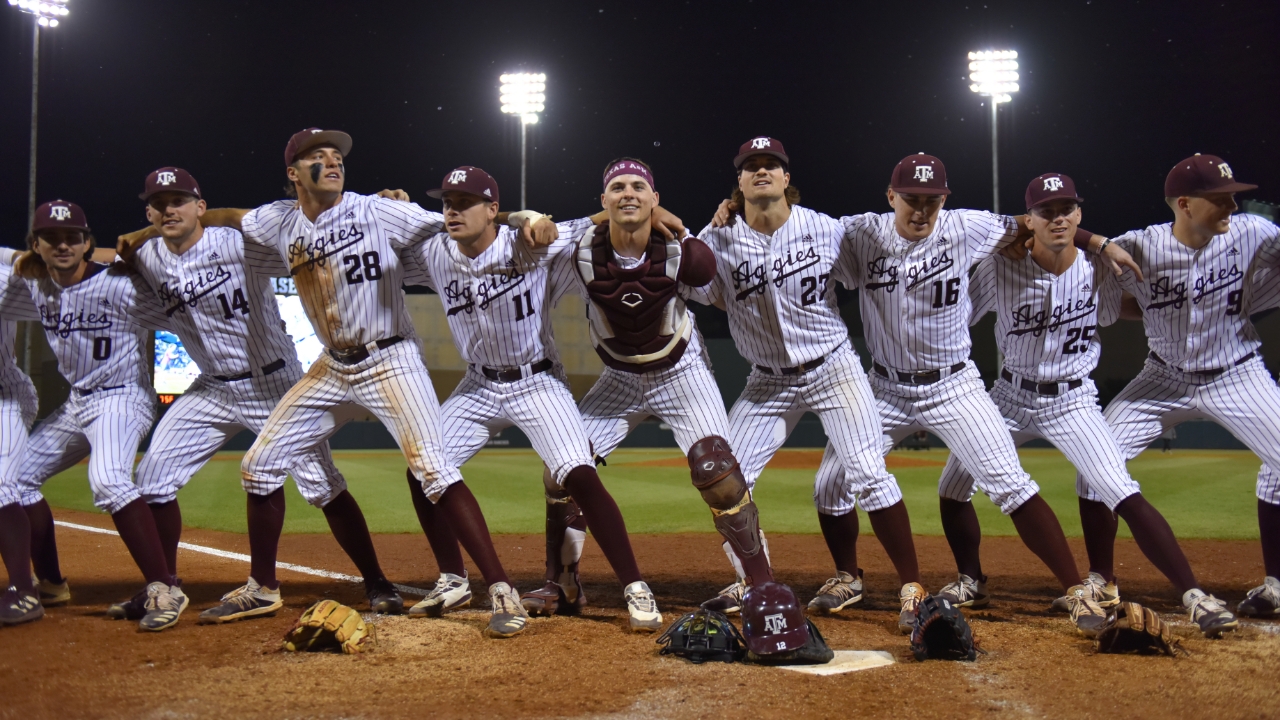 Jim Schlossnagle
Jacob Palisch
Nathan Dettmer
Troy Claunch
Texas A&M Baseball
Dettmer & Palisch shine on the mound as Ags outlast No. 4 Hogs, 2-1
---
Game #37: Texas A&M 2, No. 4 Arkansas 1
Records: Texas A&M (24-13, 9-7), Arkansas (30-8, 11-5)
WP: Nathan Dettmer (4-2)
LP: Connor Noland (5-2)
Save: Jacob Palisch (2)
Box Score
---
Great pitching beats good hitting every time, but it apparently can also beat the wind.
Behind brilliance from both Nathan Dettmer and Jacob Palisch, Texas A&M took Friday night's series opener from No. 4 Arkansas at Olsen Field, 2-1. In an old-fashioned pitcher's duel, Dettmer and Palisch combined for 14 strikes to hold down the Razorback offense.
"Certainly, it was an offensive night with the wind blowing the way it was, but you had just elite pitching," Texas A&M head coach Jim Schlossnagle said.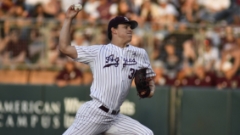 TexAgs
As the reigning SEC's Pitcher of the Week, Dettmer cruised through five innings despite lacking dominant fastball command.
"I don't know why I was pitching like I was 5-foot tall," the 6-foot-4 Dettmer said of his recent turnaround. "It's all mental. I just decided to throw my stuff in the zone and lower the walks. It's all confidence."
The Aggies scored their only runs in the fourth, capitalizing on a Cayden Wallace throwing error to plate two unearned markers. Troy Claunch's RBI single broke the ice and accounted for one of A&M's two hits on the night as starter Connor Noland and left-handed reliever Evan Taylor cooled the red-hot Aggie offense.
"We've had really good offense lately, but it's awesome to see that we can do both," Claunch said. "Winning a game like that with two hits takes a lot of grit, and I think we showed grit in the box and showed grit on the mound today."
Arkansas mustered just two base runners against Dettmer in the first five frames before the Hogs got the first two men aboard in the sixth. With Dettmer behind Brady Slavens, Schlossnagle made his only pitching change of the night.
"Dettmer has been pretty consistent," Schlossnagle said. "He didn't have great stuff tonight, but Palisch was outstanding."
Assuming the 2-0 count, Palisch got Slavens to fly out before punching out Chris Lanzilli. However, Michael Turner dumped a two-out single to right for Arkansas' only run of the contest.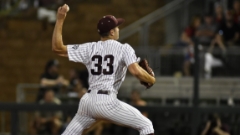 TexAgs
The Hogs threatened again in the seventh, but after allowing the first two men to reach, Palisch struck out both Zack Gregory and Peyton Stovall before getting Slavens to fly out to end the inning, wiggling out of a bases-loaded jam.
"He's a fifth-year senior who's a strike-thrower, so you're not afraid to bring him in in a 2-0 count," Schlossnagle said. "Not the most ideal, but you're also not afraid to have him pitch with the bases loaded and two outs."
Leading 2-1 after eight, Schlossnagle faced a decision.
"We don't have a defined closer, necessarily," Schlossnagle admitted. "So I was going back and forth in the ninth whether to bring Brad (Rudis) in or let Palisch finish it.
"What I didn't want to have happen was let Robert Moore get one into the wind, and I told myself going into the night that I was going to make him hit left-handed with the wind blowing out to left."
However, he elected to keep the lefty Palisch in the game, allowing Moore to bat right-handed.
On the first pitch, Moore hit a fastball well that Dylan Rock caught on the warning track for the first out of the ninth, nearly tying the game.
"I went against it, and we got lucky because he was on that baseball," Schlossnagle said with a smile. "It had just a little bit of topspin and didn't get out of the ballpark. When he hit that ball, I almost quit."
"Certainly, it was an offensive night with the wind blowing the way it was, but you had just elite pitching."
Palisch closed out the rare four-inning save, sending the 6,972 fans into a frenzy and earning Schlossnagle a well-earned Pringle.
The win comes in stark contrast to the Aggies' stout slugging offense showcased in recent weeks.
"Good teams find ways to win in a variety of ways," Schlossnagle said.
Texas A&M and Arkansas return to Olsen Field at Blue Bell Park on Saturday afternoon as Micah Dallas takes the mound at 2:02 p.m. CT with the Aggies looking for the series victory.
Never miss the latest news from TexAgs!
Join our free email list