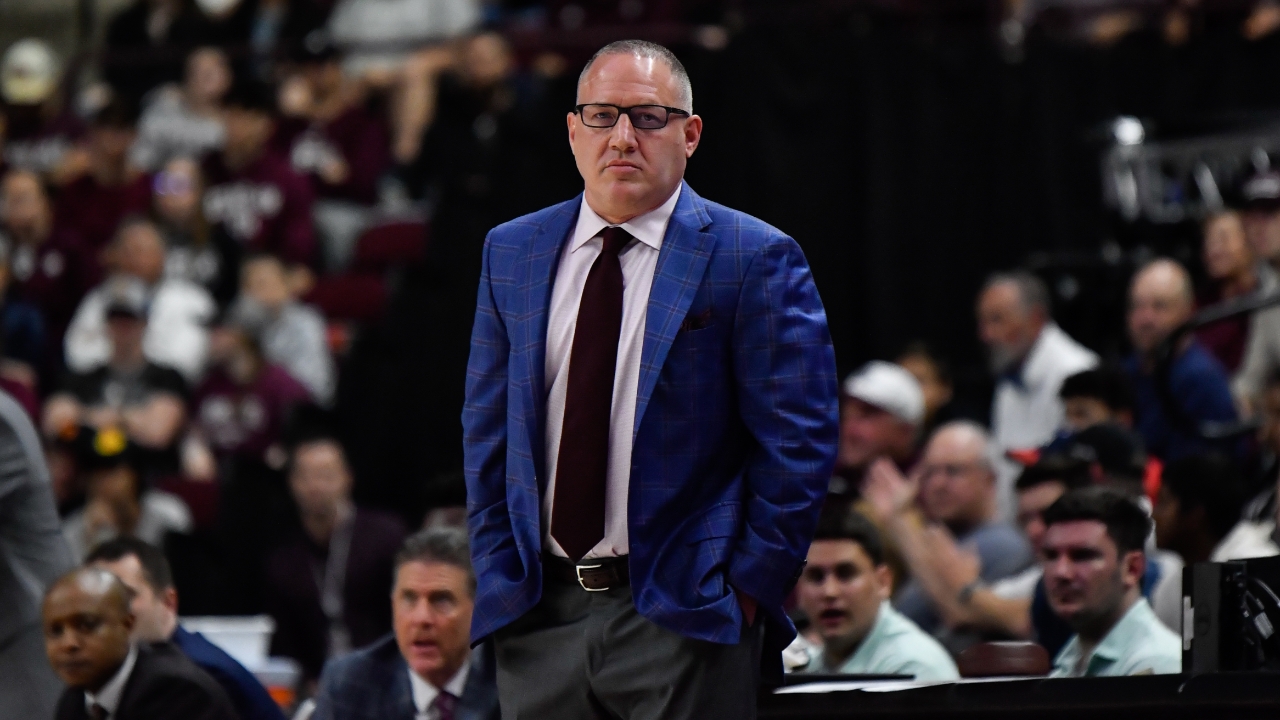 Photo by Jamie Maury, TexAgs
Texas A&M Basketball
Selection committee's think-less job 'defies logic' by leaving A&M out
---
Serving on the NCAA basketball tournament selection committee has often been a thankless job.
But this year's committee did a think-less job.
The omission of Texas A&M from the 68-team field has been questioned by several coaches and media members across the nation.
How could the Aggies beat No. 4 Auburn and No. 15 Arkansas to reach the Southeastern Conference postseason tournament final and still be left out?
What was the 12-member selection committee thinking?
Texas A&M coach Buzz Williams had a different question: Why did the committee think A&M didn't belong?
"After studying all of this non-stop the last two days and looking at it from every vantage point, it defies logic that we are not in the NCAA Tournament."
Always analytical, Williams declined to react on Sunday night at the team's watch party at the Tampa downtown Hilton.
Instead, he came home, pored over all the data and metrics the committee supposedly considers to choose the field and compared that against Texas A&M's data.
His conclusion:
"After studying all of this non-stop the last two days and looking at it from every vantage point, it defies logic that we are not in the NCAA Tournament," Williams said during an eight-minute statement following a 74-62 NIT victory over Alcorn State on Tuesday night. "Despite repeated pleas, I have only been given generalities by those above me — not data-specific evidence — on why we weren't invited.
"Without logical reasoning because the decision — while knowing I still have to explain this to our guys and their families — it has caused me to lose all respect and faith in the system and those that are in it."
Of course, some will dismiss Williams as a whiner.
They'll argue that every year there are deserving teams that are overlooked.
Williams shouldn't be criticized. He should be praised for pointing out the inconsistencies and flaws in the selection system.
Coaches Rick Barnes of Tennessee, John Calipari of Kentucky and Bruce Pearl of Auburn also expressed dismay that A&M was snubbed. So have some in the media.
It's true there are omissions every year, but not every year are omissions so egregious.
Williams' data was compiled on a nine-page report that was distributed to the media on Tuesday night. The data showed A&M's NET ranking — which is supposedly the primary metric for the selection committee — was higher than seven of the 16 teams that received at-large bids.
The Aggies also had more Quadrant 1 victories than seven teams. Only six at-large teams have more Quadrant 1 and 2 wins than A&M.
The Aggies also have victories against opponents in the NCAA Tournament than 12 of the 16 at-large teams.
Yet, when asked about A&M's exclusion, Committee Chairman Tom Burnett, commissioner of the Southland Conference, cited an eight-game losing streak in the middle of SEC play as the reason.
"We're looking at an entire body of work," Burnett said. "And that's the entire season. That starts in November. That's not just a week in March.
"And certainly, an acknowledgment that as well as this run has been by A&M here (in the SEC Tournament) and over the last week or two of the season, the committee... It's hard for the committee to ignore maybe a rough patch that the team had back in January, maybe into the first half of February.
"So the total sum of what we've seen, what we've been monitoring throughout the year, as well. The committee is looking for beating good teams on a regular basis and taking advantage of the opportunities that a team may have."
Burnett said to look at the entire season.
OK, before A&M's eight-game losing streak, the Aggies were 15-2. Then, they closed SEC play by winning five of their last six. That included an 87-71 blowout of No. 25 Alabama on the road. Alabama is a six-seed in the NCAA Tournament.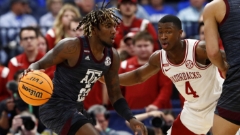 Kim Klement-USA TODAY Sports
Then, in the SEC Tournament, the Aggies went 3-1. Auburn, which A&M beat, was given a #2 seed in the NCAA. Arkansas is a #4 seed.
If the committee was looking at the whole season, why did it just focus on that portion of A&M's schedule?
That's like saying you got robbed in March because your security system wasn't installed in January.
Could it be the committee just forgot A&M?
Apparently. Because Burnett said Notre Dame got in only because Tennessee beat A&M.
That's interesting because Williams' analysis shows A&M had a higher NET ranking (43rd to 53rd), more Quadrant 1 wins (4 to 2) and more Quadrant 2 wins (2 to 5) than the Irish.
Also, A&M has more victories (23 to 22).
There's also one more pesky detail: The Aggies BEAT Notre Dame in November, 73-67.
And as Burnett said himself, the season starts in November.
Burnett also indicated Indiana got credit for its run through the Big Ten Tournament.
But A&M didn't get credit for its run in the SEC.
By the way, the committee's rankings show that the Big Ten was a lesser conference than the SEC, which has six teams all seeded between second and sixth.
Yet, the committee wasn't fazed by the fact Indiana lost six times in an eight-game stretch. The wins in that span were over Minnesota (13-17) and Maryland (15-17).
Also, consider that Burnett is one of seven members of the committee that represented a mid-major conference or university.
Maybe that explains why teams like Wyoming and Davidson, which either had a lower NET ranking or fewer Quad 1 wins, were selected over A&M.
All this data doesn't change the NCAA field, but it is food for thought.
You know… Thought.
Something the committee obviously didn't put much into while doing its think-less job.
Never miss the latest news from TexAgs!
Join our free email list
PRESENTED BY