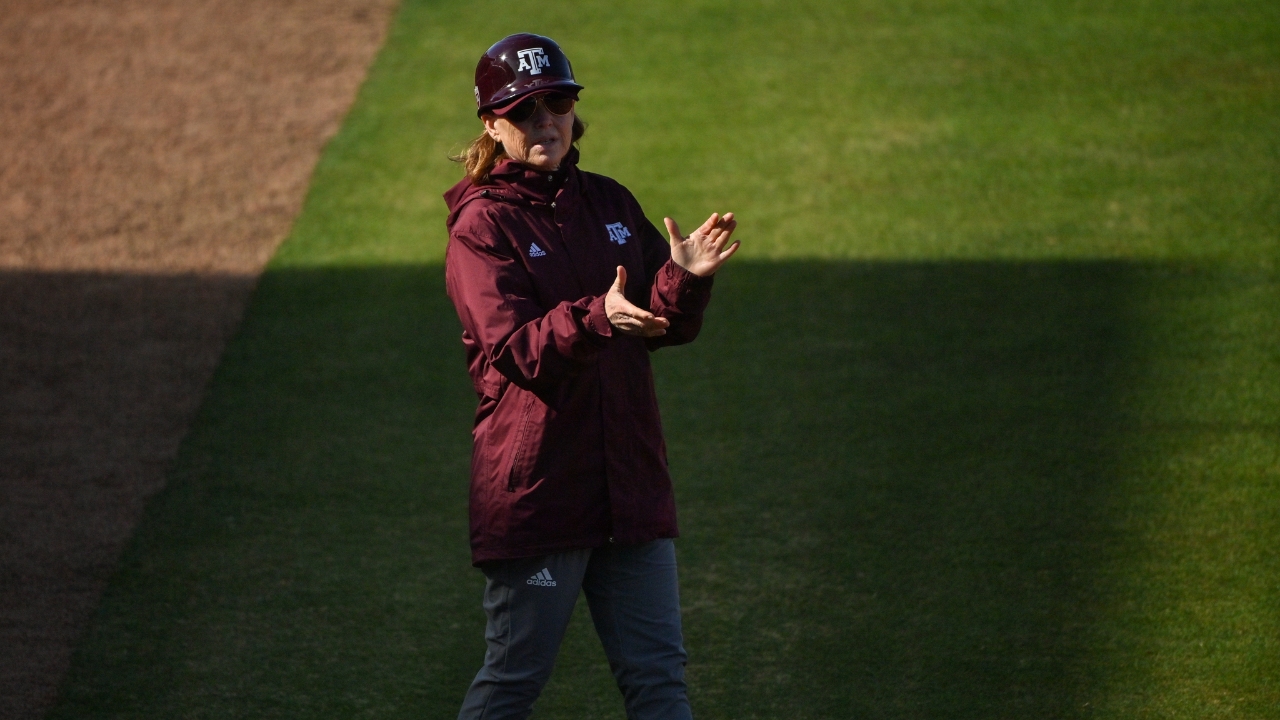 Photo by Jamie Maury, TexAgs
Texas A&M Softball
Jo Evans pleased by production from bottom third of lineup early in season
---
During Thursday morning's edition of TexAgs Radio, Aggie softball head coach Jo Evans joined to preview this weekend's Reville Classic at Davis Diamond, her team's hot start and why production from the bottom third of the lineup has been so big.
---

Key notes from Jo Evans interview
The weather is looking a little dicey for sure—a lot dicey. We'll look at options, and we'll chat with our baseball people to get on the same page. I saw Texas was supposed to play today, tomorrow, and through the weekend but canceled the first couple of days. We're hoping everything works out.

We've got Texas Southern, Tennessee State, and the big one Oklahoma State this weekend. We're looking forward to playing them. They'll be the first ranked team we play, and it will be the first time we will be underdogs. We go on the road next weekend before SEC play. It's getting more challenging as conference play begins.

It has been nice that pitchers have only had to go for five innings with all of those run rules. It has taken some heat off our pitchers, and they're rested. Our offense is absolutely rolling.

The bottom of the order was a major focus for us this offseason. We have a lot more depth in our lineup, and seeing those kids produce has taken some pressure off of Haley Lee and Makinzy Herzog. All of those kids are giving us production. Right now, our RBI leader is a true freshman in Katie Dack.

We went through the fall and January trying to rotate Rylen Wiggins and Koko Wooley and short and second. We put Wiggins at second, and she has been so darn good that we can't take her off of there. It's such a thinking position, and she has been really, really good on defense. She has had a good attitude about it, so we're going to keep her there for now.

Haley Lee hasn't even hit her stride. She only has one or two home runs, but that's fine when you have a team that can hit around her. Nobody is pitching to her, and I'm proud of her for taking her walks. She has been a great leader for us.
Never miss the latest news from TexAgs!
Join our free email list