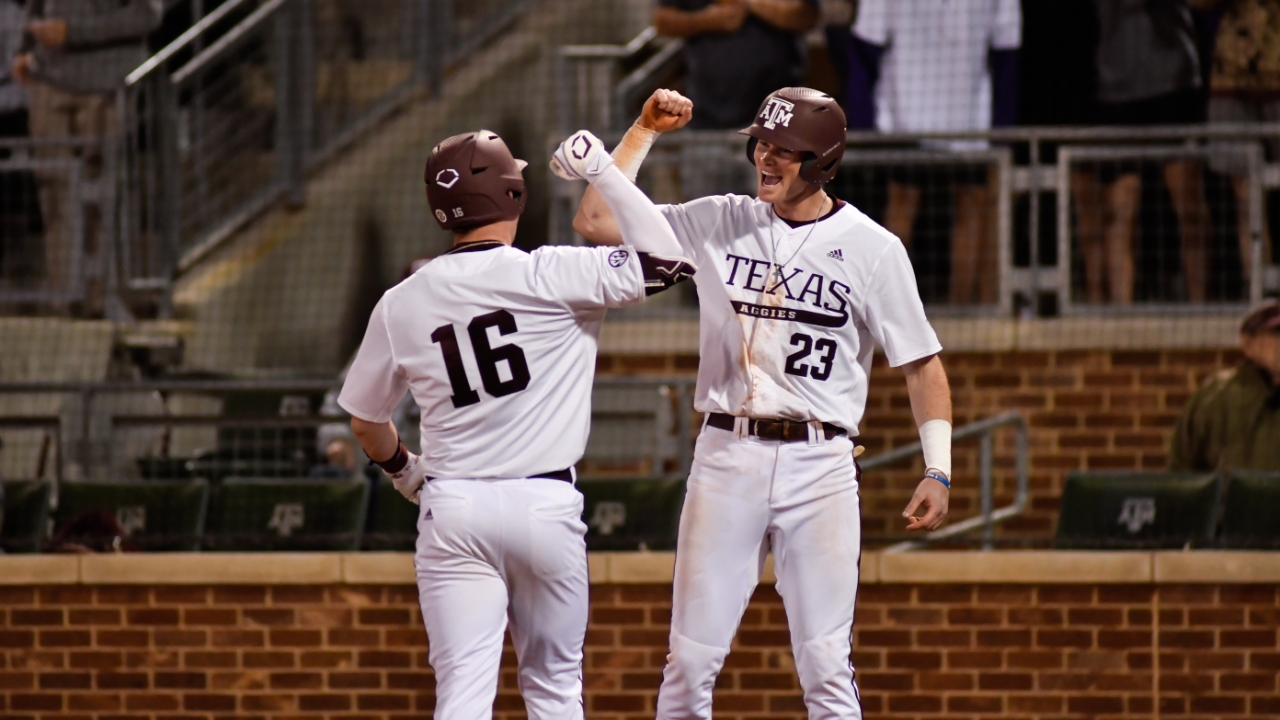 Jim Schlossnagle
Khristian Curtis
Ryan Targac
Austin Bost
Texas A&M Baseball
Offense comes up big as perfect start continues with 9-3 win over Lamar
---
Game #4: Texas A&M 9, Lamar 3
Records: Texas A&M (4-0, 0-0), Lamar (2-2, 0-0)
WP: Khristian Curtis (1-0)
LP: Zach Williams (1-1)
Box Score
---
Cold night, hot bats.
Texas A&M remained undefeated on the young season as the Aggies defeated Lamar, 9-3, on a chilly, windy Tuesday night at Olsen Field at Blue Bell Park.
"I was really proud of how we swung the bat tonight because we had a conversation right after BP when the wind changed about the team that hits the ball low and hard and keeps the ball out of the high air is going to be the team that probably wins tonight," Texas A&M head coach Jim Schlossnagle said.
Mission accomplished.
A big first inning was more than enough for the Ags as they roughed up Lamar starter Zach Williams for five runs on four hits, punctuated by a two-run blast by Ryan Targac.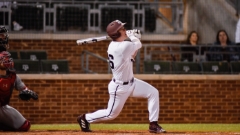 Brooke Homfeld, TexAgs
"I had full confidence going into that at-bat," Targac said. "Just saw a pitch I could handle and just drove it out. It was just a good feeling."
Austin Bost enjoyed a good performance at the plate, finishing 3-for-5 and reaching base four times. The Aggie DH began his night with an RBI double in the first before adding another double in the third.
"He's a proven hitter at this level," Schlossnagle said of Bost.
Bost led off the fifth with a liner to center that landed just out of the reach of a diving Reese Durand. The DH showed off the wheels and dove headfirst into third for a leadoff triple. He'd later score on a Brett Minnich groundout.
"All my routines in the cages are working on using the whole field," Bost said. "In the game, I just stick with my approach and work with what I got, where the pitch is pitched."
After the first, A&M added two in the third and one in the fifth to take a commanding 8-0 lead. As an offensive unit, the Aggies amassed 12 hits but stranded seven runners against eight different Cardinal pitchers.
"We kept tacking on," Bost said. "We can't stop, though. It was awesome."
In his first collegiate appearance, Khristian Curtis tossed four scoreless innings, working around a trio of walks and a trio of hits.
"I thought he did a nice job. You have to remember the guy is a freshman," Schlossnagle said. "He's certainly going to have to be better; land his breaking ball better, land his secondary pitch better."
"He's certainly going to have to be better; land his breaking ball better, land his secondary pitch better."
Working on a predetermined pitch count, Curtis earned the first win of his career.
"We'll do that sometimes where we'll start a guy and he's the pitcher of record for the game," Schlossnagle said. "First time out, we have other guys we want to pitch and don't want to stack up too much on him and want him to walk off the mound feeling pretty good about him."
The Cardinals never truly threatened despite scoring one run off Brad Rudis in the sixth and two off Alex Magers in the seventh.
Chris Cortez and Robert Hogan threw scoreless frames in the eighth and ninth, respectively, to seal the win.
"That is the back end, along with (Joseph) Menefee and (Jacob) Palisch," Schlossnagle said. "Those are the four guys. There could be somebody else surface, but right now, that's the backend."
Texas A&M begins a three-game set with Penn on Friday night at Olsen Field at Blue Bell Park.
Never miss the latest news from TexAgs!
Join our free email list