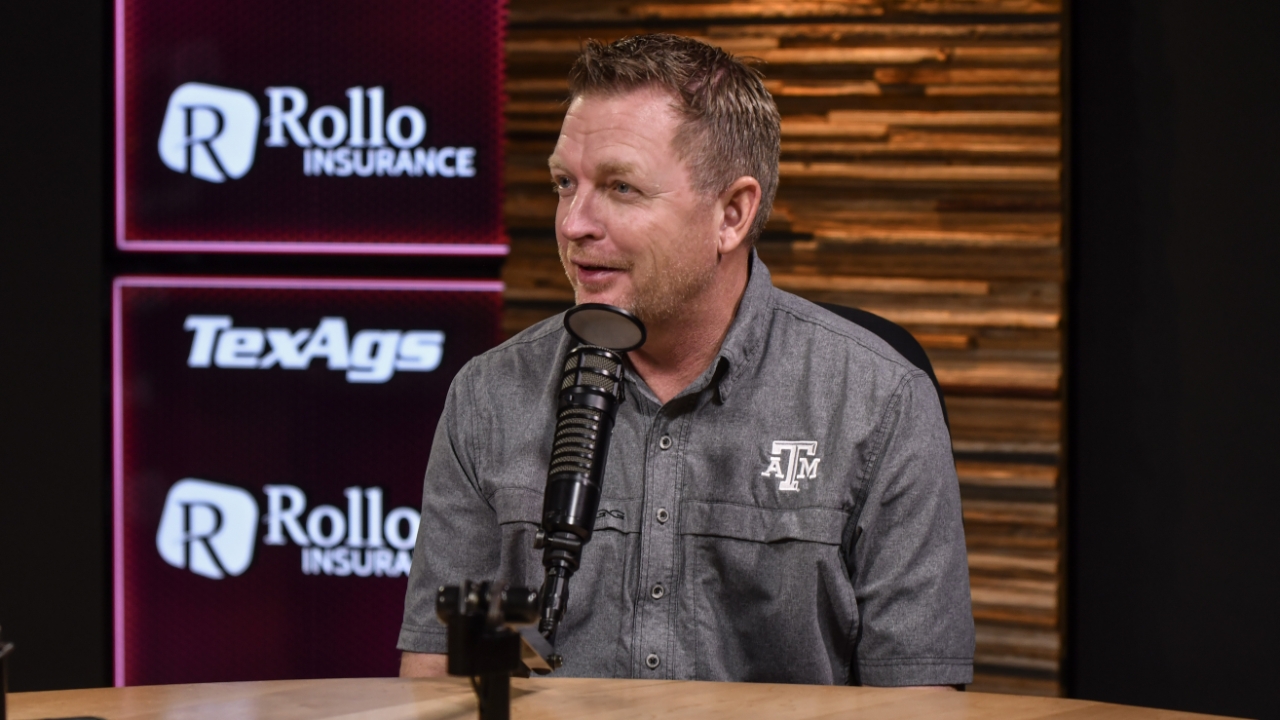 Photo by Jamie Maury, TexAgs
Texas A&M Baseball
'I love being here': Jim Schlossnagle continues to embrace Texas A&M's culture
---
Key notes from Jim Schlossnagle interview
If there is ever a time for a college baseball coach where it slows down, it's right now. The players are taking final exams, and you can't work with them. From a recruiting standpoint, you can't go off campus, and there is nothing to bring recruits to see. Our coaches have deserved a chance to recharge. We're doing some draft evaluations and stuff right now. Once we get through the first of the year and our coaches convention in January, we'll dive in.

I wanted to experience and understand the culture of Texas A&M so I could speak on it. I love being here. Those events like Midnight Yell and Bonfire are fun. Part of my job is to sell our program, and I don't care if you're the Yankees, Texas A&M or the smallest school out there; you still have to sell your program. You can't expect people to care and have passion about your program if you don't interact. I'm just trying to learn what this place is about, and it has really been awesome. The people are just amazing.

A baseball scholarship, to me, is just a means to get somebody to your school. Sometimes, especially now with Name, Image and Likeness, there are various ways to make the college experience affordable. The Aggie fans don't want the highest scholarship shortstop. They want the best shortstop. We have several players on our team that are not on baseball aid, and we can't announce the signees that are not on aid. If we sign 15 guys, I don't want to announce just 12 guys and have those three kids feel any less than anybody else. In today's age with social media, you can easily find out who is committed and signed. It does mean something to the kids and the families, and I don't want any of them to feel less than they are.

Jace LaViolette is a kid I've been watching for a long time. He was part of those great Twelve teams, and then he changed his body and matured. He was originally committed to LSU, but when we hired Nolan Cain, he stepped back. He came and spent some time with us. He's a pure left-handed hitter with incredible athleticism. He's a risk player with the draft, but that doesn't scare us much. When he gets here, I think he will be popular with his teammates and the fans. He can play all three outfield positions and first base, but I hope we don't have to make him play first. I can't wait to get him here because he's fun to be around.

We're planning on Blake Binderup being a front-line pitcher. No doubt about it. He's 6-5 or 6-6. I never want to be looking down on a pitcher unless he's left-handed. Blake has some Richie Sexson power. Big leverage power. We'll see if he swings the bat for us. In today's college athletics, it's really, really hard to do both. We're running into that with Trevor Werner. When you're an infielder and trying to manage your arm, it's hard to do both. We need Blake to be a front-line pitcher and soon.

You better be careful with Kaden Kent because he'll punch you in the mouth. He wants to win. His dad is Jeff Kent, a great major league player and a great guy. We have a number of guys who love to play baseball and a number of different positions. My first College World Series team at TCU, seven of the eight starting position players were junior college shortstops. When you get that athleticism all over the field, it makes you better defensively and helps you on the bases. We have super, super talented kids on this team. They all have grit, and they're winning players. The skill to win a game and be a winning player are the types of kids we're looking for.

Any time we've been out this fall, people want to talk about the No. 1 transfer class in the country. That was out of need, but our coaching staff deserves to be credited. I hope never to be ranked in that criteria again. You want to develop and maintain your program with your high school players. You want a young guy to see a future in your program. You build and maintain with really good high school and junior college players. You supplement with the transfer portal. That's our plan right now.

When you take a job today, you're not just one recruiting class behind. You're maybe two or three classes behind. We had some players decommit from A&M because of their relationships with coach Childress or coach Seely. There are some guys who talk about all they wanted to do was be an Aggie. You have to recruit the guy and give him a chance to be here. If we change the rules in the NCAA to make it about their senior year, that would be best. It would help them be in the decision-making mode and allow us to see a more polished player. That's not what the rules are right now.

Facilities updates are something we're working on on a daily basis. Some stuff is long-term, but my goal is to be in a newly renovated ballpark by the spring of 2024. We've had design meetings. We're just going down that funnel of defining what we want to do underneath the stadium for player development and then for the fans regarding seating, premium seating and the outfield. I can promise you that dreams are high, and I wouldn't be here if they weren't. Ross Bjork is on the same page. As I've said many times, Texas A&M was the gold standard in 2012. Just in nine years, almost everybody in the SEC West is playing in renovated or new ballparks. The shorter-term is that we'd like to rebrand what we have and brighten it up. The fans will see that throughout the spring. We want it brighter and lighter and with more energy.

I hate to use the word 'rebuild' because coach Childress did a great job. It's not like I took a program in a brutal position. I just want to build on.

It's cool to be next, but it's even cooler to be first. The first national title. The first championship series in Omaha. To be part of that master plan of building and recruiting is happening. I'm super impatient and want that to be today.

I'm super excited about this team. I think Logan Britt is very aware that he's a player who has always had outstanding tools. He knows that he hasn't put a season together that matches his skill set of being as close to a complete college player as he can be. He and Michael Early have been working their tails off.

I want complete hitters. If teams shift against us, I take that as a personal assault. Taylor Smith missed the last couple of weeks of the fall because of another knee surgery. He can play first base and is getting more comfortable there with more repetition. He knows that I think practice home runs are the most unimpressive thing in baseball.

Kalae Harrison is much, much stronger this year. Jeremy McMillan deserves some credit as well. He is using the whole field and is still an elite defender.

We haven't seen enough from our pitching staff yet. There are guys who have the skill level, but we need to match that in this conference. They're working with coach Yeskie.

It's a slow month for me, but it's not a slow month for the players. They're at home, but they have to work in the morning or whenever. They have to come back ready to go. I'll stay on top of them until they're back, but it really is a great group of kids. I can't wait for people to get to know them.

Austin Bost could be a massive piece. He's the only returner who hit .300 with 11 home runs. He tweaked his back, but we got some good news. We just have to get him right so he can come back, but he should play a massive role on our team.
Never miss the latest news from TexAgs!
Join our free email list