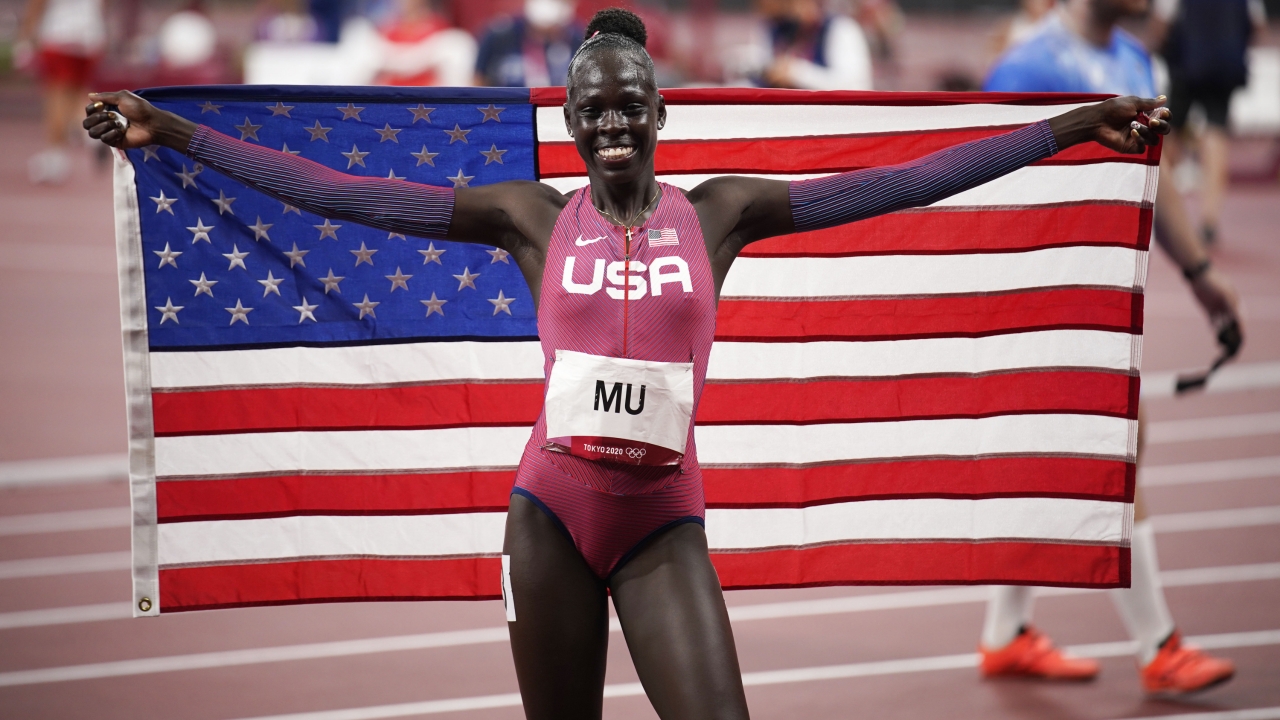 Photo by Andrew Nelles-USA TODAY Sports
Texas A&M Track & Field
Mu Goes Gold: Aggie phenom tops Women's 800m medal stand in Tokyo
---
The prodigy completes the prophecy.
In her first Olympic Games, 19-year-old Athing Mu is bringing home gold in the women's 800m after running a 1:55.21 in Tuesday night's final in Tokyo. It is likely the first of many golden moments for "The Future of the 800" as her professional career is poised to take off.
"I know what I'm going there for, and I know what I'm capable of as well," Mu told TexAgs Radio on July 7.
Capable indeed.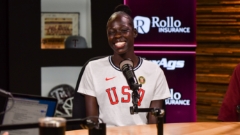 Jamie Maury, TexAgs
In the final, she jumped out to an early lead and set the pace in the first 400 meters, running a 57.82 first lap. Mu pulled away in the final 200 meters and cruised to the gold medal with a personal-best time and new American record.
Mu glided to a first-round win, taking heat three by running an easy 2:01.10. In the semifinal, she again won her heat, crossing the line in 1:58.07, leaving plenty in the tank to dominate the final.
By capturing the gold, Mu became the first Aggie to stand atop the medal stand in Tokyo. Fellow Texas A&M products and United States' track stars Fred Kerley and Bryce Deadmon earned silver and bronze medals in the 100m and Mixed 4x400m Relay, respectively.
"Most of the time, I'm just running, trying to get to the line and I see the result afterward," Mu said of breaking records.
Fans in Aggieland got a sneak-peak of Mu's brilliance during a sparkling freshman campaign at Texas A&M. The Trenton, New Jersey, native set six collegiate and eight school records in 2021 en route to claiming four individual national championships.
"As I've said before, she is the finest athlete I've ever had on the track," Texas A&M Track & Field coach Pat Henry told TexAgs Radio in June.
Among those all-time collegiate bests is a 1:57.73 800m at the Michael Johnson Invitational in Waco on April 17. At the United States Olympic Trials, she posted a personal-best 1:56.07, the world-leading time this year.
"With that 1:56, did I really know I was going that fast? Not really," Mu said in July.
Despite being hailed as an 800m prodigy, Henry elected to have Mu run the 400m at the NCAA Championships in order to score as many points as possible for the Maroon & White. Much like her running style, Mu made the transition from 800m to 400m look effortless and cruised to collegiate titles in the open 400m and 4x400m Relay.
"My 800 group, they're the best ever," Mu told TexAgs Radio. "They've made every moment, every accomplishment I've had even better."
Mu showcased her talent on the Olympic stage and proved to the world what Aggies already knew: She is the best in the world.
"I'm really happy that I have all these records and stuff like that, but at the same time, it kind of feels normal because I feel like I've been working towards this for the past couple of years," Mu said.
In June, Mu made the decision to turn pro, but rather than leaving Aggieland, she remained in College Station to train with Henry and assistant coach Milton Mallard, calling Texas A&M her home away from home. She plans to continue as a student at A&M.
"As I've said before, she is the finest athlete I've ever had on the track."
"It's just a land full of the most genuine people I've ever met," Mu said of Aggieland. "There are so many resources within the university when it comes to academics and also athletically on the track. I feel like I'm well-rounded over here and have everything I need to be successful."
With one gold medal in the books, Mu's time in Tokyo isn't complete as she'll likely run on the United States' women's 4x400m Relay team, which begins on Thursday, August 5. According to FanDuel, the American women are favored to take gold over Jamaica and Poland.
"Athing is going to be a U.S. athlete that is going to make a big mark as she goes forward," Henry said ahead of U.S. Olympic trials.
This is just the first of many Mu golden moments to come.
Never miss the latest news from TexAgs!
Join our free email list