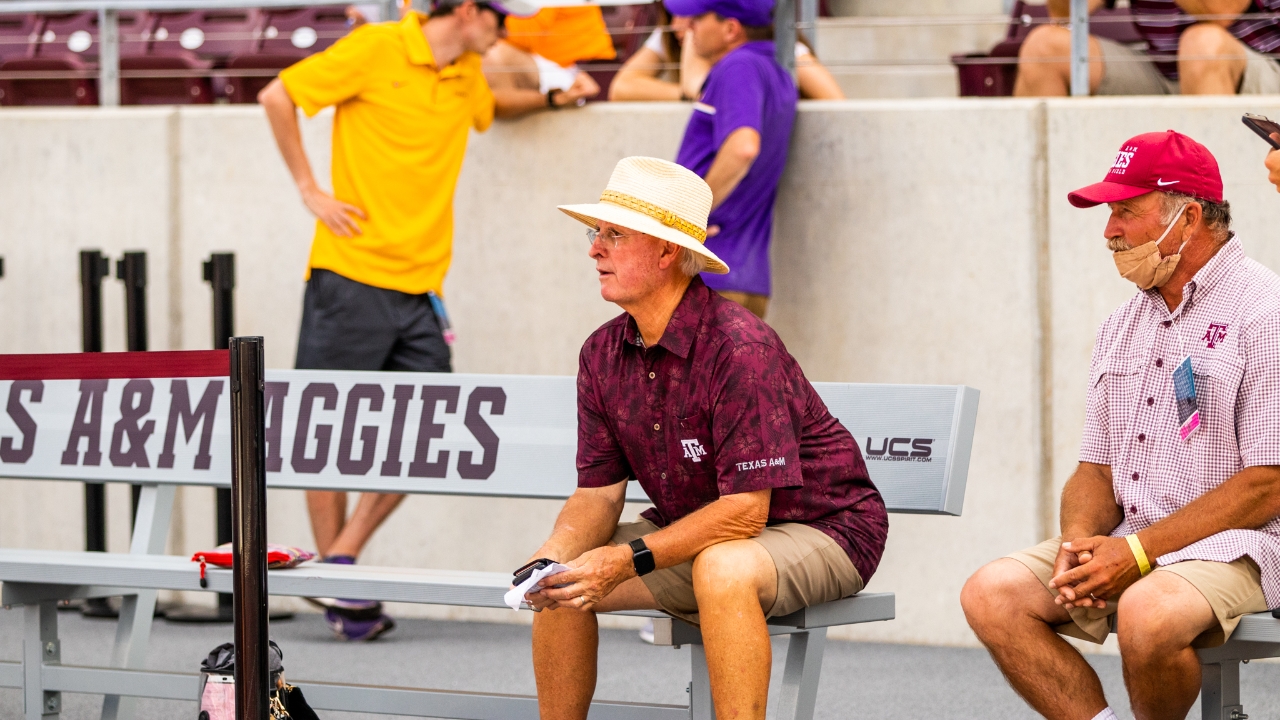 Photo by Angelina Alcantar, TexAgs
Texas A&M Track & Field
Track & Field Report: Pat Henry previews A&M's chances at NCAA Championships
---
Key notes from Pat Henry interview
We're ready to go. We arrived yesterday afternoon. It's seven o'clock here. We will take COVID-19 tests this morning before breakfast and practice today. We'll begin competing on Wednesday. The group is ready to go.

I have never believed in "peaking." It's a word. Your brain may peak, but your athletic abilities might not. You either get better or decline depending on what your brain tells you. Right now, our group is in tune. We have some older athletes and some youth here. We're trying to get them ready to go on these few days, and that's the fun of track and field.

Bryce Deadmon is a seasoned athlete. He is a Houston guy who has continued to get better all the time. I think he can run a little bit faster than he has so far. His time is one of the best in the world right now, but there is a guy from LSU in the same heat that has run a little faster than him. They'll be right beside each other, so it'll get going pretty quickly with Bryce.

We've run 3:01 in the 4x400. We have not run as fast as we're capable. I think we're better than 3:01, and there are not many teams that are that way. We have some experience with Bryce and Devin Dixon. Omajuwa Etiwe is a freshman, and Moitalel Mpoke is a seasoned guy, but this is his first time in this situation.

Mpoke is our school record holder at 48.8. He gets better each time he gets on the track. A guy from Oklahoma will likely give him the most competition. I think Mpoke is in a position to be successful. He has gotten better each time he has gotten on the track, so I hope that continues.

Brandon Miller's race will be a tactical race. Some people will play off of what he does, so he needs to do what he does. He knows what he can do, but he needs to put himself in a position to run his race and stay out of a box. He has to run a tactical race. He is very capable and has run fast.

This time last year or two years ago, Dixon had run the fastest time in the world. He is a tremendous talent. A year without competing has affected him. He has been sick, but he is recovering. He ran better a week and a half ago. I anticipate Devin Dixon running well, and I think he will.

Our 4x100m relay has run really well. If we run well and have good stickwork, we could be in the top two or three schools. Devon Achane will run our second leg, and he's a competitor. His ranking in the 100m doesn't make and difference. There are 24 guys here, and if you line them all up, Achane isn't going to be 22nd. If he does what he's capable of doing, he has a shot. He's a freshman who doesn't get mentally down on anything. He has an opportunity to get into the finals and has to give his best effort.

Sam Hankins has thrown 230 in the javelin but threw 213 to get in. He can throw between 230 and 240. If he does that, it would be a great meet. It might not be enough to score.

Lance Broome is a scary guy. He gets better each time. He wins when he runs and doesn't fold in competition. He's very young and one of these guys that need a little bit of something right to happen for him. Let's see if he can get his talent and brain on the same page.

Athing Mu is prepared. She is an athlete who is very, very focused. She's very young and turned 19 yesterday. She has run extremely fast. Like I said before, she's the finest athlete I've ever had on the track. I expect her to do well, but she's a freshman. You don't underestimate that. She's seasoned and knows what to do. She's smart and knows how to race both in the 4x400m relay and the 400m.

Charokee Young is young but has run extremely fast. 50.80 is very good. She is learned how to compete at the quarter. She has run as many half miles as she has quarters. Her strength is good but comes down to postures. She could be a young lady who slips in there. I anticipate her getting into the finals, but you never know what happens. I expect the same with Tierra Robinson-Jones. Nobody talks about her unless she's running the 4x400m. When you put a stick in her hand, she becomes a little bit different of an athlete. I hope she finds a way to get through to the finals of the open.

Tyra Gittens is ranked No. 1 in the high jump and the long jump. This is about place. If you win the gold medal, nobody asks how high you jumped. This is about who you beat and the points you score. It's great that she might set a collegiate record in the heptathlon, but it's about winning. The young lady from Georgia is very good as well, but Gittens is a great competitor. She's one of the best competitors as a field event athlete that I've ever done. She's at her best on her final attempt down the runway.

Deborah Acquah is one of the few athletes in the long jump and triple jump ranked in the top group to score. If you back her into a corner, she finds a way out. When it requires the best, she's able to dig down and get that out of her. She's a great competitor.

Lamara Distin in the high jump is a freshman but has jumped 6-2. She qualified at 5-11 because that was the cutoff. She's a pure high jumper. If she jumps 6-2, she'll score, but it'll take 6-2 to get into the top eight.

We did not look good in the 4x100m at the regional meet and were lucky to get in. We need to get our exchanges down, and they need to be confident in each other to score.

Kaylah Robinson won her heat at the regional meet and looked very good. She's one of those that sometimes allow other people around her to get the best of her. She must hit it from the start to be in the competition. Summer Thorpe is different because she gets better after every hurdle and runs out of hurdles. She needs to get a good start to be competitive.

At this time, every athlete wants to feel perfect, but it never is. There is always something bothering you. If you think hard enough, you can find something. Tyra Gittens has these situations now and then that she has to overcome. She has been training every day, so I don't think that ankle will bother her.
Never miss the latest news from TexAgs!
Join our free email list