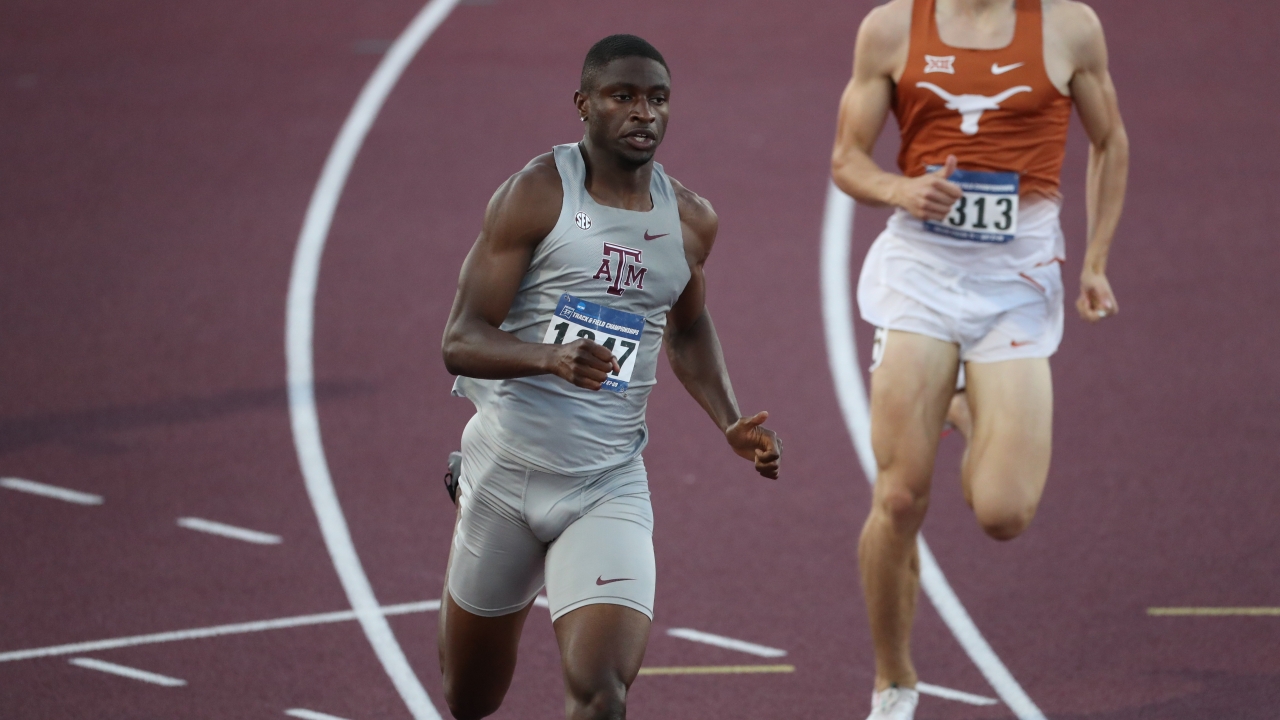 Texas A&M Track & Field
Track & Field Report: Bryce Deadmon punches his ticket to Tokyo
---
On Wednesday's edition of TexAgs Radio, Texas A&M Track & Field coach Pat Henry and Texas A&M middle-distance runner Bryce Deadmon joined for the Track & Field Report as Deadmon has punched his ticket to the Tokyo Olympics to represent the United States.
---

Key notes from Pat Henry interview
Athing Mu has decided to make it a professional career out of things. Financially, there was just no way to turn this situation down. It's a great thing for this young lady. Her contributions to our program have been significant, and she has a number of collegiate records to her name. She was a team person who loved being part of this team at Texas A&M. She wants to stay and train in College Station as well as going to school to get her degree. We hate to lose a young lady or young man like this as it's never good to lose a great one. For her, her family and her future, this is just a tremendous opportunity.

Mu will just run the 800m at Olympic trials. That's enough, especially at this level, for a young athlete. She is very accomplished and has run very fast — better than anybody in this meet. This is still the Olympic trials, and she's still just 19 years old. She's going up against seasoned women who know how to run this race tactically. There is an awful lot involved in how you run because you can't run full-blast for three rounds. There are tactics in advancing out of each round. Top three from each heat move on plus the next four times in the first round. I've seen a lot of great ones have difficult times with this environment. Mu is a good one and is extremely smart in her races, but she is very young. This will be a great challenge for her. She has the opportunity to win this thing but has to do things right.

They have finished the women's 400m and already have a women's champion here. Mu has run faster than anybody in the 400m here. If she makes the 800m, Team USA will want her to run on the 4x400 relay team.

The way the United States runs the relays at the Olympics is a little different. Bryce Deadmon is in the 4x400 relay pool. They have to have some depth, and Bryce is part of that depth. He will have the opportunity to run the relay and represent this country. It's a tremendous accomplishment for Bryce.

Watching the Texas A&M athletes at this level is gratifying. They have worked so hard to get here. I have a tremendous time watching them run. I get to see the things they've been trying to do for their entire lives. To make the United States Olympic team in Track & Field is perhaps the toughest team to make. We have 300 million people in this country, and only three people in each event get to go. To be at the top of that is a tremendous accomplishment.

Donavan Brazier is a very tough individual and is the world champion. Unfortunately, he is a little hurt, which kept him from training the way he wants to train. Anybody who watched the race saw him grimacing. He tried to get through the race and just couldn't. It's tough because he had a chance to win at the Olympic Games. The injury keeps him from advancing, and he doesn't want to talk much about it.

There will be a mixed men's and women's 4x400m at the Olympic Games. It has caught on and is something people enjoy watching because there are so many tactics that go into that event. Bryce Deadmon will have a chance to run in that. He is absolutely going to run in some event.

We've got a lot of Aggies starting to compete in the Trials again on Thursday. It'll be a lot of fun for people to watch this weekend.
---

Key notes from Bryce Deadmon interview
I don't think it has hit me yet that I'm going to the Olympic Games. I thought I had to be top six to be taken, and I came in seventh by like 0.002 seconds. So when they told me I was going, I was like, "What do you mean?" I am extremely excited to go.

Texas A&M made me grow into a man. I've been here since I was 18. All of the experiences I've had on campus, going to class, meeting people and professors have affected who I am as a person. I've been taking in everything the coaches have taught me. I remember being a very late person and would show up to team meetings and practices late. They even almost kicked me off the team. This school has had a big effect on who I am today.

I'll be training in College Station for the rest of the summer until I leave for the Olympics. I'm still waiting on that travel information. I'll be training with Pat Henry for the rest of this month and the rest of next month before I leave.

Running with Athing Mu in a mixed relay would be really cool, but I expect she'll be on the actual women's 4x400 relay.
Never miss the latest news from TexAgs!
Join our free email list