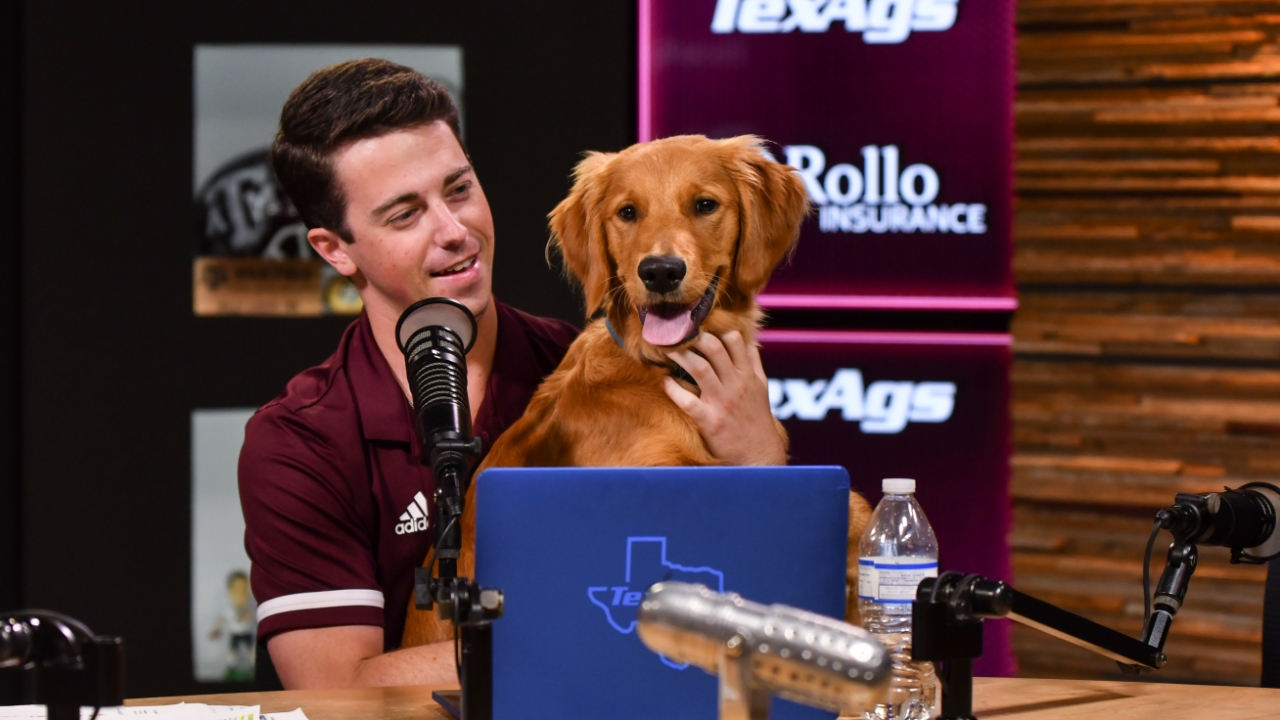 Photo by Jamie Maury, TexAgs
Texas A&M Baseball
Around Aggieland (6/4)
---
During Friday's edition of TexAgs Radio, the fishbowl's own Richard Zane joined to share updates from the latest in Aggie Athletics as there is plenty to run down from the track, the diamonds and much more.
---
Track & Field
On Wednesday, the Southeastern Conference announced its outdoor season awards and honors, and the Aggies were well represented.
Tyra Gittens was named the SEC's Women's Field Athlete of the Year
Athing Mu was named the SEC's Women's Freshman of the Year
Texas A&M had 24 entries on the All-SEC teams

Men's first-team: Brandon Miller, Moitalel Mpoke
Women's first-team: Deborah Acquah, Tyra Gittens, Athing Mu, Jaevin Reed, Tierra Robinson-Jones, Charokee Young
Men's second-team: Devon Achane, Lance Broome, Bryce Deadmon, Devin Dixon, Omajuwa Etiwe, Ryan Martin, Emmanuel Yeboah
Women's second-team: Lamara Distin
Men's Newcomer: Zach Davis, Michael Schmuhl
Women's Newcomer: Charokee Young, Lamara Distin
Men's Freshman: Devon Achane, Brandon Miller, Carter Bajoit
Women's Freshman: Athing Mu
Texas A&M has 24 entries into the NCAA Championships next week in Eugene, Oregon. The national meet will be held from June 9-12.
Women (14): 4x100m relay, 4x400m relay, Deborah Acquah (long jump, triple jump), Lamara Distin (high jump), Tyra Gittens (long jump, high jump, heptathlon), Taryn Milton (long jump), Athing Mu (400m), Tierra Robinson-Jones (400m), Kaylah Robinson (100m hurdles), Summer Thorpe (100m hurdles), Charokee Young (400m)
Men (10): 4x100m relay, 4x400m relay, Devon Achane (100m, 200m), Lance Broome (200m), Bryce Deadmon (400m), Devin Dixon (800m), Sam Hankins (Javelin), Brandon Miller (800m), Moitalel Mpoke (400m hurdles)
Men's Golf
On Wednesday, it was announced that interim head coach Brian Kortan has been hired as the full-time head coach of Texas A&M men's golf after a successful 2020-21 season
The Aggies won a pair of tournaments (Border Olympics, Aggie Invitational), advanced to the semifinals of the SEC Championships and missed the NCAA National Championships by a single stroke in the Albuquerque Regional.
On Thursday, junior Sam Bennett was named a PING first-team All-American by the Golf Coaches Association of America.
Bennett won three individual tournaments this season (Cabo Collegiate, Old Waverly Intercollegiate and Aggie Invitational), third-most by an Aggie in a single season.
His win at the Cabo Collegiate earned him a PGA Tour exemption to the Valero Texas Open in San Antonio.
Bennett posted five top-five finishes and posted a 70.53 scoring average, the second-lowest in school history.
In addition to first-team All-American honors, Bennett earned All-Region honors in the Central Region along with senior Dan Erickson.
Softball
On Wednesday, it was announced that junior catcher/utility player Haley Lee earned third-team All-America honors from the National Fastpitch Coaches Association.
Lee is the 40th All-American in Texas A&M softball history and 18th under Jo Evans.
She hit .422 in 2021 and led the Aggies in hits (65), home runs (25), RBIs (51), total bases (147), slugging percentage (.955), walks (36) and on-base percentage (.536).
Lee's 25 home runs and .955 slugging percentage are both single-season records at Texas A&M. She finished tied for the SEC lead in home runs as well as tied for second nationally.
Baseball
On Thursday, it was announced that senior first baseman Will Frizzell had been named a second-team All-American by Collegiate Baseball.
This is the seventh consecutive season Texas A&M baseball has had an All-American.
The left-handed slugger led the SEC in slugging at .686 and his 19 home runs ranked third in the league and eighth in the nation. Frizzell led the SEC and ranked fifth in the country with 140 total bases.
Men's Basketball
Second-year player Jordan Hall has been selected to participate in the USA Basketball Men's U19 World Cup Team Training Camp, being held at TCU, June 20-22.
Hall recently transferred to Texas A&M from St. Joseph's, where he played in all 20 games with the Hawks, leading the team in steals (25) and assists (113).
On Tuesday, it was announced that Buzz Williams has added assistant coach Steve Roccaforte to his staff for the 2021-22 season.
A coaching veteran of 34 years, "Coach Rock" spent four years with Williams at Virginia Tech, working as an assistant for three years and associate head coach for one.
Roccaforte is known to be a "tireless recruiter and enthusiastic floor coach."
Swimming & Diving
Texas A&M Swimming & Diving Director of Operations Alex Dawson has been selected to serve as team manager for Team USA at the Tokyo Olympic Games this summer.
Dawson has previously worked with Team USA at the 2017 and 2019 FINA World Championships as well as the 2016 U.S. Olympic Team Trials.
Two Aggies will be competing in the U.S. Olympic Swimming Trials in Omaha, Nebraska, later this month.
The Olympic hopefuls are Shaine Casas on the men's side and Chloe Stepanek on the women's side.
The Trials are being held from June 13-20.
Never miss the latest news from TexAgs!
Join our free email list