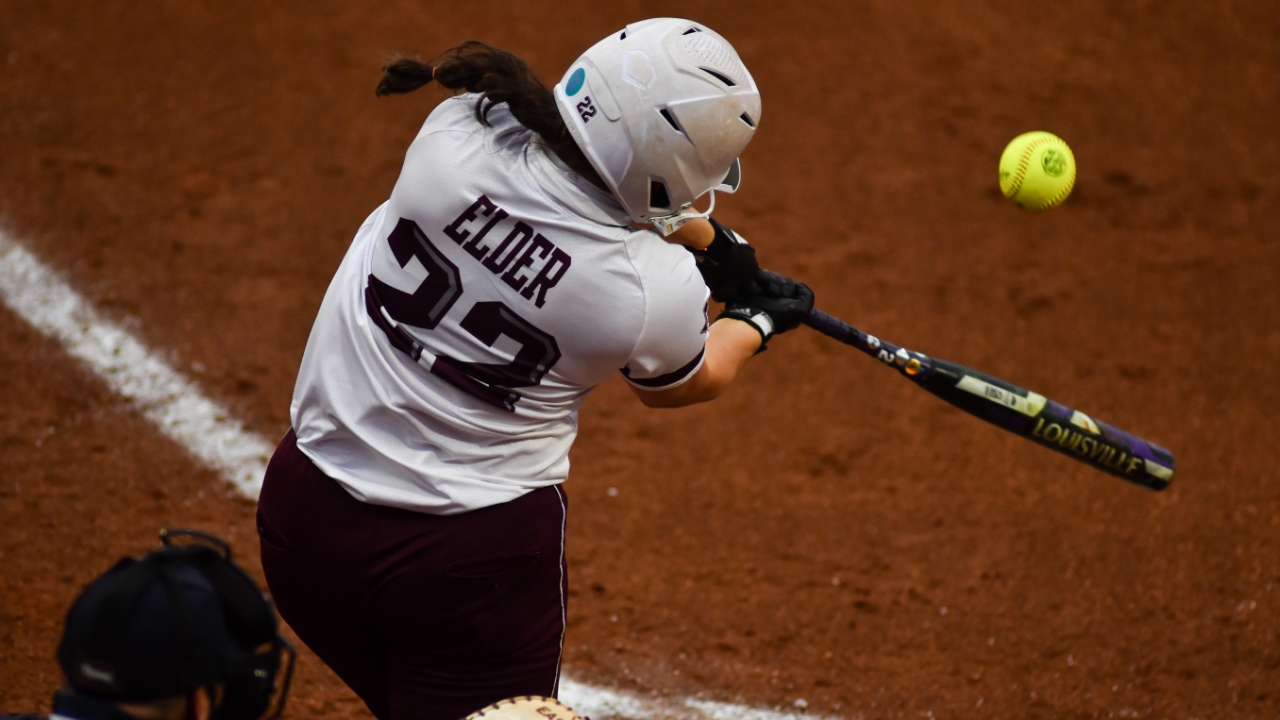 Texas A&M Softball
Aggies drop Norman Regional opener to Wichita State, 9-7
---
A late rally just wasn't enough.
Unfortunately for Texas A&M, three runs in the top of seventh did not prevent the Aggies from a loss in their first game of postseason play in the NCAA Norman Regional. A&M's opponent was No. 23 Wichita State, who defeated the Aggies by two runs on Friday by a score of 9-7.
Offensively, A&M was able to generate a total of five hits in the game.
A&M coach Jo Evans said she saw some positives out of the day's contest.
"To me, it is not out of our reach to go out tomorrow and win two ball games and be playing on Championship Sunday. That is my expectation."
"I thought our kids did a nice job," Evans said. "We took a lot of walks, hit batters, gave ourselves a chance. I thought that that was one thing that was encouraging about the game. When you have a team [like us] who can answer back like that, it gives you a chance to win a ballgame."
Wichita State got out to a hot start, with a home run in the bottom of the first.
The Aggies quickly answered in the top of the first with back-to-back hits from sophomore outfielder Shaylee Ackerman and junior outfielder Morgan Smith. Ackerman later scored.
Inconsistent pitching by junior Makinzy Herzog allowed the Shockers to push across another run. Herzog was then replaced by freshman Grace Uribe, who also gave up another Wichita State run when she hit a batter.
"I didn't think we were as sharp as we needed to be [in the circle]," Evans said. "I thought Herzog just never got comfortable and we talk about not hitting somebody or walking somebody… we can pitch better. I know we can pitch better."
Ultimately the Aggies utilized three pitchers in the circle. Senior pitcher Kayla Poynter also saw playing time. Poynter struck out one and allowed one hit and one run.
A highlight of the day was freshman outfielder Bre Warren launching her third collegiate career home run in the top of the third. Junior catcher and utility player Haley Lee was already on base, making the score 4-3, bringing the Aggies within one.
Warren said hitting the home run was a high note for her.
"It felt good," Warren said. "Especially since I had a plan going into that at-bat, and I just stuck with it and created it. I felt really good that the hard work I put in previously went into the gameplay and was successful."
Wichita State put up their biggest inning in the fifth, recording five runs. One of those was senior pitcher Madison Perrigan's 20th home run of the season.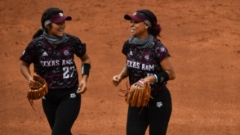 Jamie Maury, TexAgs
While A&M only managed to score one run in the top of the sixth, the Aggies posted three in the seventh.
Evans summarized her team's fight in the later innings in one sentence.
"I like our fight but it has to translate into wins."
This 9-7 loss does not complete the season. The NCAA Normal Regional Tournament is double elimination, meaning the Aggies are guaranteed another game on Saturday.
"Our season is on the line. We came here to win. To me, it is not out of our reach to go out tomorrow and win two ball games and be playing on Championship Sunday. That is my expectation," Evans said.
Never miss the latest news from TexAgs!
Join our free email list