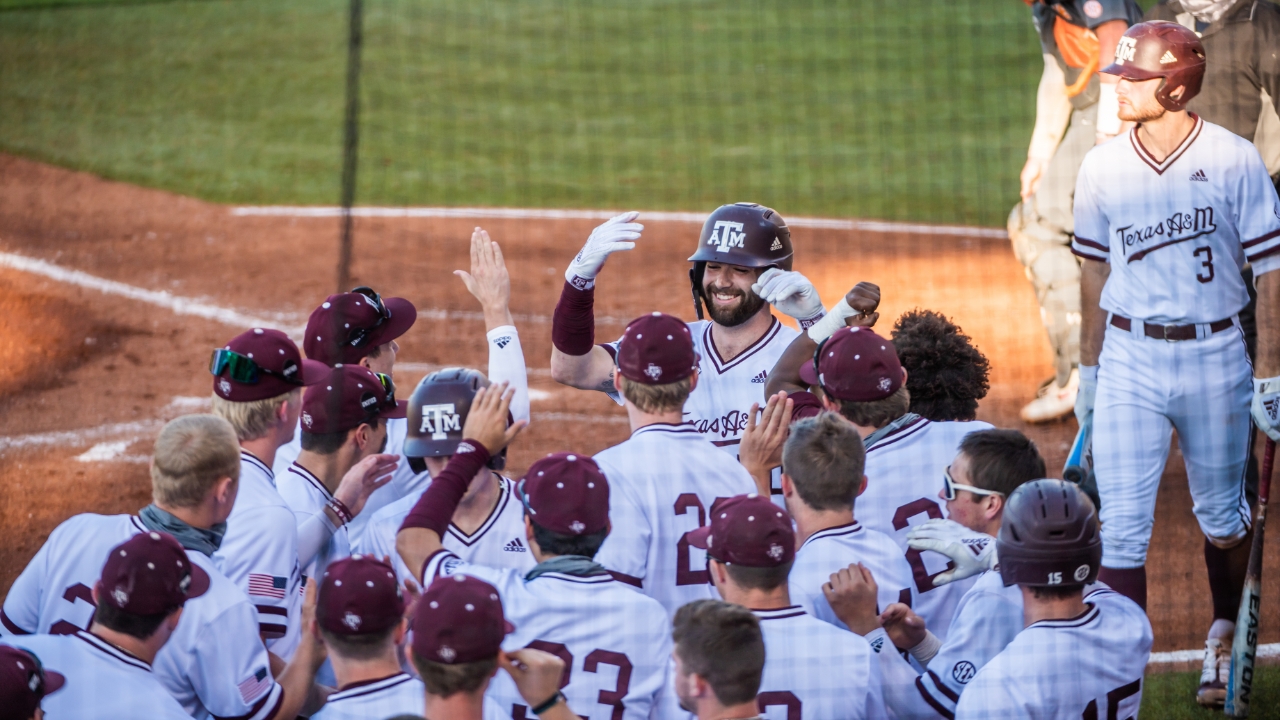 Rob Childress
Will Frizzell
Austin Bost
Chandler Jozwiak
Texas A&M Baseball
Aggies win nightcap, split Saturday doubleheader against No. 6 Tennessee
---
Game #40: No. 6 Tennessee 6, Texas A&M 1
Records: Texas A&M (22-18, 4-12), No. 6 Tennessee (31-8, 11-5)
WP: Chad Dallas (6-1)
LP: Dustin Saenz (5-5)
Box score
Game #41: Texas A&M 6, No. 6 Tennessee 5
Records: Texas A&M (23-18, 5-12), No. 6 Tennessee (31-9, 11-6)
WP: Mason Ornelas (3-0)
LP: Kirby Connell (1-1)
S: Chandler Jozwiak (6)
Box score
---
Hope.
Texas A&M's postseason chances were kept alive as the Aggies rallied to beat No. 6 Tennessee in the second game of a doubleheader on Saturday at Olsen Field. After dropping the opener 6-1, A&M scored four runs in the seventh inning of game two to earn the split.
"I'm incredibly proud of our guys," said Texas A&M head coach Rob Childress. "Down 4-0, dead in the water, and we just find a way to fight, scratch and claw and come back to win that thing."
Trailing 5-2 in the seventh inning of the nightcap, the Aggies pulled off the comeback. The frame began with a single from Ty Coleman, who advanced to second on an error. Kalae Harrison drove him home with a base hit two batters later. Ray Alejo followed with a single, and Austin Bost then tied the ballgame with a two-run double.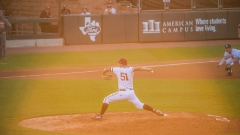 Travis Whitesell, TexAgs
"I got the pitch I wanted — it was a fastball — and hit it good down the line," Bost said. "I'm very glad that Ray Alejo was at first because he made it look easy getting all the way around the bases."
Bost then scored on a Will Frizzell sacrifice fly to center, giving A&M the 6-5 advantage.
"I didn't want the pitcher to get a strike on me," Frizzell said of his approach.
Earlier in the ballgame, Frizzell launched a two-run homer to right to get A&M on the board. His 13th longball of the season cut Tennessee's lead to 4-2.
"Their outfield played really well all day," Frizzell said. "But there's no outfielders over the fence."
On the mound, Mason Ornelas kept the Aggies close until the four-run seventh.
Chandler Jozwiak entered the ballgame in the eighth and found himself in some trouble. However, a clutch Harrison double play helped A&M hold onto the lead.
"It was huge," Jozwiak said of Harrison's double play. "It was definitely a momentum shift, coming off the field screaming and hollering. We were pretty pumped up about it."
After a leadoff single in the ninth, Jozwiak nailed down the victory, forcing a rubber match tomorrow.
"It's amazing to go there and get a save like that and help the team win," Jozwiak said. "When I go out there, it's for the team, for the guys."
The pair of contests mirrored each other early on with the Volunteers jumping out to leads the first inning in both as starting pitchers Dustin Saenz and Bryce Miller struggled to throw strikes.
"It was really resilient all the way around," Frizzell said. "There wasn't any give-up in anybody."
""Their outfield played really well all day, but there's no outfielders over the fence."
Tennessee pitcher Chad Dallas, a native of Orange, Texas, held A&M to just one run across seven innings of work in the opener, but the Aggies chased Will Helfin after 3.2 innings in the nightcap, eventually getting to reliever Kirby Connell in the seventh.
"We're fighters," Bost said. "We're going to keep punching back. We're not going to give up. That's not us. That's not what we're built to do. We're just going to keep punching back, punching back until we win."
A&M scored just one run on five hits as the 2-3-4-5 hitters combined to go 2-for-16 in game one. As a team, A&M only had four opportunities with a man in scoring position and failed to get the leadoff man aboard in all nine innings.
"We couldn't hit balls harder than we did, and it was into the wind," Childress said. "It was finally nice to see something go our way late in the game in game two."
Ultimately, game one was the story of two plays. Saenz committed an error in the second and allowed three unearned runs to score, and Harrison was picked off in the fifth, ending a threat to put up a crooked number.
"That changes the complexion of the game," Childress said. "It's a 3-2 game, and we pitch it a little different, we play a little different. So does Tennessee."
In what is a must-win series for the Aggies' NCAA Tournament odds, they fought back to win game two and give themselves an opportunity to win a series against a top-ten conference opponent Sunday afternoon. First pitch in the finale is set for 12:02 p.m.
"We have got to start winning some series," Childress said. "I know you guys all know that, and our kids know that, and our coaches know that."
Never miss the latest news from TexAgs!
Join our free email list