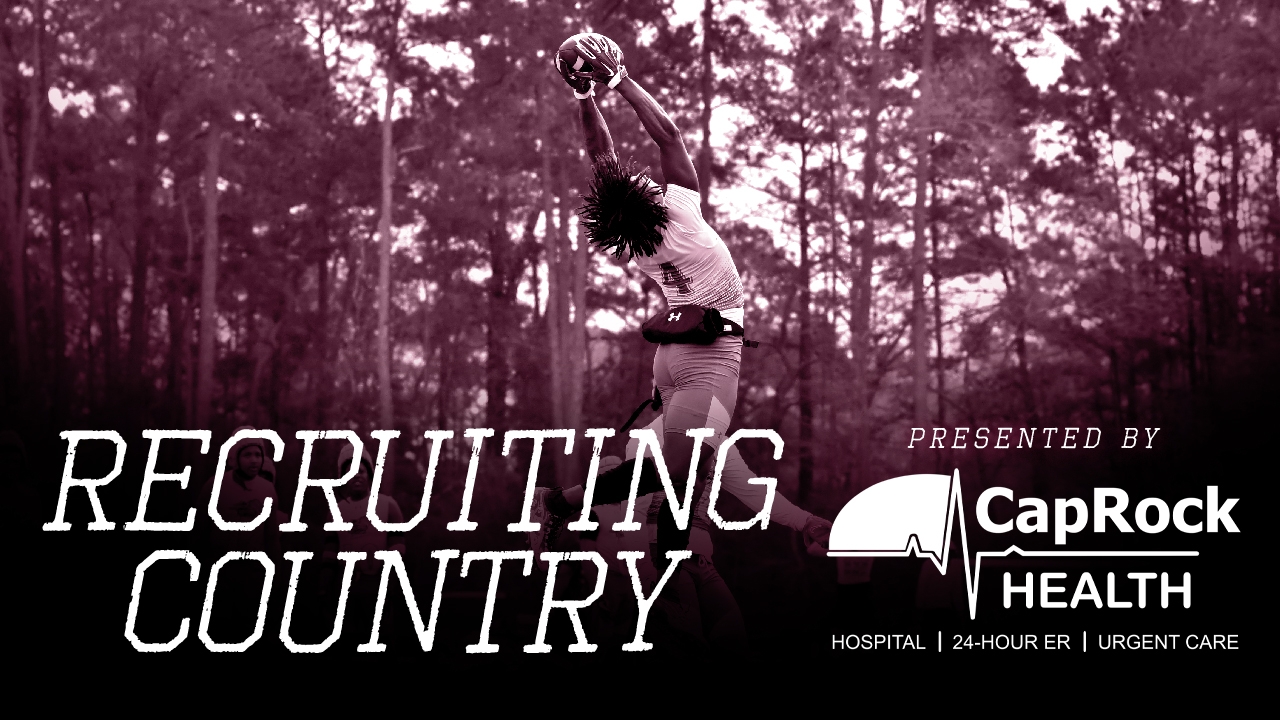 Photo by Jamie Maury, TexAgs
Texas A&M Football Recruiting
Recruiting Country: The latest recruiting news surrounding the Maroon & White
---
Key notes from Recruiting Country
This weekend's biggest thing was at Arlington Martin with the Under Armour camp and how the A&M kids performed. We told people when Hunter Erb‍ committed that if he had the same profile as these other kids who have been getting offers since they were freshmen, we wouldn't have to be hyping him up. I think he is one of the four best offensive linemen in the state. We won the offensive lineman MVP of the camp. We have him as a top 30 player in the state. He looked more tightened up at the camp than he has in the past. His feet, mobility, and size checks all the boxes.

It was also a good sign that PJ Williams‍ went to the Under Armour camp and performed well against bigger guys. He's a basketball guy, so he has only had a month to get his body back into football shape. He has looked fantastic.

With Erb and Williams, those are two fantastic evals from Jimbo Fisher and Josh Henson. We can talk about Conner Weigman‍ and Harold Perkins‍ playing together in 7-on-7, but the best news was how well Erb and Williams performed at this camp. Hunter Erb's quickness reminds me of Kenyon Green. He is so light on his feet for being a big guy.

Eli Holstein‍ had some friends in College Station last week to see town and campus a bit. I think Jason is trying to get him for a post-visit interview. I'm not sure what his timeline is, but he's a 2023 quarterback. He has that look going into his junior year. He is that prototypical, big-in-the-pocket guy. It's interesting how Jimbo has recruited his quarterbacks since he has gotten here. Zach Calzada is an in-the-pocket guy. Haynes King moves around a lot. Eli Stowers is mixed. Weigman moves around a lot. There is a lot of contrast in style.

Ish Harris‍ will be visiting College Station, and there will likely be another visitor this weekend. If you're a subscriber, we will have updates on that.

Holstein is important, but whatever happens in the 2023 class right now is extremely early. No kid in 2023 is necessarily "important" because there is so much time to go. Even if they landed Rueben Owens‍, I would say the same thing. They still need to make more evaluations in that class.

The Houston-area skill talent is really stinking good. I missed Weigman in the 7-on-7 event. I saw Harold Perkins, and he's just a different kid. He moves differently than any linebacker I've ever seen. The athletic gifts are off the charts. He is the best linebacker prospect from an athletic standpoint that I've ever seen. Watching Harold run around solidified him as a top-three prospect in this class for me, easily.

You saw on Twitter that Perkins and Weigman talked about teaming up and playing with each other for a while. Conner isn't a "rah, rah" guy publicly, but he is working for A&M behind the scenes more than people think. Weigman and LJ Johnson have been talking to Perkins about playing for A&M, and that Cypress area has been really kind of the Aggies lately.

I think the elimination of the track program will be difficult for Clemson to overcome for Brenen Thompson‍, but due to his relationship with Cade Klubnik‍, they might still be in on it. I do know Thompson wants to run track. He will get to see Bryce Foster and Devon Achane handle both. There will be a clear plan for handling that.

I'm comfortable with them taking four receivers, but I'm not sure who they would take. With Thompson, they've talked to him about that Ainias Smith role. Between Thompson, Kojo Antwi‍, Chris Marshall‍, and Jay Fair‍, I think two more will be Aggies. Of course, there might be other names I'm forgetting as well.

I'm not super familiar with how that Texas staff recruits outside of Jeff Banks and Terry Joseph. With Terry Price and Elijah Robinson, there will go head to head with Bo Davis on the defensive line. A&M has been on such a roll up front. I'm not saying they're putting their feet up by any stretch, but they've really done an amazing job. If you're looking for head-to-head battles between A&M and Texas regarding the recruiters, the defensive line will be the area to watch.

Terrance Brooks‍ shows that he can be a pure corner. He covered Evan Stewart‍, and he did a great job doing it. He had an outstanding day.

With Julian Humphrey‍, I think Penn State has done a good job with him in the last few months. I haven't gotten a huge A&M vibe on it, but we will see if the Aggies will try to rally in the next couple of weeks as his commitment date comes up.
Never miss the latest news from TexAgs!
Join our free email list
PRESENTED BY