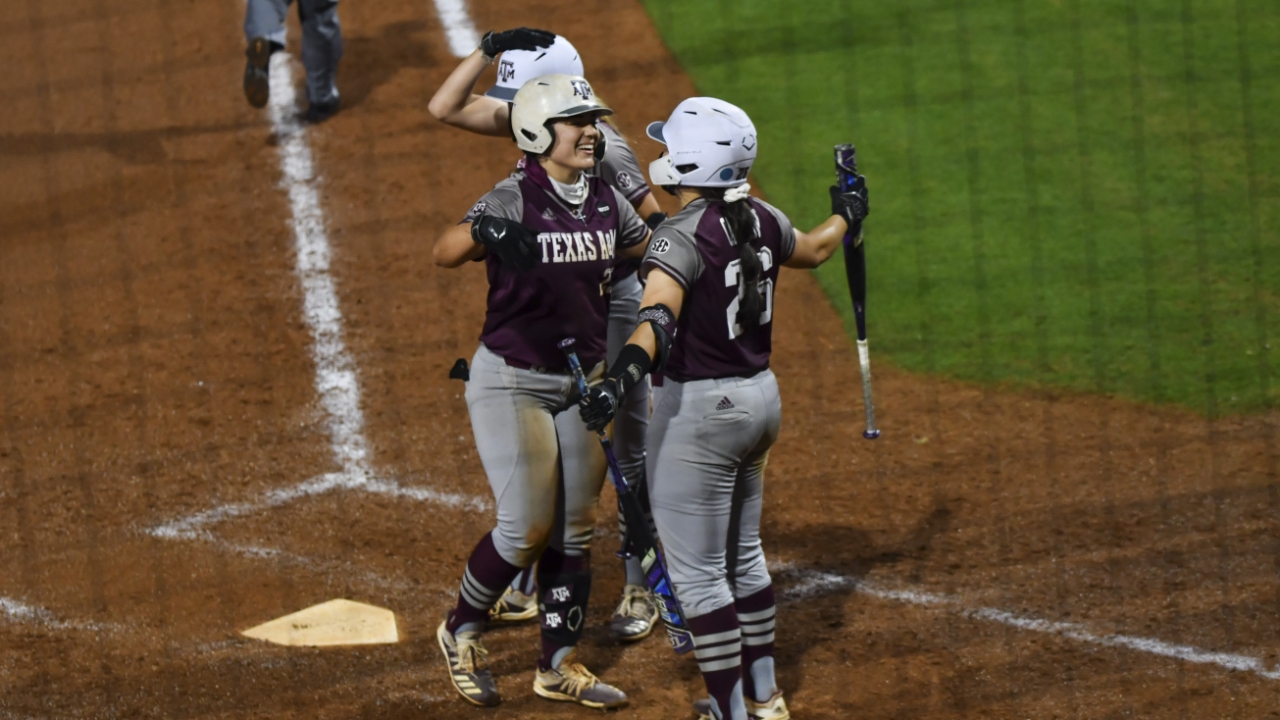 Photo by Jamie Maury, TexAgs
Texas A&M Softball
Texas A&M softball wins two on Friday to open Davis Diamond Classic
---
"I think [being able to respond is] huge for the team's confidence as well as our bond with each other."
Junior outfielder Morgan Smith easily summarized Texas A&M softball's first day in the Davis Diamond Classic in that one sentence. The Aggies defeated both Montana and Louisiana Tech on Friday by utilizing their pitching depth and responding in high-pressure situations.
"We all want to be in that spot, to be the one who gets the team going again," Smith said. "To know that any one of us can do that is huge for our team."
"I think [being able to respond is] huge for the team's confidence as well as our bond with each other."
Game One: Texas A&M 17, Montana 2 (5 innings)
Junior Makinzy Herzog and senior Kayla Poynter each saw the circle, with Herzog punching out three Grizzlies and Poynter striking out one.
A&M put up 17 runs against Montana as the Aggies scored five runs in the first, six in the second, three in the third and four in the fourth. The Grizzlies could only answer with two runs in the top of the third.
Shaylee Ackerman provided the pinnacle of the contest with a two-run home run to center field in the first, bringing home Haley lee.
Lee later posted one home run in the Aggies' second game against Louisiana Tech.
Game Two: Texas A&M 10, Louisiana Tech 6
The highlight of the second game of the day for the Aggies was their performance in the bottom of the fifth.
Louisiana Tech took a two-run lead over A&M in the fifth. However, the Maroon & White managed four hits and seven runs in the bottom of the inning.
A&M head coach Jo Evans said high-leverage situations revolve around the energy you bring to them.
"Sometimes you have to step up and match that the energy in a game to try and take momentum on your side, and I thought we did that in that fifth inning," Evans said. "We made a conscious decision to match that energy, and you see what happened… our team was able to take over the game."
A&M never let the Lady Techsters retake the lead and won the contest, 10-6.
Two different pitchers were utilized against Louisiana Tech as freshman Grace Uribe threw five strikeouts, allowed nine hits and six runs. Uribe was relieved by Boise State transfer Kelsey Broadus, who punched out three Lady Techsters.
The Aggies return for day two Davis Diamond Classic tomorrow as A&M faces Louisiana Tech tomorrow at 3 p.m. with a contest against Montana immediately following.
Never miss the latest news from TexAgs!
Join our free email list