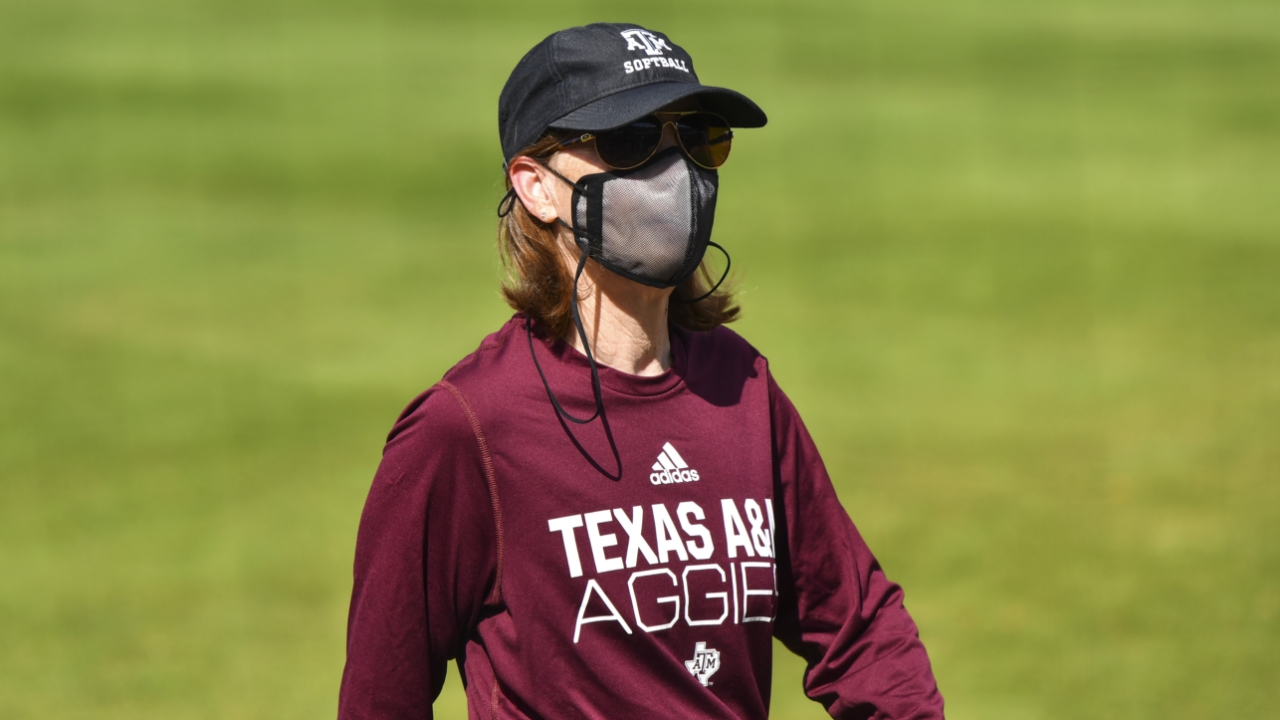 Photo by Jamie Maury, TexAgs
Texas A&M Softball
Jo Evans pleased offense is finding its groove ahead of conference slate
---
Key notes from Jo Evans interview
Thankfully, we're having fun playing softball now, which helped heal the wounds. It was a crazy time just how quickly everything happened last March. The NBA, March Madness shutting down made me take a deep breath. The next day, we were preparing for Tennessee when we found out everything was shutting down. For our kids, it was a great lesson on perspective.

This team has shown me lots of depth. It's fun when we get late in the game and have many different options to attack a pitcher or a defense. Getting everyone playing time has been tough; it has been hard for our youngsters to understand. It's been challenging, but it's also been an exciting time. I think we're playing well and will continue to get better. Our pitching staff helps us play against anybody.

We've had challenges offensively, but we turn around and make adjustments. Not only are we winning games, but we've recognized what's causing us to win and reevaluating to improve. We're going to play LSU in a week, and we'll find out if that is a false sense of security or if we can truly play against anybody.

Makinzy Herzog is as sharp as I've seen her. The great thing is that she's rested and healthy. I feel like she can only get better.

Kelsey Broadus has shown a lot of resiliency. Ever since her first start, she has been nails in the circle. I was very excited for her to get her first career no-hitter, and I'm glad it was here at Texas A&M.

Grace Uribe shows a lot of mental toughness. She has the ability to get us out of jams. Offensively, she can help us, and it's nice to have a pitcher who can hit. I really like what she brings to the table, and I know she'll learn a lot as we hit SEC play. We need her to continue to develop for success.

Haley Lee has shown such maturity as a hitter. She is really learning how to be a hitter and a student of the game. She has also shown such patience while also being aggressive at the same time, which is not easy to do. She's been so consistent and capable of managing her emotions. I think players recognize she's a dangerous hitter.

Shaylee Ackerman has improved since last year, gotten so consistent, and contributed to Haley Lee's success by hitting behind her. She is such a hard worker, and you can see her excitement on the field. That energy is contagious to her teammates. Where she hit that home run against Texas Southern was in the stupid territory.

Bre Warren is just a raw athlete. She's done a good job of playing her way into the lineup. She is always in the cages, making sure she feels more comfortable at the plat. There is no doubt she has a bright future. I've encouraged her to be patient and keep doing what she's doing.

I want to continue to see that consistency I've been seeing. Right now, I think we're locked in. This is a chance for us to gain confidence, which is something you need when you're playing in the SEC.
Never miss the latest news from TexAgs!
Join our free email list