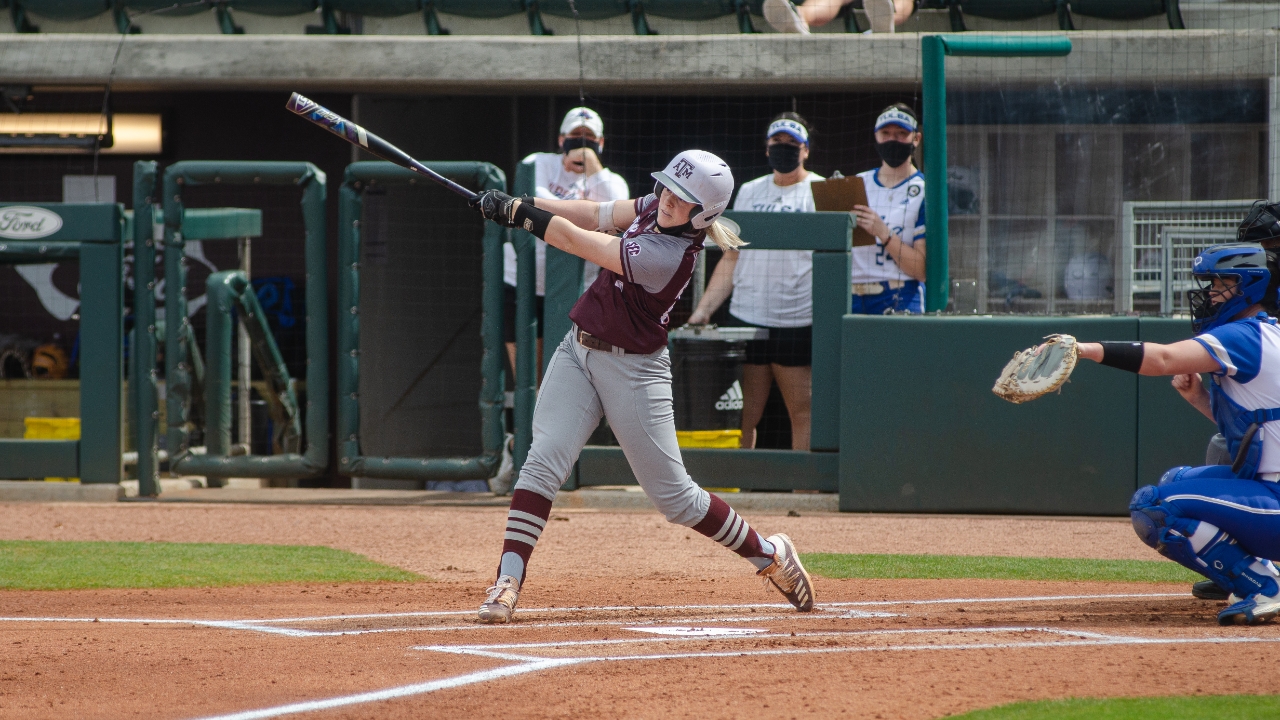 Texas A&M Softball
Aggies clinch first series win of the season with 9-6 victory over Tulsa
---
Momentum and power are the keys for the Aggies.
In the second game of a three-game series, Texas A&M softball pulled off a 9-6 win over the Tulsa Golden Hurricane on Saturday, Feb. 27. A&M utilized key hitting moments to build momentum throughout the contest. The Aggies now have a 5-2 overall record and are looking to build on that prior to starting SEC play.
Junior designated player Makinzy Herzog said that always maintaining the fight in a contest is of the utmost importance.
"Keeping the momentum going is really important," Herzog said. "Even when they answer back we just have to keep pushing and the fight never stops."
Herzog was a key player for the Aggies during the matchup. The Missouri City native posted one run, two hits and three RBI's from her four at-bats.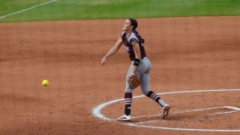 Lia Musgrave, TexAgs
A&M had an incredibly dominant performance during the first inning, with four hits and three runs; meaning the Aggies put up one-third of their runs during their first inning at-bat.
The Golden Hurricane was only able to answer with one run in the top of the second.
The third inning was when the Aggies were able to majorly capitalize on their hitting, as they scored five runs in answering the Golden Hurricane's one in the top of the third.
Scoring ended for both teams in the sixth inning. Tulsa managed to earn two runs. Junior infielder Trinity Cannon answered in the bottom of the sixth by launching a cannon of her own, a home run, to conclude scoring during the contest.
A&M coach Jo Evans said this was a pivotal moment in the contest, given the 8-6 score at the time.
"That was huge," Evans said. "I don't know how anyone else feels but I'm never really comfortable with a two-run lead. It's not a comfortable place to be with this game… For Trinity to go up there and get her home run… that was her first hit [in this game], that was really cool to have it be her first hit."
Fans at Davis Diamond saw young and new talent in the pitching circle.
"I think she has a chance to be really special... I just love her tenacity, she's not afraid of anything.
Freshman right-handed pitcher Grace Uribe played the majority of the contest at the circle, allowing 10 hits and six runs in six innings.
Boise State transfer Kelsey Broadus, the only left-handed pitcher the Aggies have on the roster, relieved Uribe for the last inning. Broadus did not allow a single hit during her one inning of pitching.
Similar to how she feels about all of her players, Evans said Uribe possesses special qualities that attribute to her success and potential.
"I think she [Grace Uribe] has a chance to be really special," Evans said. "She threw a lot of pitches today. I just love her tenacity, she's not afraid of anything. She doesn't make big mistakes."
Texas A&M and Tulsa will be back in action for the third and final game of the series in Davis Diamond tomorrow. First pitch is set for 11 a.m.
Never miss the latest news from TexAgs!
Join our free email list