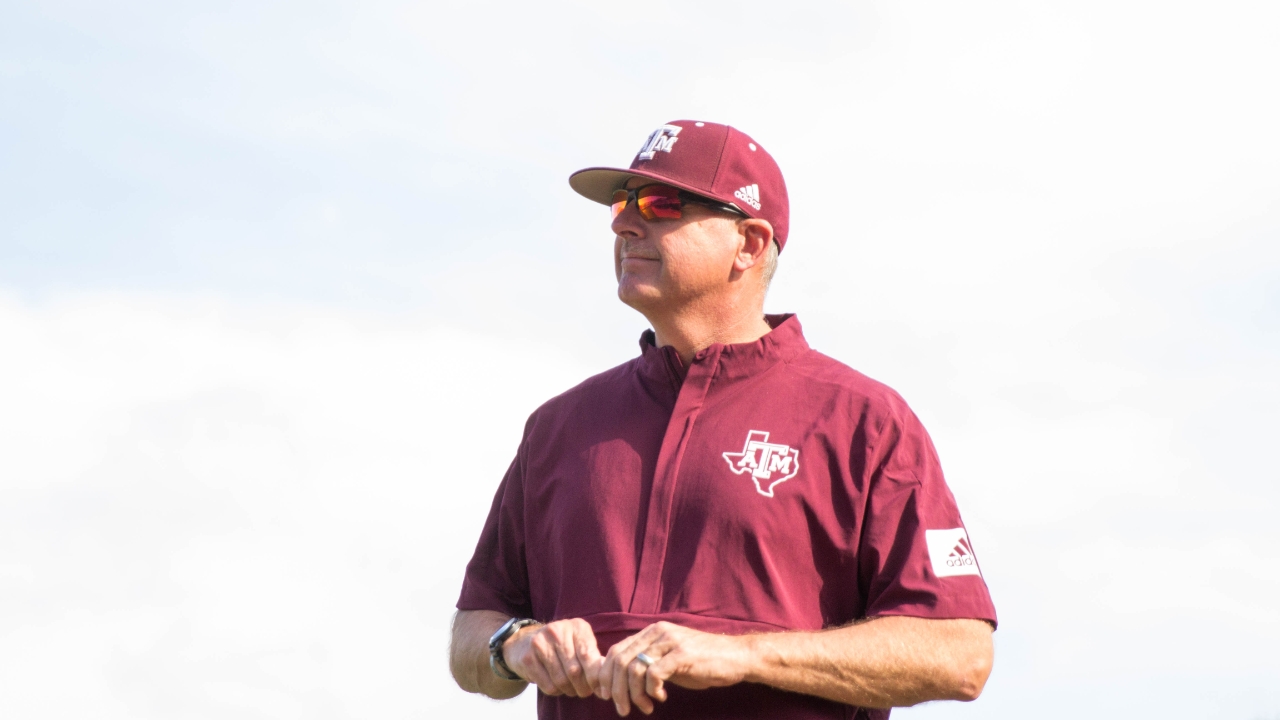 Photo by Angelina Alcantar, TexAgs
Texas A&M Baseball
Rob Childress, Aggie baseball excited to hit the field for start of 2021 season
---
Key notes from Rob Childress interview
We are excited for today. The guys have been back for a while but working on their own. Thankful to the SEC for allowing us to play our normal schedule of 30 games, and ready to get rolling. It's been a complete group effort to get to where we are. We cannot thank all the people that made this happen enough.

I would say the talent on all rosters, especially in the SEC, will be as good as it has ever been. We lost some good guys at the top of the draft last year that we need to replace. In my mind, we had a lot of guys that would've left if the draft had been even ten rounds last summer. Guys like Chandler Jozwiak and Bryce Miller; we're thrilled to have them back.

We started with a roster of 41 in the fall, down to 38 now. We feel very confident in each of the guys we have in being able to contribute. The SEC expanded the travel roster from 27 to 30, which is nice. We will carry 38 throughout the season and practice with that many every single day.

I'm excited about our offensive offenses in year two under Chad Caillet. Those guys and coach Justin Seely all did a great job last year working together. We took the talent that we already had and added to it with some experienced JUCO bats, guys like Taylor Smith out of Grayson College. Our biggest challenge will be only writing nine on the lineup card every single day. That's what these next three weeks is about, going out there and earning your opportunities.

The second-year guys have a great opportunity. It's been a lot of fun to watch their progression at the plate. Logan Britt is probably as talented a prospect we have in our program. We're actually using him on the mound a little bit as well. Logan Sartori has as good a swing as anyone in the program. Austin Bost came out like a gangbuster in the last three weeks before the season shut down in 2020. Then you have Trevor Werner, who is just a great all-around baseball player.

We thought about using Trevor Werner in the starting rotation some in the fall, but he's a hitter at heart. He wants to be in the lineup every day, and we think that's how he fits best for us. He will be in the lineup for us and coming in the game in late relief on the mound.

Kalae Harrison is a guy we want to continue to see prove himself over the next three weeks. Cade Merka is another talented guy we want to see work at shortstop every day. Kalae brings a great glove to the park every single day. We lost him a bit in the fall to an injury, so we're excited to have him back out there every single day. Cliff Pennington has done a great job working with him and every single one of our fielders.

I don't think Bryce Miller is going to allow us to go lefty-lefty-lefty in the weekend rotation. We gave him the chance to start, and he's really gone out there and earned it. After him, we have several left-handers vying for the other starting opportunities. The starting rotation will shake itself out through the next few weeks and non-conference play. That's why I like to schedule five games a week early in the season; it gives us a chance to get things figured out.

I have great expectations for Jonathan Childress, two years removed from Tommy John surgery. And, his expectations for himself are even higher than mine. He's done a great job getting to work every single day and making himself better.

I think we all have a little bit of a chip on our shoulders not being ranked in the preseason polls, and we're working like it. I think we have a highly motivated group, and we're ready to get to work and prove people wrong.
Never miss the latest news from TexAgs!
Join our free email list