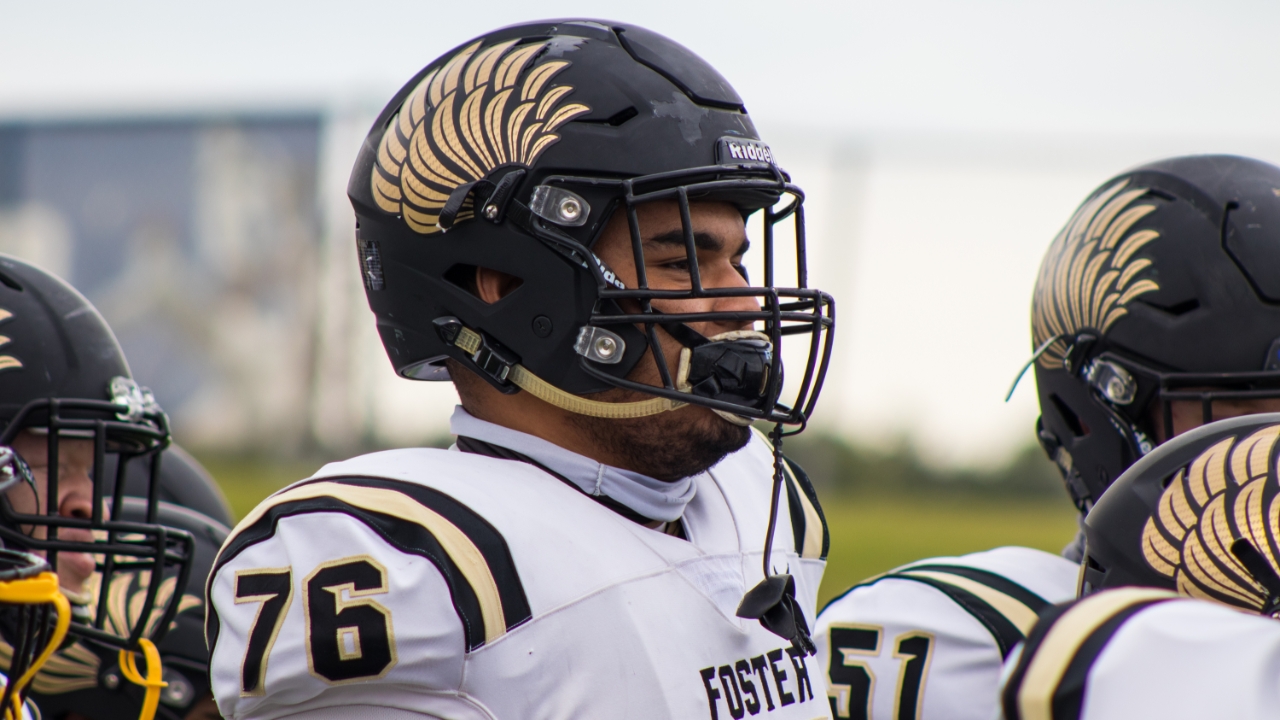 Photo by Walker Lott, TexAgs
Texas A&M Football Recruiting
Strength of Texas A&M's 2021 recruiting class lies in the trenches
---
Family and friends of Reuben Fatheree‍ gathered on Wednesday evening at the small football stadium behind Richmond Foster High School for a ceremony celebrating his football future.
The massive 6-foot-8, 305-pound offensive tackle and his parents posed for photos. They all wore "Maroon Goon" T-shirts that confirmed he had signed a Texas A&M national letter of intent earlier in the day.
In between handshakes and hugs, Fatheree — an acclaimed four-star recruit — discussed his physical and mental goal for his arrival in College Station.
"I definitely have to get stronger. That's the most important thing," he said. "And having a strong (football) IQ, too. Being an offensive lineman, you have to point out a lot of stuff. The IQ part is where I need to get better."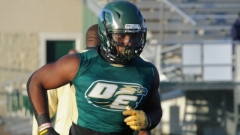 TexAgs
Sure, there's room to improve, but Fatheree is already excellent.
Just last week, he was the top-rated prospect in Texas A&M's recruiting class that was ranked No. 17 in the nation.
However, last Friday, DeSoto five-star defensive end Shemar Turner‍ committed, and Fatheree became the second-ranked prospect on A&M's 13th ranked class.
Then, about an hour after the ceremony, Katy Tompkins defensive end Tunmise Adeleye‍ announced he was signing with the Aggies, too.
Just like that, Fatheree was the third-ranked prospect in A&M's No. 11 ranked class.
And at about 7 a.m. on Friday, Herculean 6-foot-5, 330-pound Katy Taylor guard Bryce Foster‍ pushed A&M into the Top 10 with the same force he has used to shove around so many overmatched defensive linemen.
Fatheree is now the fourth-ranked prospect in A&M's No. 7 ranked class. That's no knock on Fatheree. That just shows how high Texas A&M's recruiting class soared in a week.
That in itself is historic.
Last year's A&M class was ranked sixth. The previous year, the Aggies were ranked third. This marks the first time A&M has assembled three consecutive Top 10 rated recruiting classes.
"I'm just really glad to be a part of it. This is a great class, and it's filling up. I think it's only going to get better."
That factoid is not lost on the players that compile A&M's class.
"I'm just really glad to be a part of it," said Fort Bend Christian Academy's Remington Strickland‍, a 6-foot-4, 295-pound strong man who bench presses 415 pounds but doesn't turn 18 until February 28. "This is a great class, and it's filling up. I think it's only going to get better."
The Aggies could continue to climb.
Coach Jimbo Fisher said he plans to add five more prospects to the class by National Signing Day on Feb. 3. Several attractive and attainable targets remain.
"We are still in the process of adding to this class," Fisher said on Wednesday night. "We'll add quite a few more, hopefully. We're still looking at some things in the next couple of days on a few guys. More are coming in January that we're still presently recruiting. Still got some more out there that we can reel in.
"Hopefully, it'll let us keep taking the steps to develop this program to be a championship program."
This class is rife with big-play ability in the skill positions and secondary.
Quarterback Eli Stowers‍ is a tremendous athlete. Athlete Shadrach Banks‍ can beat you in a multitude of ways. Receiver Yulkeith Brown‍, running back Amari Daniels‍ and defensive backs Deuce Harmon‍ and Tyreek Chappell‍ have blazing speed, and that's always a valued commodity.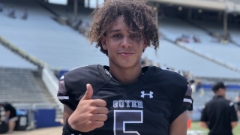 TexAgs
Still, the talent and depth Fisher amassed on the offensive and the defensive line appears to be the key in constructing a championship contender.
The Aggies previously recruited speed and skill successfully in the form of Kyle Allen, Christian Kirk, Josh Reynolds and Ricky Seals-Jones.
Yet, they remained stuck in an eight-win rut primarily because they couldn't consistently measure up on the line of scrimmage.
This season, the Aggies offensive line has emerged as one of the best in the nation. Likewise, the defensive front has been formidable. A&M is second in the Southeastern Conference in run defense and figures to finish among the league leaders in sacks.
It's no accident that a surge in line play coincided with A&M amassing a 7-1 record and No. 5 national ranking.
It's also no accident that A&M recruited extremely well in those areas.
"We've seen how well they've been doing this year," said 6-foot-6, 304-pound Magnolia tackle Matthew Wykoff‍. "The progress they've made and the coaching there is fantastic."
The offensive line class of Foster, Wykoff, Strickland, Fatheree and 6-foot-6, 300-pound Trey Zuhn‍ projects to be stellar. Foster, Fatheree and Zuhn are all ranked among the nation's Top 300 overall prospects. Some scouts say Wykoff and Strickland are ridiculously underrated.
As a group, they are A&M's highest-rated haul of offensive linemen since the gold standard 2010 class, which produced eventual NFL first-round draft choices Jake Matthews, Luke Joeckel and Cedric Ogbuehi.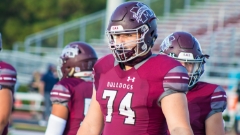 Walker Lott, TexAgs
"We want to show them we are the best recruiting class to come through and be something special," Wykoff said. "At the end of the day, we want to win a national championship."
The defensive line haul is equally impressive. Turner is the nation's No. 31 overall prospect. End Adeleye is ranked No. 37.
Marcus Burris‍ of Texarkana Pleasant Grove is ranked 132nd and Jahzion Harris‍, a product of Brooklyn, NY, is ranked 204th.
Further, the Aggies are still in contention for Philadelphia defensive end Elijah Jeudy‍, the 202nd ranked prospect, and New Jersey defensive tackle Tywone Malone‍, the No. 61 overall prospect.
The Aggies are also still recruiting running back LJ Johnson Jr‍, receiver Brian Thomas‍ — both Top 80 overall prospects — and safety Jardin Gilbert‍, a four-star recruit.
By adding one or more of them, A&M's class could climb perhaps as high as No. 6. Even if they don't, the Aggies' third straight Top Ten class could become legendary.
"It feels awesome to be part of this, Fatheree said. "It feels kind of historical. This class is going to be pretty good. I think by the time we're juniors and seniors, we're going to go far."
Never miss the latest news from TexAgs!
Join our free email list