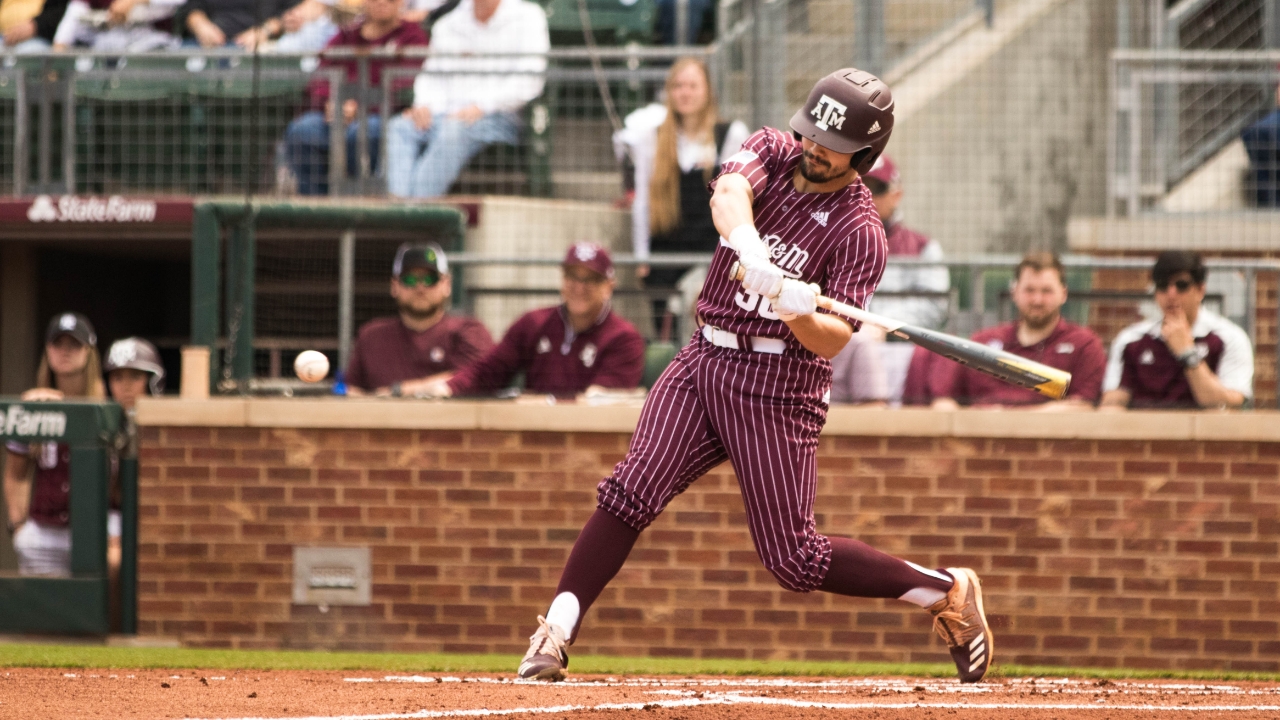 Rob Childress
Zach DeLoach
Chandler Jozwiak
Logan Sartori
Texas A&M Baseball
Dressed for success, No. 20 Aggies complete sweep of Miami (OH), 6-2
---
Game #3: No. 20 Texas A&M 6, Miami (OH) 2
Records: Texas A&M (3-0), Miami (0-3)
WP: Chandler Jozwiak (1-0)
LP: Kenton Egbert (0-1)
---
The cliche of "look good, play good" certainly applied for Aggie baseball on Sunday.
Donning new all-maroon uniforms — yes, the pants included — with white pinstripes, No. 20 Texas A&M clubbed their way to a 6-2 victory over Miami (OH) on Sunday afternoon at Olsen Field, sealing a season-opening sweep of the RedHawks. The Aggies homered three times in the ballgame, starting hot once again thanks to a solo bomb from Logan Sartori and a Hunter Coleman two-run shot in the first inning.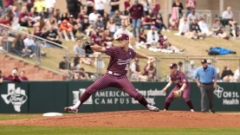 Angelina Alcantar, TexAgs
"Regardless of what they look like and what the fans might think, I think they're really sharp," said head coach Rob Childress. "(Jason Hutchins) and Adidas did a great job designing these uniforms and they are 1-0. They are undefeated and we'll definitely use these again."
Texas A&M's power numbers (7 home runs in the three games) were somewhat surprising considering the Aggies want to run a more aggressive offense by putting the game in motion more, thus not having to rely on the longball as much. But when those home run pitches come, the Aggies have shown they won't pass up a good opportunity.
"Coach Seely, Coach Caillet and Coach Pennington have done an amazing job, and these guys are playing with a lot of confidence," Childress said of his offense.
Following the three-run first inning, Miami starter Kenton Egbert kept the Aggies off the board until the 6th inning when Miami reliever Grant Hartwig took over. That's when things got weird. Hartwig's stint in the ballgame lasted just nine pitches, but he still managed to plunk three Aggies, walk another, commit an error and give up two runs while recording only one out.
The Aggies led 5-1 at the conclusion of the inning, despite leaving the bases loaded in the frame. Texas A&M stranded 10 base runners in the contest.
"We've got to do a better job capitalizing in those spots, but all-in-all, I would give us an 'A' all the way around in how we played this weekend in every facet," said Childress.
After Miami got a run back in the top half of the 7th, Zach DeLoach led off the Aggies' half of the inning with a solo shot, his second home run of the season. The junior outfielder finished the day 2-for-3 as his averaged dipped from .833 to a slightly more modest .778.
"I'm just seeing the ball really well," said DeLoach. "Nothing more to it. Just sticking to my approach this whole weekend and just coming out prepared every day. The whole team, we come out prepared, and we swung the bats really well as a team."
"We've got to do a better job capitalizing in those spots, but all-in-all, I would give us an 'A' all the way around in how we played this weekend in every facet."
Starting pitcher Chandler Jozwiak was sensational on the mound for the Aggies as he tossed six innings of one-hit, one-run baseball. The lone run was unearned after Jozwiak committed an error on a pick-off attempt in the 4th inning. The left-hander punched out seven RedHawks as they could not touch his slider or his change-up late in counts.
"The slider has always been my pitch," said Jozwiak. "It gets away from me sometimes, but I've just got to start getting back on top and realize when I'm getting under it a little bit."
As for the jerseys, the Aggies seem to like them and, as Childress said, they will make more appearances at Olsen Field this spring. Whether the uniform set becomes a 'Sunday Sweeps'-only feature remains to be seen.
"I think they're the coolest jerseys ever and I'm really excited we got them," said Jozwiak. "Asa (Lacy) actually said today that he might start wearing them on Fridays. I'll be a little upset if he takes them, not going to lie."
No. 20 Texas A&M will be back in action at Olsen Field this week with a pair of mid-week tilts, beginning with Stephen F. Austin on Tuesday night. First pitch between the Aggies and Lumberjacks is scheduled for 6:30 p.m.
Never miss the latest news from TexAgs!
Join our free email list