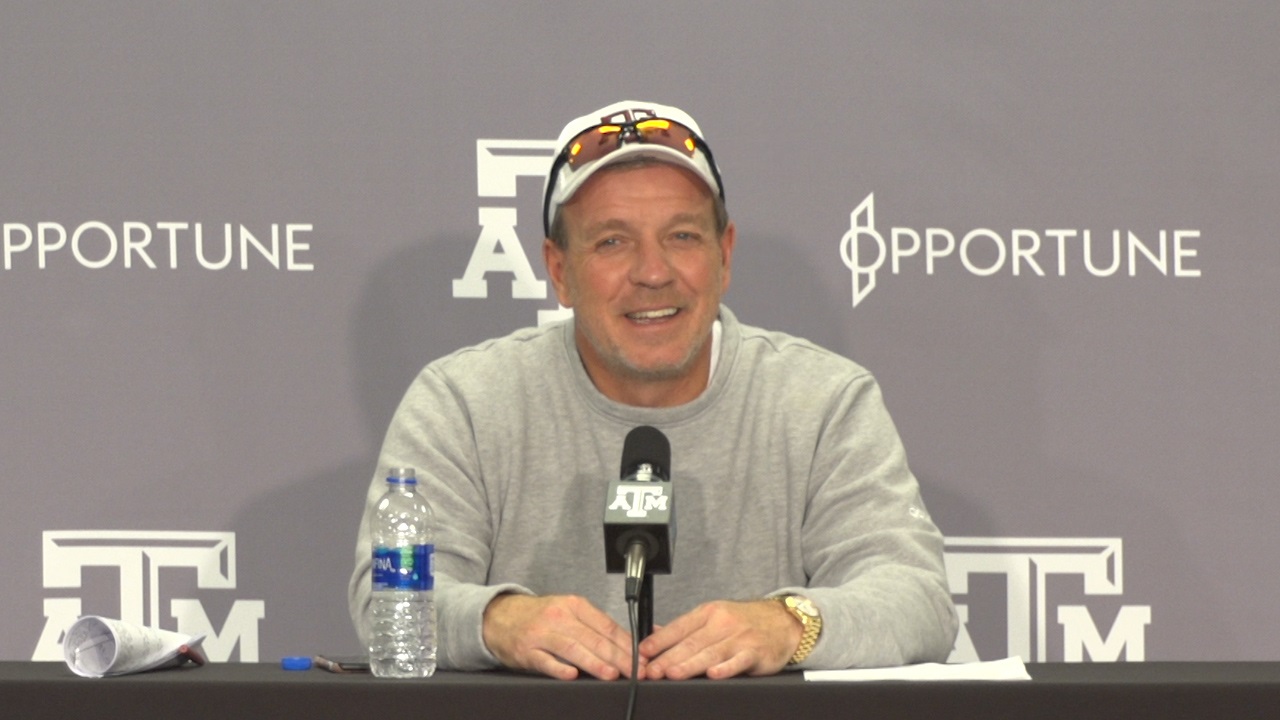 Texas A&M Football
Press Conference: Fisher reacts to Aggie signees, previews Texas Bowl
---
Following a stellar 2020 haul, Texas A&M head coach Jimbo Fisher spoke with the media to discuss the group of prospects he and the Aggies signed during the Early Signing Period as well as preview the team's upcoming match-up with Oklahoma State in the Texas Bowl.
---
The following are live, paraphrased notes from head coach Jimbo Fisher's press conference prior on Wednesday.
Wrapping up a very busy day. Having signing day and practice on the same day is always a joy. It's fun. It was a great day for us. I thought our coaches did a great job in recruiting battles building relationships. We signed 22 guys; 11 from this state. We did some straight line recruiting that I always want us to do. Our coaches did a great job finding kids from out of state and getting them here. When they get here and see A&M for the first time, it's a great thing.

I thought our players did a great job of recruiting. You can recruit until your blue in the face, but our players did a great job of helping us recruit.

We had 12 offensive players and ten defensive players. We're addressing needs and building depth across the board.

I think this is a great group of guys, and I'm very pleased with them. We got a lot of guys in battles with a lot of schools across the board.

You need depth in the secondary. We have a great group here with Brian George‍, Jaylon Jones‍ and Antonio Johnson‍. You have to have matchups across the board. We got great size and length, but they also have great ball skills. Watch all of those guys in special teams and on offense. Getting Braedon Mowry‍ back is huge. Getting Fadil Diggs‍ is huge, and Donell Harris‍ is a tremendous edge rusher. We had a lot of big guys that we are very proud of.

You can't get enough offensive linemen. We think some of those guys will help us really quickly. If you don't have it, I don't care what kind of skill you have; you can't function.

We thought Brian George was a very special talent. We want him to have an impact quickly, but we thought his talent level was extreme.

I have the utmost respect for Jashaun Corbin. You never know how the portal will work out. Hopefully, he'll be back with us. Glenn Beal is back with us, out there and practicing. Hopefully, Jashaun will be too.

Haynes King‍ is a winner. He's only lost two games in his life. He's done it with two different teams. He didn't have the experience he did last year and took them deep into the playoffs. He understands what they need to do. The team plays for him. His tenacity. Do they want to block for him? Do they want to get it for you? He does that for you. He's a gym rat. I love everything about him.

We will see here with Jordan Jefferson‍. We will test with him and see what his best fit is and where he will play. We're very blessed to have him here.

A lot of these guys are thought of very highly. Apparently, people don't think very highly of Devon Achane‍. He's going to be very good. Blake Smith‍ was recruited by a lot of people as a three-star. Akinola Ogunbiyi‍ is a guy who is high on some lists and low on others. Mowry is kind of underrated. Our defensive linemen are too. They're all pretty highly ranked. I don't care what they're ranked. We better coach them and get them to play good.

I don't know how the other coaches recruit, but hopefully, we're building relationships, bonds and trust there. I'm not into dog and pony recruiting. I will be honest with you. Hopefully, people appreciate that. We know we aren't perfect, this place and this school aren't perfect —nowhere is — but we're upfront with it and know it's a fantastic place is. We have a tremendous support staff. The recruits and parents see that when they come in. That's all-important.

The skill guys with Haynes at QB and Deondre Jackson‍ in Atlanta - I love this guy, I was honest about that from the beginning - and Achane. Achane is a football player who runs track. Demond Demas‍ has raw athletism to run, jump and win plays. You have to have that at skill positions. I think Muhsin Muhammad III‍ has that too. Devin Price‍ too. You have to have that big-play ability and the ability to close drives. I think all of those guys bring that.

I believe this is the most early enrollees that I've ever had. It's good for them to get used to what school is like and how the day works. Their sports lives change - how we work out, how we train and how we get ready. It takes an adjustment. The terminology and getting used to it is huge. Until they get that, nothing else matters.

Having 50% out-of-state players is not always planned because we want Texas kids. But it's good that the Texas A&M brand goes nationally. You see that from programs like Alabama and Ohio State. It extends your area to pull kids out of, and that's important.

OSU's tailback is tremendous. I anticipated Madubuike going, and I think he'll go high. I hope he goes as the first pick in the draft. It didn't surprise me. We had discussions about it with him and his family. He was great in those. Peevy is coming on. He has been playing phenomenal football, and we'll need it because they can run the football.

Haynes and Devin understand what's going on. That understanding and that experience as a coach's kid is huge.

Moose is a very locked-in guy. He's mature and intelligent. You can have really advanced conversations with him for his age. There is a lot of things he can do on the outside and in the slot. Also in the special teams. He's fun to talk to. Very intelligent.

Coach Price is a legendary player and coach here. To have your son here with you, that doesn't happen too much. We all dream of it. That's special for them to have, and hopefully, it's a great three to five years.

OSU is looking to play anybody the way they can run the ball. That guy is a complete back. The way he can accelerate and decelerate and give and take shots. He's extremely natural in everything he does. He's the complete player.

They play three down. Their defensive coordinator has been a four down guy in the past. They can rotate coverage and change coverage. Their secondary is stout. They can switch up looks and keep you on their toes. Everyone is going to have to be on their toes.

It's important to bounce back and play well. We have for most of the year. LSU played well and kicked our tails. It happened. You have to come back and play well. Bounce back. This is the next game we're in. Whatever game you're in, you need to play well.

This is the end of your season. You have to send your seniors out right. You have to understand how to prepare for bowl games, too. It's not like any other sport where you go straight into playoffs. You have a month off to prepare. The best times you have is when you go to a bowl game and win. You have to prepare well for that. They're keeping score, and we want to keep those Aggies proud.

They have a great tradition and great history. Mike Gundy does a great job. It's an old matchup people are familiar with. It's a special thing about bowl games. You get to go back and play some people you don't normally play.

We have 22 signed. You have the capability to sign 25.
Never miss the latest news from TexAgs!
Join our free email list